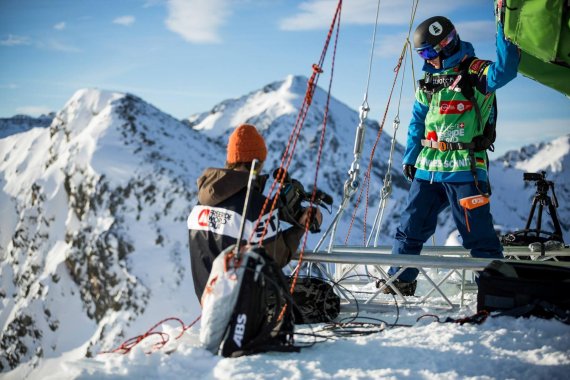 27 skiers, 14 snowboarders, plus another 14 skiers and 7 snowboarders who are women are participating in the Freeride World Tour. Four tour stops are held in all four categories before the world champions are crowned at the big finale in Verbier.
Johannes Schnitzer talks about his passion for freeriding, the safety of freeriding competitions and the ever-present risk of possible avalanches in an interview with ISPO.com.

How and where did you learn to snowboard?
I signed up for a snowboarding course at Katschberg in the winter of '97/'98. Unfortunately, the snowboarding instructor shortly fell ill so I had to teach myself and tried my best to keep up with my skiing friends.

What do you think about today's fascination with snowboarding?
To me, snowboarding means unbelievable freedom coupled with a great deal of passion.

Did you have any role models you looked up to as a youngster in the world of snowboarding?
I'm from a small village in northern Bavaria. My childhood was shaped a lot more by soccer than it was by snowboarding. I only learned how to snowboard when I was 15, so I got started relatively late in the game. But at the time I found the mountains and freeriding more interesting than specific snowboarders.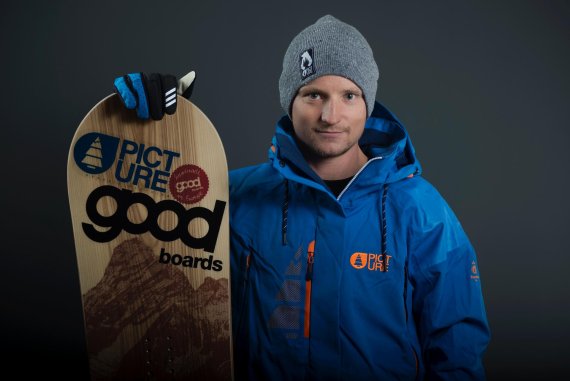 What motivated you to participate in snowboarding competitions?
If you have time to snowboard all winter long, it's important to have a plan in place that motivates you to get the most out of your abilities. My plan was freeriding contests.

What was the first competition you participated in?
My first real freeriding competition was in 2010 in Gressoney, Italy. I competed in one or two others before that, but those were really all about speed, so the first to the bottom was the winner.
"Having the best equipment is meaningless unless you know how to use it"

When did your snowboarding hobby become a career?
I still don't consider snowboarding to be my profession and don't really want to. Although I do train quite a lot and freeride at the "highest level," I still continue my work as a carpenter as normal during the summer.

Does that mean you can't live off of snowboarding all year round?
No, I can't. I have really good equipment sponsors and I'm really pleased with them. But it's hard to find companies that can provide you with that amount of financial support. Freeriders are pretty much on their own. We also don't have a major federation behind us to support us.

What does a "normal" day in your life look like in winter?
I get up at seven, have breakfast, do a little stretching, check the avalanche warnings and the weather. Then I take the ski bus to Andermatt to get on the lift to Gemsstock. Depending on the snow conditions and the weather, I'll then be on the slopes all day with my snowboard. I do a few more exercises in the evening, have dinner, then do a bit of reading or go on the Internet, and then I usually fall into my bed exhausted. That may not sound too spectacular, but that's what a normal day for me looks like.
Freeriding and safety are directly related. How do you minimize the risk when snowboarding on open terrain?
Before I go out onto the mountain I take a detailed look at the avalanche warnings and the weather report. That gives me a good impression of what conditions I'll be facing on the mountain. I also always have my emergency avalanche equipment with me (avalanche transceiver, shovel, probe, airbag backpack). But having the best equipment is meaningless if you're out there on your own or you don't know how to use it. That's why I always go out on the mountain with friends I trust. So my friends can trust me as well, I regularly train in avalanche search methods and am committed to avalanche awareness so I can recognize critical moments quickly and react correctly in emergency situations.

Have you ever experienced a dangerous situation yourself? An avalanche, for example?
Luckily I've never been caught in the middle of an avalanche.

Isn't it a contradiction in and of itself for freeriders – who, after all, like to try their luck riding across unspoiled slopes – to try to measure their skills in competitions like the Freeride World Tour?
Freeriding to me does not necessarily mean perfect storybook conditions. I love being out in poor conditions just as much and adjusting my riding style to accommodate that. Competitions are just one facet of many and are more of a challenge I can train in a targeted manner for.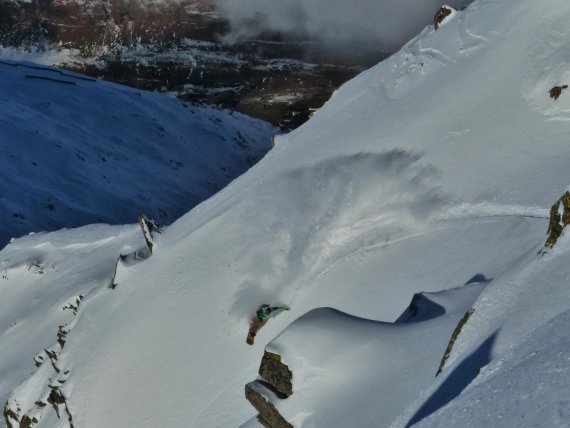 How do competitions like the Freeride World Tour guarantee safe conditions?
The competition slopes have been observed all winter by the ski resorts already and they spring into action really quickly when there's poor snow cover. But it's ultimately those responsible for the tour who decide together with mountain guides and the ski resort shortly before the contest which slopes will be ridden.
We as riders have to carry emergency avalanche gear with us out on the slopes on contest days as well. We also receive a lot of ongoing training from mountain guides, who always teach us the most important things. 
"Take advantage of the opportunity to attend freeride and avalanche camps"

How has this year's Freeride World Tour season been for you?
Things have not exactly been optimal so far. During the first contest in Andorra I unfortunately encountered difficult snow conditions when landing my first jump and had a little fall.
Two weeks later I had an excellent run in Chamonix, but missed a feature. I'm now in 9th place in the overall rankings. So I need to place at the top on the next FWT stop in Fieberbrunn on 03/06/2016. Only the top seven snowboarders will get to go on to the next stop in Alaska.

What do you have planned for the rest of this season?
That depends a lot now on whether I get to go to Alaska and therefore whether I have more or less time to spare. In any case I'm hoping for good conditions here in Andermatt because I still have quite a number of projects on the go here. I'll also be going out and doing some more filming with the Freeriderslife film crew.

Firm projects are another focus for many freeriders alongside competitions. What movie are you working on there at the moment?
Our next movie will be produced over two winter seasons. So we still have a little time. But I can't give away any more specifics.

When and where will the final movie be shown?
Our current movie, "Triangle," was featured at several outdoor film festivals in the fall, such as the Alp-Con Cinematour. The full movie will soon be available for viewing on Vimeo and our website. We want to appear at the film festivals with our new movie as well.

As a professional freerider, what tips do you have for young snowboarders who dream of growing up to be freeride pros like you?
Start small and make sure you're being safe on the slopes. Take advantage of the opportunity to attend freeride and avalanche camps and learn as much as possible on the mountain and in the snow. A number of camps are now being offered, for example, Mountain Action, which also runs the only junior freeride contest in Germany (Allgäu).
What does freerider Johannes Schnitzer do in summer? Do you hit the powder in Chile or New Zealand to keep in shape?
My snowboard gets stored in the cellar during the summer. It's important for me to get a bit of space from wintertime. Instead I go mountain biking or climbing. My work as a carpenter also keeps me very busy during the summer.
Profile: Johannes Schnitzer
Born on 11/05/1982 in Dettelbach, Germany
Snowboarding since: 1997
Sponsors: Goodboards, Picture Organic Clothing, Skiarena Andermatt Sedrun, Uvex, Flux Bindings
Current info on the Freeride World Tour: Johannes Schnitzer's rider profile