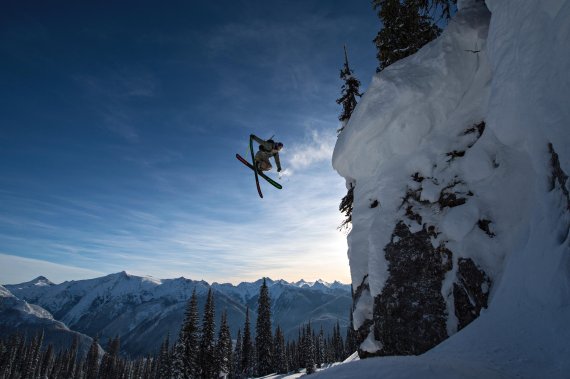 Bene Mayr talks with ISPO.com about courage and fear in freeriding, his additional income, and his plans for the 2018 Olympics.
Mr. Mayr, where did you learn to ski?
Bene Mayr: I'm half-Austrian, I have a German and an Austrian passport. My dad was born in Linz. My mom comes from Chiemgau. I grew up in Innsbruck. My parents had a cabin in Zillertal for many years, where as a kid I got into skiing day after day.
Theoretically, you could also have ended up with the Austrian Skiing Association (ÖSV)?
I had actually considered that once, and wrote to the ÖSV before the 2014 Olympic Games. But the Austrians never answered me. When I contacted the DSV (German Ski Association), everything went very quickly. It all happened straight away.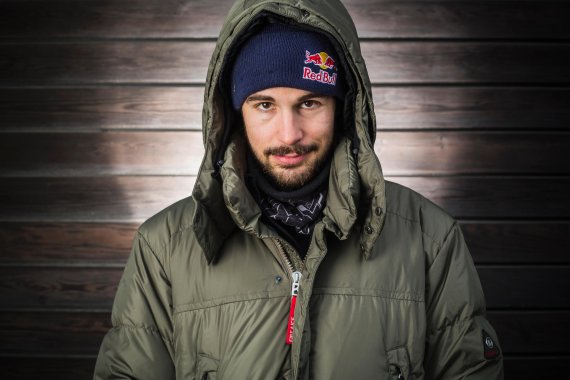 Freeriding, bar and tattoo studio
You're part-owner of a tattoo studio and a bar in Munich, opened a concept store in Innsbruck, have your own movie production, are an Olympic athlete in slopestyle, and are now starting with the Freeride World Tour 2016. Are you just that versatile, or are you searching for the right path?
I like being self-dependent – in the sense of being independent. If I were to get badly injured skiing just once, and overnight be unable to practice my sport, I would still have my livelihood. That lets me clear my head. And because of that, I have more fun skiing and can perform better.
Do you also pull beer in your bar "Schorsch" in Munich?
Of course. When I'm on site, I like to stand behind the bar and run the show. And when I'm in the concept store in Innsbruck, I even buy skis. I'm an active partner, not a silent one.
In 2014, you started in slopestyle in Sochi. This winter, people will see you on the Freeride World Tour. How did that come about?
After a couple of injuries I didn't enjoy park skiing anymore, because I was always in pain. I always had a lot of fun in the open country and was there a lot. Aside from that, I love contests. I'm a competition type of guy who likes to push myself and pit against opposition. I always wanted to go up against all of the great competitions that skiing has to offer. I was missing the Freeride World Tour until now. But it requires you to want to be a good allrounder. That makes participating a logical step for me personally. Even so, I didn't have the faintest idea of how you actually qualify. So I asked around in the scene.
And then the event organizers send you a wild card?
(laughs) It was something like that.
So what do freeriders think about qualifying for the FWT? Are you under special observation in the scene now?
Definitely. Some people weren't too pleased, initially. Someone comes out of the park and from there, just like that, gets a freeride pass for the FWT. That's why I absolutely want to prove that I earned this wild card. My fourth place in Chamonix helped me a lot with that. I really wasn't completely satisfied with my 11th place performance in Fieberbrunn, but the result was enough to qualify for the next tour stop in Alaska and the final in Verbier. I arrived at the tour, and in the meantime I feel accepted and very comfortable.
In freeriding, you can't practice your run
Do you plan on going back to the Olympic Games in 2018?
No. Definitely not in slopestyle. But if freeriding, the way we practice it at the Freeride World Tour, were an Olympic sport, I would be all for it. The Olympic Games were a highlight for me as an athlete.
Artifical obstacles in the park, now natural obstacles at the FWT. Which do you prefer?
Both are fun for me. But when you seriously train in the park or in slopestyle, the strain is enormous. In one practice you make ten runs and jump three kickers each, so you make 30 jumps a day. Three days in a row, that's 90 jumps. One day of rest, then one day of competition. And for the entire winter. You really feel that in your bones.
Does participating in the Freeride World Tour require a specific kind of practice?
Naturally, I regularly test the jumps that I'd like to incorporate in my runs on different take-offs. But essentially there is no specific kind of practice (laughs). For the time being I'm just skiing like crazy. Although: I am regularly, deliberately putting myself in situations that make me afraid of skiing.
You'll have to explain that in more detail.
I look for situations in the country that are unfamiliar to me, that I'm afraid of. On the Freeride World Tour, on the steep face, you're constantly in a completely new situation. Ultimately, you can't practice your run beforehand. You do choose a line, but you're only aware of how it'll finally feel when you're stuck right in the middle of it.
Have you already faced a fear situation?
Absolutely. When the weather was bad and the visibility was correspondingly crappy, you see a cliff, a possible jump and think to yourself: not really a good idea with the visibility. I jumped anyway. By the fourth time, it was fun. It strengthens your self-confidence and your experience.
"I have a beer now and then"
Shortly before competition, do you go freeriding with your FWT colleagues, who are competitors in the proper meaning of the word, or is that out of the question?
We're together in the country, of course.
It's hardly conceivable for outsiders to plunge off a steep wall, but virtually inconceivable to drive towards a huge kicker at full throttle. What takes more to overcome?
Going down a steep wall is easier to realize for outsiders, because at least you occasionally have the ground under your feet. With kickers, you completely lift off and fly through the air. Both require courage and both are very dangerous if you don't master them.
Freeriders are hurrying the image of the party animal ahead. 
Above all, we're athletes. It can be said that a couple of really young participants do go out sometimes, but everything stays within reason. For my part, I was in bed early last night, today I was skiing, then at the gym, and then in the sauna, and even found time in between for a midday nap. During the season, I have a beer now and then. We're athletes. I don't know anyone who gets messed up when they go out.