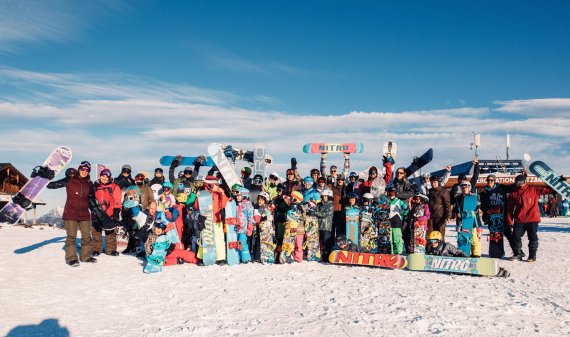 In the second part of the ISPO.com interview, Thost tells us about her involvement in social projects, through which she wants to give children and adolescents access to snowboarding:
Mrs Thost, in the first part of our interview we talked about your future in the world of sports. Let's take a trip down memory lane: For six years now, you have actively been involved in promoting new snowboarding talent through the "Sprungbrett" ("springboard" or "stepping stone") project. What motivated you to set up this scheme?
Having completed my Sports Marketing degree, I joined forces with Burton and Red Bull to set up successful camps and events in the framework of special marketing activities. 2010 brought a significant experience in my private life, which made me question everything around me. I no longer wanted to work for short-lived marketing strategies. "Sprungbrett" was created as a result of a desire to get involved socially, to promote sustainability and to see the natural growth of a vision.
What is the focal point of this project for you?
I very much enjoyed watching "Sprungbrett" develop at the same pace as its target group – that is the children, the future snowboarding talent.

Whereas at the start, most of the kids were 10-15 years old and particularly enthusiastic to become professional snowboarders, these days, 90% of the kids are younger than ten and are especially keen to board with children their age.
Overall, though, "Sprungbrett" is simply a scheme open to all those who are ready to live their dreams! It allows snowboarders from 5-55 years of age to come together and do what they enjoy most. We all motivate each other and learn from one another. That's a vibe you can't buy, not even with the biggest marketing budget.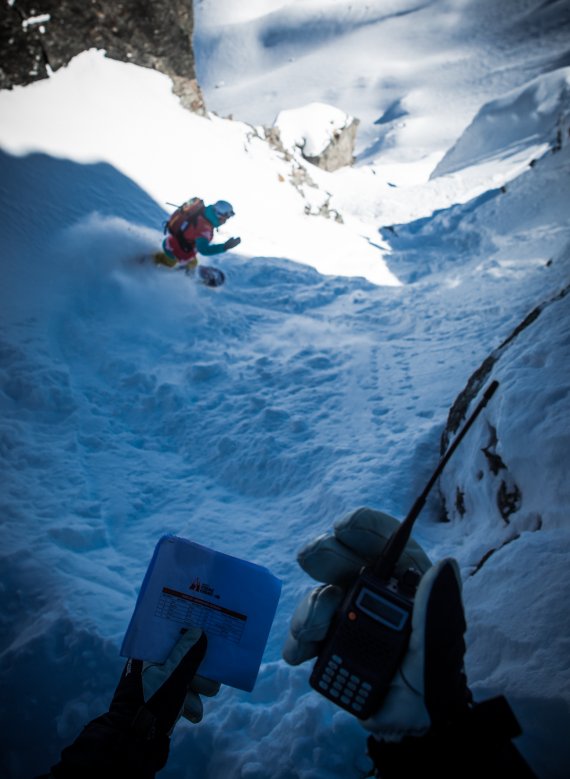 How far does the winter sports industry support "Sprungbrett"?

I receive most support from the cable railways and tourist spots in which we make our stops, as well as from my volunteers. As my main sponsor, Nitro Snowboards contributes to making all the organizational work possible. Furthermore, I work closely with the SVD (the German Snowboarding Association). I have very limited funds for this project, however everyone who supports "Sprungbrett" does what they can as best they can. Without a great deal of dedication and passion, "Sprungbrett" wouldn't exist.

Which areas of the project need more support?

"Sprungbrett" is a grassroots organization. Technically, nurturing new talent is a job for sports clubs and associations. However here, funding is directly linked to rankings. We need to change the way we think about sports if we want to stop snowboarding from being purely results-driven. We also need to realize that young people – new talent – represent the future of sports and that we cannot rely exclusively on currently successful athletes. That would be a good start.
Overall, what do you think has to change to encourage more children to take up winter sports and, more specifically, snowboarding?

I feel we should ask ourselves what motivates children take up a sport in general. Parents play a key part in this. The more opportunities we give children to try things out and discover how enjoyable it is to be active, the more they will want to lead an active life. So for winter sports, take your children up into the mountains, and who knows: maybe your own enthusiasm for winter sports will be kindled.
You are also an ambassador for the "Your winter. Your sport" scheme. How far does this also help you draw attention to and gain support for your own talent project?

"Your winter. Your sport" is a great scheme that is in itself still in its early stages. The groundwork has already been done – the winter sports forum in November at the Tegernsee (lake) brought some fantastic personalities and players from the world of winter sports together. The winter sports industry, cable railways, tourism, events, media – in the end, we're all in the same boat.

We have to see that interdisciplinary cooperation will create a much better future than constantly complaining about a lack of funds or worrying that others will take your share of the cake. If we act upon such realizations, we will already have come much further than we may think.

Starting on February 2, the TV channel VOX will broadcast you to millions of households in the series "Ewige Helden" ("Eternal Heroes"). How did this new project come about and what can we as the audience expect from the series?

This format has already been very successful in many other countries for years and is now being broadcast in Germany for the first time.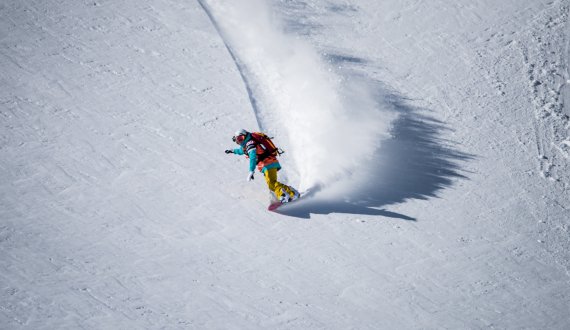 Ten top-class former sports professionals compete against one another in various sporting challenges. It was filmed in Andalusia and was really hard work. We had a daily schedule of two to three competitions in disciplines that we couldn't practice in advance as such and that required endurance, concentration, strategy and strength, for example. Competitions aside, there was a great deal of filming of behind the scenes, our careers and of stories that each athlete had to tell.
I am enthusiastic about so many aspects of sport and love new challenges. As soon as I saw the list of athletes, I knew that this would be the right TV format for me. All those who enjoy sharing in the thrills of watching how athletes handle extreme situations and go through ups and downs will do well to tune in to "Ewige Helden" on Tuesday at 8:15pm.

I can imagine that the colorful mix of former sports professionals – including Faris Al-Sultan, Heike Drechsler, Thomas Häßler and Britta Steffen – made filming the show great fun. Can you give us a few anecdotes?

Reading the list of participants is like reading the "Who is Who" of my generation's world champions and Olympic champions. Some of them will even have seen the others' competitions on TV. For me, it was exciting to hear how each individual's career seemed to focus exclusively on records, victories, times and distances.

That was the only goal you really knew. This has also shaped and is reflected in the athletes' personalities. In this respect, I am sure it will be exciting to see me – the "athlete-for-fun" – going up against the classic club athletes of our time for the glory of the title of the "Ewige Helden."
The Freeride World Tour and "Sprungbrett" aside, what else do you have planned for 2016?

2016 is going to be an intense year for me, full of various projects and many different facets: Freeride World Tour, "Ewige Helden" series, "Sprungbrett" – and all in the space of only a few months. That's more than enough to keep me busy. I think I will definitely need a vacation after all that.

Profile: Nicola Thost
Age: 38
Greatest achievements:
1995 & 1996 – 1st place Junior World Championships
1998 – 1st place Winter Olympics in Nagano
1998 & 1999 – 1st place ISF World Ranking
2002 – 1st place World Snowboarding Championships in Vail
2015 – 1st place Freeride World Tour Verbier
Nicola Thost on Facebook: https://www.facebook.com/thostnicola/
Nicola Thost on Twitter: https://twitter.com/NicolaThost
Promoting new talent through "Sprungbrett": https://www.facebook.com/sprungbrett/