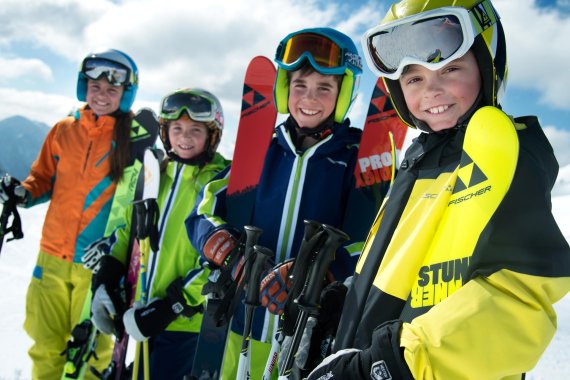 Today, Villach, tomorrow, Kaunertal, the day after that, Stubai... Roman Kuss spends a lot of time on the move, and not only because the first snow of the winter is beginning to fall. The 27-year-old is the division head for freestyle skiing for the Austrian Ski Federation, so spends a lot of time with the young generation of skiers.
ISPO.com spoke with Roman Kuss about the trends in freeskiing, key equipment decisions for the trend sports freeriding and freestyle skiing, and how to find the right ski for you.
Austrian Ski Federation Freestyle Skier Roman Kuss in Interview
ISPO.com: Mr. Kuss, a simple question to start with: How do I go about finding the right skis for me or my children to go freeskiing with?
Roman Kuss: (laughing) I'm not sure that's a simple question! But ok, I'll try to play the part of a salesman. "Freeski" is a pretty broad term, so I hope you don't mind if I ask you a few questions. How well can you ski and what exactly do you want to do with the skis?

Cross-country skiing, a few jumps. Sometimes I'd want to go in the terrain park, but no rails or boxes. Something like that. My ambitions – I've been skiing for thirty years, and I'm solid when it comes to deep snow. But I have become much less of a risk taker.
Yeah, I know that feeling too. You begin to think more about possible consequences. It's hurts a lot longer when you fall. But back to the skis: there isn't any one ski that is right for freeskiing. You want skis for freeriding, but something more in the area of all-mountain. You should know pretty clearly where you want the skis' strengths to be, because the ski industry has noticeably increased the product choice over the past decade. In the past there were just a few different ski models, but today there are all kinds of possibilities.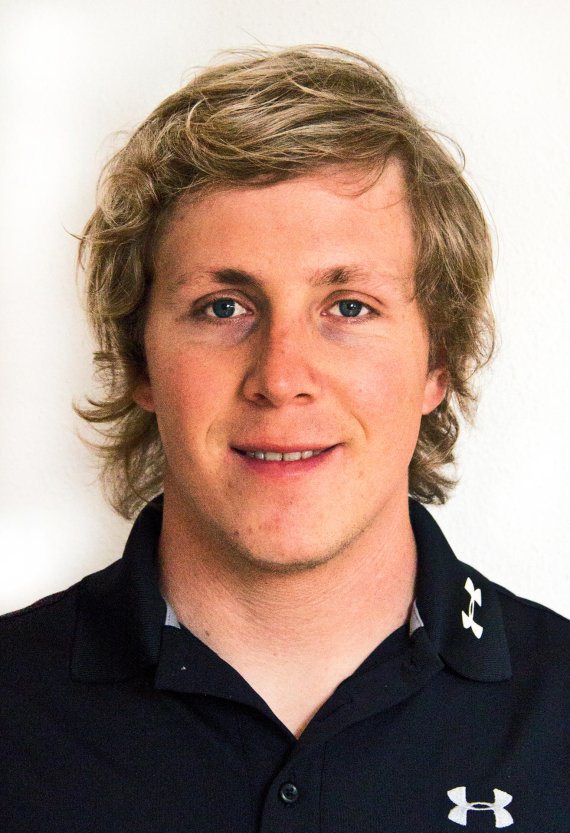 What would you recommend to someone like me, just your average person interested in freeskiing?
Freeriding skis are usually longer and wider than freestyle skis, which are used primarily for tricks and jumps. For both, the tail is not as pronounced as it is on classic skis for the piste. In your case, I would recommend to you, an experienced skier, a ski length equal to your body height plus a maximum of five centimeters.
Those who are less experienced should probably opt for a shorter ski. Twintip skis – skis where the front and back both bend upwards – have become the standard for freeskiing. Using these skis you can travel backwards and go in the terrain park. Virtually all skis for freeriding and freestyle skiing are now rockered. The negative camber makes the ski much better at turning.

Freestyle Ski Bindings: Mounting Point in the Middle 
What about the bindings? What differences are there between bindings for normal alpine skis and the skis used in freeskiing?
The differences between the bindings are not that big. There have been all sorts of developments in this area, but in practice few of them are really implemented. If you want to be able to climb with your skis, then you will of course need a special binding which has a climbing aid, so freeriding touring bindings.
The biggest difference compared with alpine skiing is the binding's mounting point: for freeskiing, it's further forward, in the middle of the ski, which enables you to have better control and to transfer more power for jumps and when travelling backwards.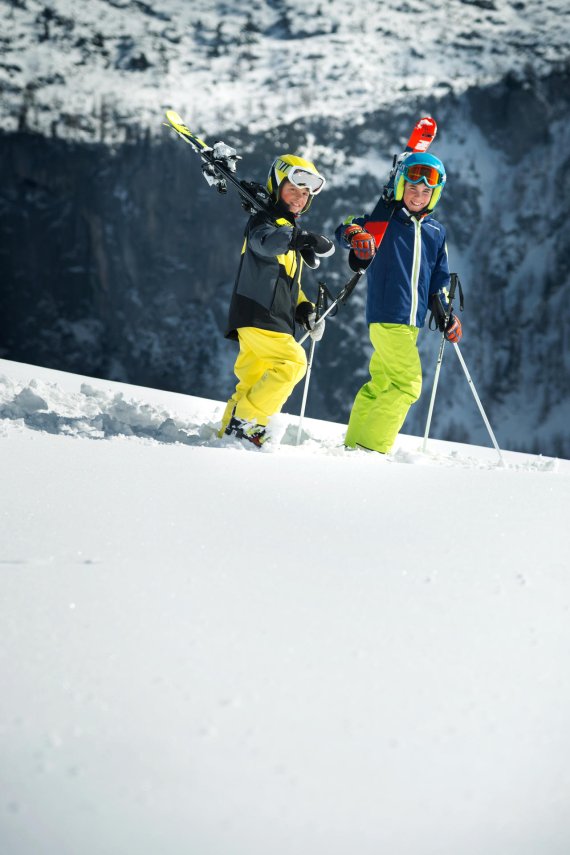 Have you got any recommendations for ski poles? Do I even need them any more?
Yes, of course – even if they're not used like they were in the past, they are still helpful for keeping balance. For freestyle skiing, use a shorter model. For freeriding, which involves more turning, poles are more of the classic length. Right angle between the forearm and upper arm and then take it in the hand. Freeriders who spend longer periods climbing also use adjustable poles.
And lastly, what considerations are there for buying ski shoes?
There are definitely big differences to consider. I will try to give a short summary: soft shoes for freestyle skiers, a little bit harder for freeriders, and hard for alpine skiers. Shoes for the pistes usually have four buckles, while freeskiers usually just have three. On top of this, freestyle shoes should have shock-absorbing capabilities to soften the landing after a jump.

Another special day at Absolut Park ! 18 year old @wallner_laura did her first double backflip! #oesv #boom #freeskiaustria

Posted by Freeski Austria on Thursday, December 29, 2016
The ISPO AWARD jury chooses the best sports products of the year – click here to see who the winners in the ski segment were in 2016 >>>
As the division head for freestyle skiing at the Austrian Ski Federation, you spend a lot of time with the young generation of skiers. Do you see any trends among them?
I'll put it like this: We have had some difficulties attracting young people to winter sports. For many young people, other things are more important, like phones and computers. The ÖSV's divisions are aligned with the Olympic disciplines, which don't hold that much appeal for many. Creativity and individuality are what young people are looking for.
Of course, the ÖSV knows this and is working on creating the right offers. For example, even though there is no division head for freeriding, we offer freeriding camps for our members. Freeriding has great appeal for young people, but it does also depend on where the children come from.

Terrain Parks Attract Young People 
What do you mean by that?
Whether or not there is a terrain park in their home region. If there is, slopestyle is naturally a popular sport. And the ski industry is happy about this – the skis wear out more quickly because of the different obstacles and often won't last longer than one season. Those who don't have a terrain park near them often take to freeriding better.
Ski manufacturers have at least reacted to this and have put on the market the right products for each type of skiing. When it comes to design, you can immediately tell which target group skis for freestyle skiing are aimed at.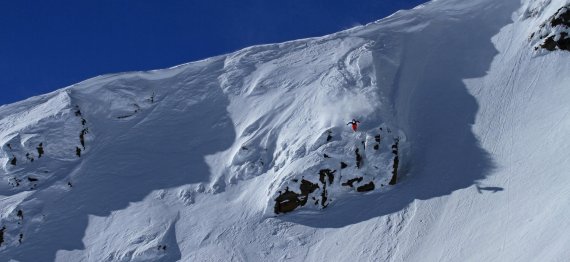 They are more colorful?
Not just that, they are simply more modern. Some kids like them to be very colorful, others want them to be more simple. But the look and design of the skis is definitely a key criterion when buying. Young people always orient themselves on the stars of the scene. Children and young people know exactly who uses what ski – and they then want to use these brands as well.
That was a central aspect of my master's studies on product innovation in the ski industry – when it comes to trend sports in skiing, like freestyle skiing and freeriding, brand image is key.

I'm sure the marketing departments will be please to hear that!
Yes, I'm sure of it. But this is not a particularly smart way for the kids to decide how to choose a ski. They should instead be considering what they will be using the ski for and what ski will best be suited to their needs – a small and thin rookie skier will not go very far with a large ski built for a professional skier, it won't help them to get better at skiing.

Tips for Freeskiers: Get Advice!
Any more tips for young people who want to take up freeskiing?
If you have the opportunity to take part in a camp, that would be a good idea. There you will be taught the basics which you will be able to use at any time later on. I also have two recommendations for equipment.
Firstly, for freeskiing, you need back protectors and a helmet – they are absolutely essential.
Secondly, let them give you advice in the shop about what to buy. The product choice is enormous and it is not always easy to get a good overview of what is available. A good salesperson will know exactly what equipment is right for you.