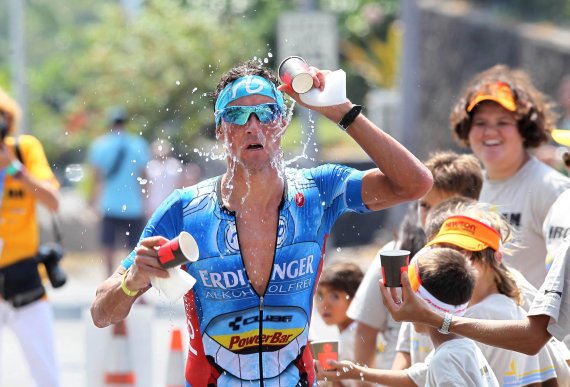 He had to completely shift his training for his goal of victory in Hawaii 2016. Prior to the start of preparations, Raelert explains in an interview with ISPO.com how he's mastering the balancing act between family and high-performance sports.
ISPO.com: Mr. Raelert, the past few months have been very emotional for you, haven't they?
Andreas Raelert: It was an intense few months, but after Ironman Hawaii I was able to sort of block out the triathlon world. There were familial things for me to do that were more important, and especially more beautiful. Being a father is very mesmerizing, and the situation is still sort of unfamiliar. Everyday life has a complete grip on us, and I'm having a crack at the opportunity to be there and to support it as best I can. Being a father is a big challenge, but more beautiful than I imagined. I'm looking forward to everything that's to come, and I'm feeling really good.
How are you dealing with these intense experiences?
When I think of second place at Ironman Hawaii, on that one day in October 2015, these moving moments are still very present. On that day the triathlon was all that mattered to me, and nothing else. I'm going to keep working on realizing my dream and still win the Ironman Hawaii – maybe together with my brother. Apart from this triathlon world, the focus with my family and my son is set completely differently now. The birth of our son has been a great gift for us. A good friend and German performance swimmer described it to us very well: "As a young father, I had unbelievably little sleep, and the conditions weren't the very best. But from an athletic perspective, it was my best and most successful year." I think that I can take exactly that motivation into the triathlon in the next few years.
Mental strength as a guarantee for success

With Jan Frodreno and yourself, two expectant fathers stood on the podium in Kona in 2015. One could assume that your new missions in life are optimal preconditions for top placement at Ironman Hawaii. Will we one day witness an Andreas Raelert who deals with his races with even more focus, and once again takes masterful victory?
I hope so, because last season was really something special. I have the great fortune that my entire environment and my family support me and give me enough space, but then also demand that I be involved. It's good to know that, apart from the triathlon, a whole other world is waiting for me. 
Your path back to the top of the world was also a trial of patience, after injuries and some setbacks. This summer you'll be turning forty, how long will you be able to join in up there?
As long as I still have fun, not just filling in the starter field and as long as my dream doesn't become unrealistic, I'd like to keep going. That I carry more responsibility now and have to design my training more efficiently and plan even better is a big advantage. Above all, I have to better allot my time.

That means that you'll be training primarily in Rostock again, while your brother Michael abides in the training camp in warm, far-off Asia?
At the moment I'm training at home in all weathers, just like many years ago. Of course, that's a big difference. Last year I was on the move for 300 days, and at this point I was already in the third training camp with Michael. My new life with my family at home is different to be sure, but very nice, and it works well.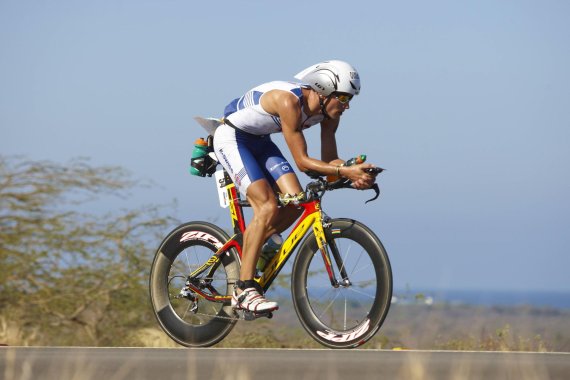 My family gives me strength for the sport

What do these several changes mean for your everyday life and for your training as a triathlon pro?
Until now, triathlon took up 24 hours of my life every day, and it will continue to stay that way. What's new is making space for yourself and at the same directing yourself towards family life. I know that I'm facing a new challenge, my greatest challenge. Everyday day will show me how everyday life and my duties as a father can best be reconciled with my triathlon training anew. That also gives me a lot of strength to realize my goals as a triathlete.

Among insiders, you're considered a heavy trainer. With the new double load, how do you divide your strengths to still generate high performances in your seasoned training age?
Physically, I feel extremely fit, but especially very mentally fresh to meet these new challenges. I was able to best prove that last year. Sure, my body doesn't condone quite so many extreme units any more, and I have to pay attention to my regeneration as well as work on my effectiveness. The training volume is still at a record level, but I take recreation days more often. Otherwise, everything's the same.
In the past few years, you've always had to qualify for Kona in stoppage time. In 2016, you're in the comfortable situation of already having brought along several points through second place. Will that be of use to you?
I'll be starting at Ironman Frankfurt in the summer and would also like to qualify then. But my focus is very clearly on Kona and Ironman Hawaii.

Get the latest news on the Raelert brothers Andreas and Michael's Facebook page.