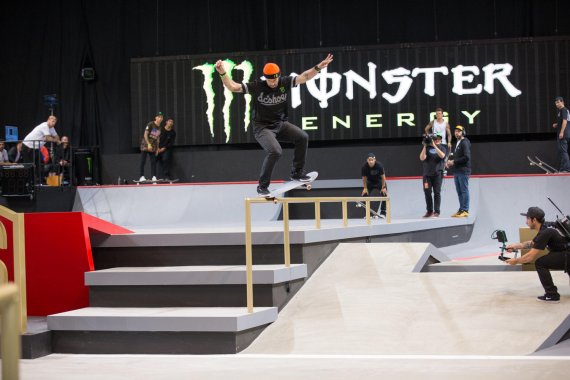 In the interview with ISPO.com he explain why the Internet isn't only a blessing for the skate sport, why ordering a beer at the Hofbräuhaus in Munich can be difficult and why skating is a world of its own.
ISPO.COM: Mr. Cole, when Americans come to Munich their first way leads them normally  to Hofbräuhaus. You won the X-Games in 2013 here and are competing now at Munich Mash: so, have you been there for a beer?
Chris Cole: Oh yes, I was there with the other boys – it was just amazing. Somehow it is very stressful to get a beer there though. But I am very happy that we did it, because normally we don't see a lot when we are in a new city. It was so German, that stays in your memory. 
Does a skater drink beer then?
Oh yeah, two of the big guys. But we moved on then, because it really is a lot of beer. Thats hard work. They serve you food as well, but you get enough food already, because you are kind of eating the beer. You can't get much food in after that, you have to either do one or the other.
Let us talk about skateboarding: You are one of the stars of the Street League Skateboarding. What goal did you set yourself for this season of the best skateboard league oft he world?
I want to inspire the audience with my style to skate. That's why I'm here. My goal is to skate every event of the tour. All of them are in my calendar and then I want to power through all of them.
"Skateboarding is a mentality game"
You are the oldest skater of the SLS tour, who is considered a top-star. Do the young and wild look up to you?
I never really thought about this. I also wouldn't know, if they actually admitted to that. I think my role here is to really skate the way I skate. I don't want to imitate anyone or beat the boys – just to skate how I am.
One of your principles: always be yourself?
When people come to see me skate I want to present myself the way I am and not have to pretend I am something I'm not.
Street Skateboarding: "An Accolade for the Munich Mash"
You are part of the SLS since 2010: How has the Champions League of skateboarding developed in those years?
By now a lot have found out how to skate the best here: It is a mentality game. It is physically demanding, because of the jumps and tricks. But also very demanding mentally. It is interesting to watch how the boys learn to skate the contest. This makes it a lot harder, because by now everyone is so smart in skating in the contest.
SLS president Brian Atlas: "Skateboarding is definitely more accepted than ever"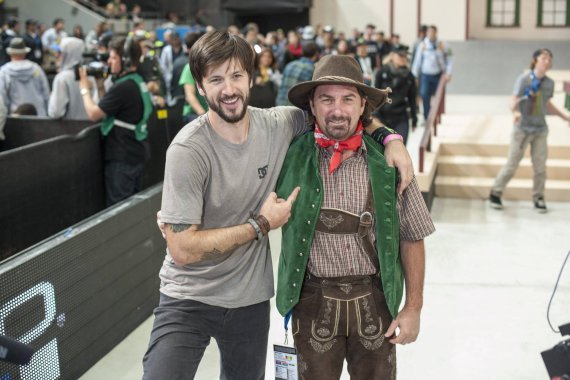 "The internet helps and hinders"
Most of the athletes are American: can SLS help to make skateboarding as big in Europe as it already is in the US?
Oh, of course. In the most places people react to contests like this one a lot, because they know them from other sports. Without the contest you won't get the people to understand skateboarding or to simply ask the question: how the hell does this actually work? Very simple, because people are used to contests and tournaments.
But there have to be other ways to develop skateboarding further.
Hm, that is a difficult question. Difficult simply because the whole skateboard industry has changed with the internet. Mono-brand shops and skate shops are currently dying out. This is a sad development. But I think some of them will reappear, even if smaller to the ones I knew when I started skating. The shops can't disappear completely, because they promote the local skating scenes, which will always be tightly connected to the skate shops: simply because the older skaters influence the younger skaters of the region.
But the internet helps a lot when you want to make a sport popular.
The internet helps and hinders at the same time: It gives everyone a voice, no matter whether they deserve it or not. Everyone thinks that they deserve a voice these days – and that they can say whatever they want and spread their opinion that way. But as long as you haven't experienced enough in your life you shouldn't talk about things you don't understand.
Fun session with Tom Asta yesterday. Flying to Germany later today for #streetleague Munich. ✈️ ✌️ Filmed by Angelo Iapalucci. Reign Skate Street League Skateboarding

Posted by Chris Cole on Wednesday, June 29, 2016
This sounds like you don't care a lot about todays generation anymore.
I don't go out there and try to beat the boys: I try to beat myself. At every place I try to leave as winner with doing all the things I want to do. This way I have fun.
Nyjah Huston: "People Understand That You Can Earn Money Skateboarding"
"You will always be a skater"
On your right index finger you have the head of a Stormtrooper from Star Wars: how do skateboard and Star Wars fit together?
Not really, actually: but Star Wars is just as much a creative and unique world, which you can dive into. There isn't just a movie, but a whole community, a toy series, comic books and, like I said, a whole world next to the actual movie. That's how it is with skateboarding as well: a whole world on its own next to the kickflips.
GoPro gave me 10 more tickets for the Supercrown finals tomorrow. Check out my Twitter (@chriscobracole) to see how you can win 2 tickets. Good luck! Street League Skateboarding #streetleague

Posted by Chris Cole on Saturday, October 3, 2015
What defines the fascination for the skateboard world for you?
Skateboarding is a big mix of an artist, an athlete, a rebel, a musician. It is not so easy to define it next to all those sports which are so categorised as a sport: you can't just say "Skateboarding is a sport" – it is more than just a sport. But you also can't say that skateboarding is art, because we are athletes. We are out there and are physical. It isn't just sitting on the corner of your bed and learning how to play the guitar. This is where you see that skateboarding is a world of its own.
And so special are the guys of this world as well?
Once you are a skater, you will not change that ever, you will always be and stay a skater. When you're out there you will always see streets and think about how to skate them. When you see a bump or ramp, you always see a skating spot first – you will never lose this. Even when you physically can't skate anymore you will still follow it. Skating is a world, which you follow in magazines, of which you always know what is amazing and why it is so rad. You will always be a skater.