Together with Mark Pipper, Chris Böhm is performing for the Chinese technological company DJI Innovations, which is presenting its drones at ISPO MUNICH. The small propeller machines have a range of up to two kilometers and deliver razor-sharp pictures and videos from the air. 
Is it possible to film drones at speed?
The corporation and the BMX star got together because DJI Innovations wanted to test how good the images would be when Böhm performs the wildest turns on his BMX. Because he's just what the doctor ordered: Originally from Leipzig, and now living and running his agency "newscoolflatland EVENTS" in Lörrach, Chris is three-time champion in Flatland BMX. As the name suggests, these sportspeople do their thing on a flat surface, performing the craziest tricks on their bikes.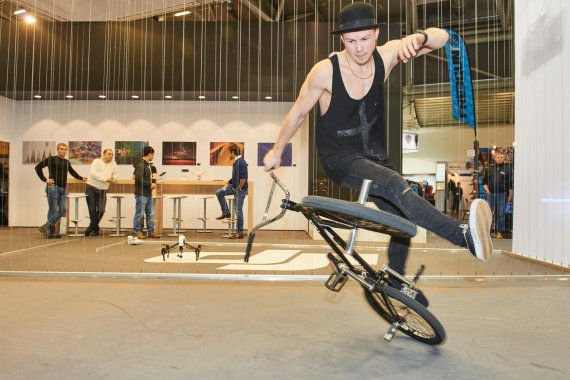 Together with Mark Pipper, who is German champion in Tricking, Chris Böhm has created a new art form: BmtriX. While Pipper presents a combination of floor exercises and the martial arts capoeira, karate, and kung-fu, Böhm combines these skills with his acrobatics on the BMX bike: Moonwalking to Michael Jackson, quick turns to Rammstein. It seems fitting that Böhm's motto is inspired by Robbie Williams: Let me entertain you.
World record holder who makes a living from his BMX tricks
The 32-year-old has finally made this motto his own since January 2016: No one has done a head-spin with a BMX bike yet – world record. Böhm posted the video as proof on his Facebook fan page, which already has over 90,000 likes. 
The 32-year-old has been training for his shows for 16 years; nowadays he travels all over Europe to 60 events every year. "Currently, I'm the only person who can make a living from the sport," says Böhm. This is the second time that he's come to ISPO MUNICH; the first time was when he performed for Willy Bogner in 2013.

The video shows just how well DJI Innovations' drones and Chris Böhm and Mark Pipper's tricks go together: Any more action is hardly possible.