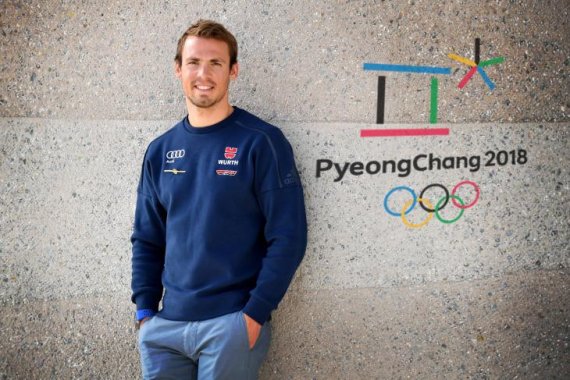 Simon Schempp is already a model for the Olympics in a gold jacket. Tellingly, the German Olympic team's campaign for 2018 is called "Remember My Face." And Schempp's face is hard to forget.
"Germany's Olympic outfit is sharp and well-tailored," rated the 29-year-old after his excursion to the modeling business. But ultimately, Schempp doesn't care whether he wears he wears a golden jacket or a silver one at the Winter Games in South Korea.
The important thing is that he goes home with a gold medal. That in particular is still missing from his collection – the relay silver from Sochi is his only Olympic badge thus far.
Achievements:
Schempp has already won four world championship titles (three of them in a team), and he's also a European champion and German champion (in 2017 too, of course). 18 World Cup wins are also part of Schempp's track record (12 individual, 6 team), but in international terms he's still in the shadow of superstar Martin Fourcade (hyperlink) and Ole Einar Björndalen (hyperlink). Even in the German team he's (still) second place, behind Biathlon Queen Laura Dahlmeier.
Social:
Instagram: Over 46,000 followers
Facebook: Over 88,000 likes
In the social media sector, his channels alreadymake him one of the stars of the scene. There, female fans sometimes even freely praise Schempp's "great ass."
Schempp is also popular in the world of biathlon women. Between 2008 and 2011 he was in a relationship with colleague Miriam Gössner, who now is together with and even had a child with alpine star Felix Neureuther. Last winter, Schempp's relationship with biathlon teammate Franziska Preuß went public.
However, for the most part Schempp leaves his private life out of his Instagram. His posts are almost exclusively athletic in nature, sometimes with impressions from training units, or serve as an advertising platform for Schempp's numerous sponsors.
Outfitters/sponsors:
Outfitter Rossignol, Adidas, Erdinger Alkoholfrei, Swix, and Aktiv 3 are some of his partners. Audi has presented him with a breathtaking new car for the Olympic season.
Income:
Schempp still hasn't touched the income of the scene's stars like Martin Fourcade and Björndalen – who rake in over a million euros each year. He earned close to 100,000 euros in prize money last winter, while sponsor revenue is to be twice as high. With a gold at the Olympics, Schempp could catapult himself into the list of big earners.
In demand online:
When Schempp received his diploma from the Skiinternat, a skiing-centric boarding school, he was also presented with a plaque with a peculiar name: The Alfred Maul Memorial Medal for Outstanding Achievements in Sports.