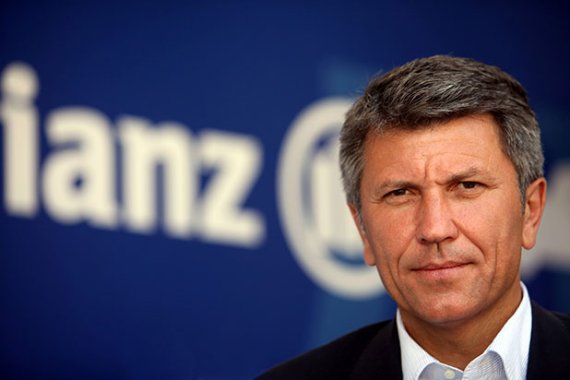 ISPO.com: Mr Boschatzke, for three years in a row the FC Bayern team presentation, organized by Allianz, was held as a large event in the Allianz Arena. In 2016 it took place instead as an English-language Facebook live stream with two comedy Youtubers who are completely unknown in Germany, and the reaction of the fans was negative. Was this then a disaster for the sponsor?
Manfred Boschatzke: No, the international reception was good. The two Youtube stars have almost three million fans. The Facebook stream was an attempt to open new routes in social media after three years in the offline world. 
"We're Going to Sit Down with FC Bayern and See What We Can Learn"
Was it a mistake?
No, but that is a common criticism. Personally I think it was perhaps not tangible enough and I think that future success will depend on a mix of the 70,000 fans locally and wider, international communication. We're going to sit down with Bayern in the Autumn and look at what we can learn from the reaction.
Livestream - FCBDAY1

We're now LIVE! Enjoy the FC Bayern team presentation! We're looking forward to your feedback and comments on #FCBDay1!

Posted by FC Bayern München on Saturday, August 6, 2016
If the Youtubers had been reporting about the women's national team, the reaction would have been much smaller because there is not as much interest in women's football. Do you think it's a problem for sponsors that men's football is so dominant?
Yes, personally I think it's a problem. In my opinion, too much attention is given to men's football. Especially in that the quality of the sport often does not correspond to the amount of attention it receives. Today we even show third division football on television.
Allianz is an 8.33 percent shareholder in FC Bayern, so it must benefit a lot from football's success?
Actually I think that many other sports deserve attention. There are so many great athletes outside of football. It's for this reason that we are also involved with handball, volleyball, women's football, golf and sport for people with disabilities.
Surely these are just fig leaves when you consider how much added value men's football and FC Bayern bring to Allianz?
No, as an insurance company we think very carefully about our target groups and what would interest them. It is difficult to increase the visibility of the Allianz brand any more than we already have, so we don' t need more sponsorship with FC Bayern. But we want to reach specific target groups. 
Which target groups in particular?
Women. Women are very important to us as insurers, because they are often the ones who make decisions in the family over things like provisions for the future. We've said before that in the areas where women are still at a disadvantage, we want to make a difference.
So you do this by sponsoring the women's football league in Germany? 
Yes, I know of no sport where men and women's performances are so comparable as in football. At the 100m sprint in Rio 2016, there was no question that Usain Bolt was faster than Elaine Thompson. And neither in the biathlon nor in the skiing world cup are women's achievements on such a similar level to the men's as in football. This is unfair.
"Women's Football Has to Put in a Lot More Effort"
Can Allianz's partnership restore balance for women's football?
No. Women's football must go the extra mile to be visible. That job can't be passed on to the partners and sponsors. But I personally am asking the Bundesliga associations why they don't have branches for women's football.
Is there any demand?
Of course there is demand. In the 70s, when I was a junior player for VfB Stuttgart, the only players in the stadium were the players' wives. 30 percent of the spectators at games in the Allianz Arena today are female. More than a million women play football. The footballing world has become a lot more feminine! Every company needs to ask itself how it can become accessible to this group.
The situation for disabled athletes is also not very fair. Athletes like the multiple Paralympic gold medal winner Birgit Kober and the gold medal winner Michael Teuber say that without the support of global sponsors like Allianz, they would not be able to practice they're sport and have few individual sponsors, if any. As a sponsor, what are you doing about this?
We're trying to use the popularity of FC Bayern and other sponsorship partners to give a boost to disabled athletes. We dedicated the opening game in the 2016-2017 Bundesliga season against Werder Bremen to the Paralympic Games and had Paralympians including Markus Rehm in the crowd. You can also look at our video, "The World Belongs to Those Who Dare", in which we incorporate football, Formula One, art and disability sport.
Here we again need to ask: Aren't these activities for disabled sports nothing in comparison to your football sponsorship?
No, for us it's a core activity. More than 30 percent of Paralympic athletes are disabled because of an accident or illness. As a health and accident insurance company, it's our responsibility to give these people a platform. For example we did this through a special edition of 1890, our customer magazine, on the Paralympic Games in Rio. We do many other things as well. 
But the Paralympians don't gain much form this?
They become more visible to individual sponsors, which is very important. Furthermore we support a lot of athletes personally, inviting them for example to speak at internal and external events. Allianz also insured all of the German athletes' sports equipment and prostheses at the Paralympic Games.
How important is the sales aspect of sponsorship?
We need to remember that sponsorship is also a platform we can use to affect our sales. For years we were happy just to say we are partners of FC Bayern. Today we say that we are partners and insurers. Major sporting events such as golf and volleyball tournaments, football championships and the Olympic Games can only happen if they are insured. We try to make that clear.
"Today There Are Six Allianz Arenas Worldwide"
What else have you discovered about the modern world of sponsorship?
Sponsorship has changed dramatically. Ten years ago all that was important to us was making sure our logo was visible to the public in the Allianz Arena. Today we see ourselves as part of a content community. Sponsorship is a platform for communication and interaction with people.
The principle of maintaining long-term partnerships has functioned so well between FC Bayern and Allianz that there are now six Allianz Arenas worldwide. And who knows: Maybe soon we could have one or two more.
You mentioned content communities and platforms. What do you mean by these terms?
Thanks to digitization and the possibilities that it has opened up, today we can produce content ourselves and make Allianz more visible through modern storytelling techniques. But to do this we need strong partnerships and emotionally powerful content, which we already had at the aforementioned FC Bayern team presentation or the "Bloghouse" that we had in Canada for the women's football world cup. These are the stories we need. We can't evoke as many emotions in our target groups with insurance conditions and products alone.