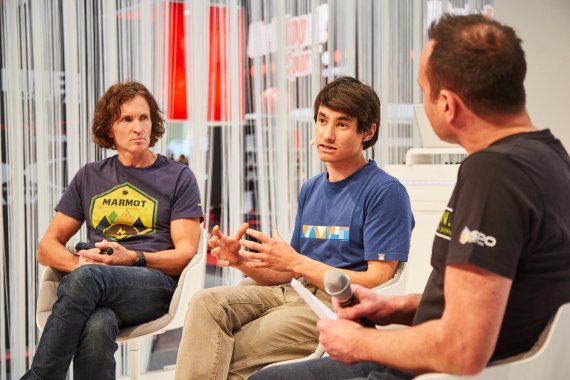 Together, the Bavarian and the Austrian explained what the mental and physical fitness programs of top mountaineers look like at ISPO MUNICH. And why even the pros should sometimes be allowed small slips in their diets.
The fitness program
"The focus is on the basics," says David Lama. "Five to eight straight hours of climbing a rock face cannot make you tired, no matter if it's 0 degrees or 70 degrees out. That's why I go running and bike riding, and do things I find fun." When it comes to climbing, the Tyrolean has a climbing hot spot right in his backyard: "I meet a lot of acquaintances in the climbing hall whom I can compare myself to."
And Stefan Glowacz' approach? "I often train alone in my basement. I find this to be really meditative. I clearly analyze what needs work before a trip and that's what I work on. During strength training, I do a lot of free weights and suspension training."
Preparing mentally for the mountain
As the saying goes, "Planning is everything. Plans are nothing." "The more I can put myself in the mindset of the trip and the challenges it presents, the better. But I know this: It is ultimately never the same as it is when planning the trip," says David Lama.
And expectations are crucial. "High-end expeditions can fail – we need to be clear on that," says Glowacz (you can read an interview about the future of climbing here). "The summit, the routes no one has taken before – these only provide slim chances for making it up to the top. Failure is a fundamental component of climbing."
Healthy eating
As a top athlete in his mid-20s, David Lama's constitution means he doesn't have to worry too much about his diet. "I don't actually plan my diet. Of course, that doesn't mean my first stop is McDonalds. But there's nothing wrong with having a little treat or a beer from time to time." In fact, Lama finds it difficult to gain weight – something that is absolutely necessary for his expeditions: "Spending several months above 5,000 meters at 5 degrees Fahrenheit means I really need to build up my reserves."
For Stefan Glowacz, however, who is 25 years older, the process is more deliberate: "I love to cook, and that increases your awareness of nutrition. And I don't drink alcohol anymore." But he does allow himself to enjoy his food, of course, and pleasure is never lacking: "Of course I'll eat some schnitzel and five potato dumplings when I want to."