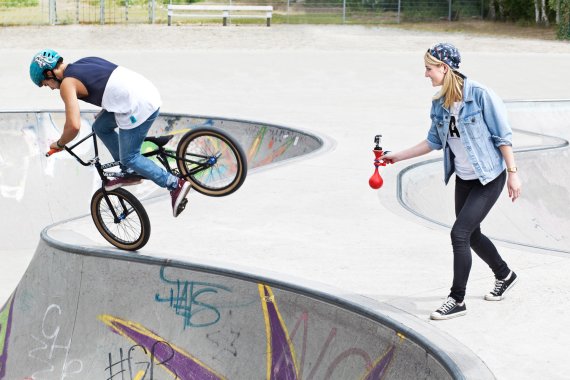 How did the idea of developing the solidLUUV evolve?

For many years I have been filming with action cams but I was never really happy with the results: It wasn't fun to watch wiggly images and to edit them into videos. That's why I decided to give it a try and use my basic knowledge from university in order to develop a stabilizer system myself. I took the first test images with the prototype on a snowboard trip and was really blown away by the quality of the film.

How would you sum up the solidLUUV?

It is the first compact camera stabilizer designed to film action sports or other outdoor activities. The handy tripod is waterproof, robust and a reliable companion that provides sharp, shake-free images.

It's a very flexible companion, right?

Yes, as the tripod is compatible with all action cams, smartphones and compact digital cameras. Thanks to the counterbalance-setup you can mount and adjust your camera or smartphone in only a few moments. Furthermore the solidLUUV also has innovative features like an up & down mode that makes it possible to turn the stabilizer 180° and back while filming. This leads to completely new perspectives and captures movements and speed with authenticity.

How long did it take to develop the solidLUUV?
The very first prototype was tested on the slopes in fall 2012. With the help of the 3D print technology we developed and improved an external housing protecting the sensitive parts inside step by step. The great feedback of our crowdfunding campaign on Indiegogo between March and May 2014 further motivated and helped us. Thanks to the support of the industrial designers at Thiele+Wagner we also went to injection molding for the manufacturing process. At the moment solidLUUV is in the production stage and will hit the market in fall 2015.

Would you recommended solidLUUV only for experts?

No, anyone can use the solidLUUV, whether you've already worked with camera stabilizers or not. The solidLUUV is suited for fast-paced sports images and interesting new perspectives, for professional shoots as much as for private use. It is easy to master with one hand only. The rubberized grip guarantees that the natural shake in your fingers isn't transferred to the tripod. And changing the camera is possible within a few moments thanks to the counterbalance-setup.
For which kind of sports do you recommend the solidLUUV?

For any kind of team or group sports where you can film each other – for example skating, BMX, snowboarding, skiing or other outdoor activities; there are no limits.

What does LUUV stand for?

LUUV comes from the German word "luv" which means the windward side of a boat and pays tribute to the aerodynamic design of the product. Besides, our core team consists of four people, which is why we added another "U".

What does ISPO AWARD "Product of Year" mean to you?

This award is a huge honor for us and means a lot as it proves that solidLUUV is of great use for action sports athletes and the outdoor sector. The award has given us another push and is a precious seal of quality. We were already fascinated by ISPO when we were kids; today we are here as exhibitors and even won an award – that is simply amazing.
Facts

Material: V2A Stainless Steel and robust aluminum, polymers, customized ball bearings
Height: 25cm without adapter and cam/smartphone
Width: around 9cm without handle
Weight: 300 gram (setup with GoPro Hero3+: 680 gram)
Price: EUR 210

Links:

solidLUUV-Website
http://www.luuv-stabilizer.com