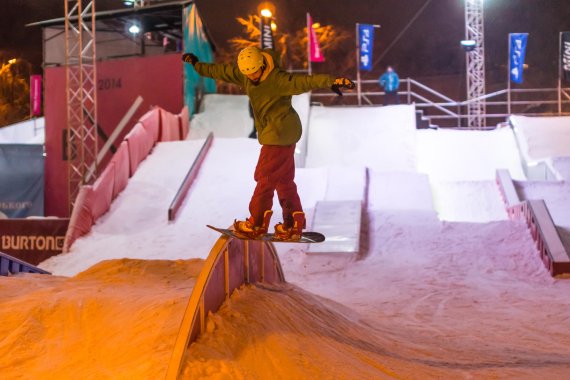 Snowcovered sites ready for shaping have been his passion for the last decade. Like a virtuoso Andi guides his enormous, 450-hp, ten-ton snow groomer across the slopes.
What do you love about your job?

The quick answer – it allows me to express my creativity without losing sight of practical work.
How do you design a snow park? Is it difficult?

The challenge lies in identifying suitable terrain within a ski area. The terrain has to have the right grade to allow riders to gain enough momentum, yet cannot be too steep. And sun exposure has to be appropriate as well. If these requirements are fulfilled, we take photos of the area and create a 3-D graphic using software at our office, and the jumps. This provides us with a visual representation of the park we will later construct and shape in the snow.
Do you have to consider any compromises?

Of course. Sometimes we have to change the plans to get the park right. Of course, these days it is not uncommon at ski resorts that there are options to optimize the terrain. They can dig it up, move soil from point A to point B. This means you need less man-made snow, because the underlying area is preformed according to our specifications and we can more easily implement our shaping plans.

How long does a project like that take?

We usually go on the first site visit in winter while the ski resort is open. We return in summer to review everything and start planning. If everything works out, the park can be opened the following winter.

What if the weather does not cooperate and a snowstorm keeps dumping on the pipe?

Bad luck, and work starts anew. Sometimes Mother Nature works against you. It can also happen that we are desperately waiting for snow at the beginning of winter and nothing happens. We might have to dial back our expectations and maybe even decrease the dimensions of the construction to work with less snow. Or we initially open only certain park segments, and as soon as we get snow, we touch up everything and expand the area step by step.

Do you test your own work?

Of course I do. I've been passionate about snowboarding for the last 20 years. Most of our shapers are experienced boarders or fantastic skiers.

What does the scene want?

It always changes. Rail and wall ride combinations are extremely in demand at the moment: you pretty much jump into a wall or incline and ride up and down – like skating.

What does a well-planned park look like?

It should attract people who just want to have fun on the trails. Most riders are not pros. We want to get kids and beginners inspired by this Freestyle sport, and attract a new generation to the ski resorts. A park needs to offer classic stuff like small beginner jumps, simple boxes and chips. The second-largest group, the intermediate riders, will enjoy a few higher jumps, boxes and simple rails, while the very small group of pro riders should have access to more energetic rails.

What else is important?

The lines need to have the right flow, to avoid riders having to speed up or brake too much, the whole run has to be enjoyable. Also important – a great atmosphere. And a park should probably also offer highlights like one or two spectacular obstacles.

You not only design parks, you also maintain them.

My work during the season starts as soon as riders go home at 4 or 5 in the afternoon. I refill any holes with my snow-grooming cat, for example. And where we cannot reach with the heavy equipment we work with hands and shovels. Reshaping usually takes a few hours. And if it snows during the night, I am back on site at 4 o'clock in the morning.