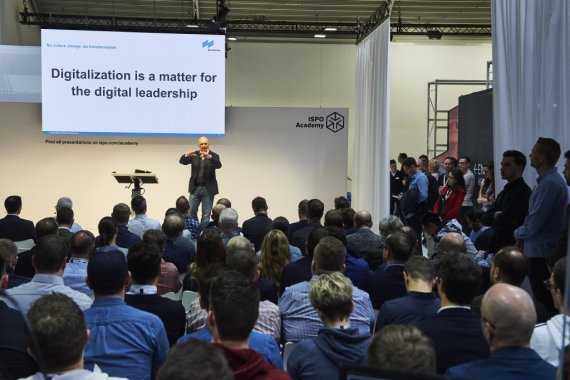 Der offizielle Startschuss für das neue Format ISPO Digitize wurde Ende Januar auf der ISPO Munich gegeben. Die Messe München traf damit ganz offenbar einen Nerv der Zeit: Adidas kehrte auf der Digitize-Fläche erstmals seit 2006 als Aussteller zur weltgrößten Messe der Sportindustrie zurück.
Die Präsentation des Sportartikel-Giganten zum Thema Digitalisierung fand genau wie die von Lectra, Foursource und Sportmas großen Anklang. Über 10.000 Besucher waren an vier Tagen dort zu Gast. Viele Hersteller wie Händler aus der Sportindustrie informierten sich über digitale Best-Practice-Lösungen in der Produktentwicklung, Herstellung sowie in Marketing und Vertrieb. Ein weiteres Highlight war das gemeinsame Symposium von ISPO und Adidas, das die zentrale Frage "Are you ready for the future?!" aufgriff.
"Mit ISPO Digitize haben wir die richtigen Zeichen für die Sportartikelindustrie und für den Sportfachhandel gesetzt. Es gilt, die positiven Chancen der Digitalisierung zu nutzen, um mehr Menschen für den Sport zu gewinnen", sagt Klaus Dittrich, Vorsitzender der Geschäftsführung der Messe München.
 
Für den Digital Readiness Check benötigt man 20 bis 25 Minuten – und bekommt sofort eine Auswertung, wo man in der Digitalisierung steht und wo die größten Lücken sind. "Zusammen mit dem, was auf ISPO Digitize passiert, kann somit jedes Unternehmen seine eigene strategische Roadmap erstellen, um sich permanent zu verbessern", sagt Tobias Gröber Head of ISPO.
Drei große Herausforderungen kristallisieren sich beim digitalen Transformationsprozess in der Sportindustrie heraus: Erstens das Thema Personal, das die digitale Transformation gestalten soll. Dann das Thema Datenschutz. Und schließlich das Thema digitaler Zahlungsverkehr für den Kunden. So passt es perfekt, dass Wirecard einer der Hauptpartner von ISPO Digitize ist.
Überhaupt wird der erste ISPO Digitize Summit als erster Kulminationspunkt der Digitalisierungs-Offensive der ISPO am 28./29. Juni im Internationalen Congress Center ICM in München "Best Practice"-Beispiele zum Thema Digitalisierung auf allen Ebenen bieten.
Hochkarätige Key Note Speaker wie Adidas-CEO Kasper Rorsted oder Günter Althaus, Vorstandsvorsitzender der ANWR Group (u.a. Sport 2000) oder Topmanager aus Technologieunternehmen werden Insights liefern, wie das Potenzial der Digitalisierung genutzt werden kann. BMW Vorstand Peter Schwarzenbauer und Nils Stamm, CDO Deutsche Telekom werden Einblicke in die Digitalstrategien ihrer Unternehmen teilen, daneben zeigen renommierte Digitalexperten gesellschaftliche und kulturelle Zukunftstrends für die Sportbranche.
"Der Benefit ist, dass die Teilnehmer individuelle, auf ihre Bedürfnisse zugeschnittene Lösungen und Konzepte präsentiert bekommen, die sie sofort in ihrem Geschäft umsetzen können. Wenn ich als Akteur des Sportbusiness zu ISPO Digitize gehe, bekomme ich die drängenden Themen der Digitalisierung auf meine Bedürfnisse zugeschnitten und konkrete Lösungen präsentiert.
Wir wenden uns explizit an die Sportbranche, die Sport-Industrie, und das umfasst zum einen die Marken, die Hersteller, aber vor allem auch den Handel. Und zwar vom kleinen Spezialisten bis zum Generalisten, den unabhängigen Händler ebenso wie den Verbundhändler", sagt Head of ISPO Group Tobias Gröber im Interview über die Vorteile von ISPO Digitize.
Es wird bei ISPO Digitize Wissen vermittelt, dass sich in konkreten, finanziellen Geschäftserfolg ummünzen lässt. Denn bei der Digitalisierung können viele Fehler passieren und die können dann sogar die Existenz des Unternehmens gefährden. Eva Janich vom Schweizer Beratungsunternehmen 4moreE gibt deshalb sieben Empfehlungen für den digitalen Wandel:
1. Mach deine IT-Abteilung zur besten! Sie ist es, die die anderen Mitarbeiter schult und voranbringt.
2. Denke an deine Kunden und sei markttransparent. Sei flexibel und passe dein Modell immer wieder an.
3. Schaffe internationale Preismodelle. Manage die Transparenz bei den Preisen.
4. Passe Incentives und Vergütungsmodelle an, formuliere Teamziele und fördere den fairen Wettbewerb unter den Abteilungen.
5. Denke langfristig und hole Digital Natives ins Team.
6. Ändere die Kultur, nicht nur die Methoden. Firmenchefs müssen selbst mit gutem Beispiel vorangehen. Es reicht nicht, zu sagen: Wir sind nun digital.
7. Sei ehrlich – zu deinem Team und zu dir selbst.