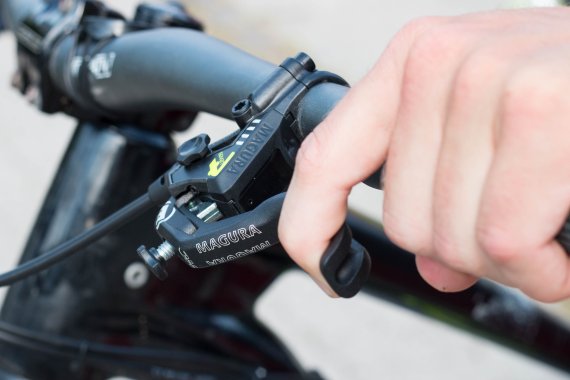 MAGURA entstand seinerzeit aus dem Motorsport und fertigt heute hoch technologisierte und extrem hochwertige Fahrrad- und Motorradteile, u. a. Bremsen, Bremshebel, Federgabeln uvm. Die Marke Magura – made and engineered in Germany – ist hierbei ein klares Qualitätsmerkmal. Pünktlich zum 125-jährigen Firmenjubiläum launchen die Schwaben eine Vielzahl an innovativen Produkten. Hierbei liegt der Fokus auf der Bremshebel-Ergonomie.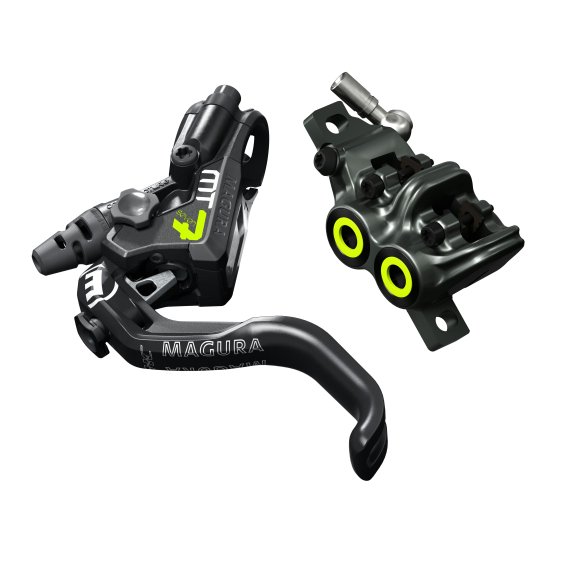 Die MT7 HC–4 Kolben–Scheibenbremse ist ein makelloses Beispiel dafür, wie sich optimale Bremspower und feine Dosierbarkeit kombinieren lässt. Hauptsächlich wird die Bremse in schwerem Enduro- oder Downhillgelände eingesetzt, wo absolute Präzision in puncto Bremskontrolle gefragt ist. Die MT7, Nachfolgerin der legendären Gustav M, hat seit 2015 viele Preise gewinnen können, darunter den "Design and Innovation Award 2015". Sie besitzt den neuen innovativen 1-Finger-Hebel, welcher auch Piloten mit kleineren Händen in den Genuss von 1-Finger Bremspower kommen lässt. Somit sind die Entwickler auf die Wünsche vieler Mountainbiker eingegangen, denen aufgrund der bisher verbauten großen 2-Finger- Bremshebel eine optimale ergonomische Ausrichtung des Hebels nicht möglich war. Doch nicht nur technisch liefert die MT7 HC eine optimale Performance, sondern auch optisch legt Magura hier besonderen Wert auf einen neuzeitigen Tech-Look. Das Mystik Grey Anodized mit seinen Neongrünen Kontrasten verleihen ihr eine coole, am Markt sehr eigenständige Optik. Für alle Biker, die sich noch mehr Individualität wünschen, steht eine große Auswahl an Tuningparts in unterschiedlichsten Farben bereit.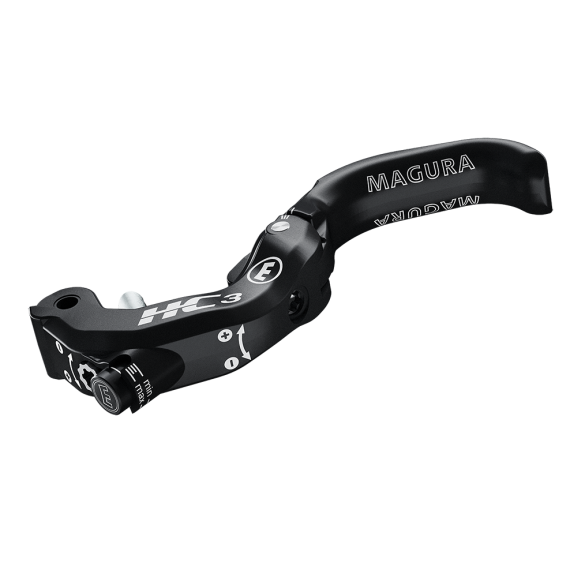 Wenn die schwäbischen Entwickler etwas anpacken, dann machen sie keinerlei Kompromisse. Mit Ihrer Ergonomie-Offensive überführten sie das HC Hebeldesign aus dem Motorsport ans Mountainbike und als ob der normale Hc Hebel nicht schon gut genug ist, entwickelten sie mit dem neuen HC3 Hebel ein Benchmark-Produkt welches die Herzen vieler Tuningfans höher schlagen lässt.
Mehr individuelle, ergonomische Einstellungsmöglichkeiten bietet derzeit kein Bremshebel auf dem Markt. Je nach äußeren Anforderungen lässt sich die Bremspower auf die Bedürfnisse des Bikers ausrichten. Große Übersetzung für brachiale Bremspower auf griffigem Untergrund, niedrige Übersetzung für hohe Dosierbarkeit bei Nässe.
Kein Geringerer als Danny MacAskill, schottischer Bike-Trial- und Mountainbike-Profi, war bei der Entwicklung und Design des Hebels mitverantwortlich und brachte seine Erfahrung mit ein.
Heißer Tip:
Anlässlich des 125 jährigen Firmenjubiläums bietet Magura das streng limitierte, in einer edlen Holzkiste ausgelieferten, MT1893-Bremsset an- natürlich mit neuem HC3 Hebel.