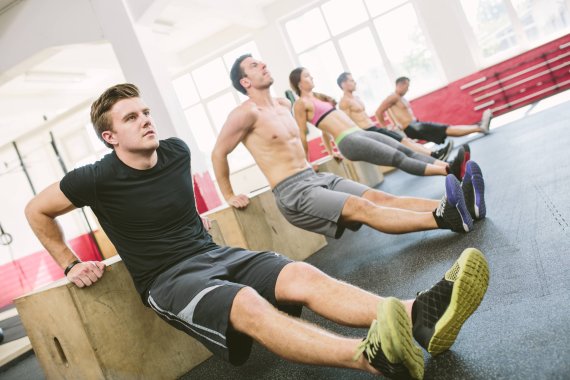 Jede Sportart hat eine Meisterschaft, einen Wettkampf, ein Siegertreppchen. Im Fitness-Sport ging es viele Jahre nur darum, den eigenen Körper zu optimieren, Muskeln maximal zu trainieren, kurz gesagt: "Body Building". Doch mit der stetig wachsenden Zahl an Fitnessstudiomitgliedern und Trainierenden steigt auch das allgemeine Körperbewusstsein. Übermäßiges Training ist out, die Sportler wollen ihren Körper stärken, ihn trotzdem nicht überfordern. Aber wie macht sich Fitness 2.0 messbar?
Digitale Vermessung und digitale Challenges gegen die eigenen Trainingsdaten oder direkt und live mit Freunden sind nichts Neues. Über Apps und Wearables von Strava, Garmin, Polar und co. können Trainierende den digitalen Wettkampf schon seit einiger Zeit selbst steuern, eigene Competitions aufstellen und ihre Freunde online herausfordern.
Die Fitness-Meisterschaften der Zukunft aber bieten beides. Sie kombinieren reale Wettkämpfe, bei denen sich die Teilnehmer direkt gegenüberstehen mit digitalen Plattformen. Doch in welcher Form kann Fitness gemessen werden, online und offline? Ein Vergleich. 
Mit der Popularität von Fitness-Sport ist in den letzten Jahren auch die Beliebtheit und Anzahl an Hindernisläufen wie Tough Mudder oder Spartan Race gestiegen.
Hyrox ist ein neues Wettkampfkonzept, das genau dort ansetzt. Die Fitness Competition ist eine Kombination aus insgesamt acht Kilometer Laufen im Wechsel mit acht unterschiedlichen Workouts aus dem Bereich Functional Training. Das alles kombiniert in einem Wettkampf auf Zeit.
"Mit vier unterschiedlichen Divisions, getrennt zwischen Frauen und Männern sowie den Hyrox-Doubles bieten wir jedem Athleten die richtige Challenge", so Moritz Fürste, Hockey-Legende, zweimaliger Olympiasieger und Geschäftsführer des Ausrichters upsolut Sports. Laut Hyrox selbst ist dieser Wettkampf für Jedermann: "Jeder, der regelmäßig laufen geht und Kraftübungen in sein Training einbindet, ist fit genug für Hyrox."
Die neunteilige Indoor-Event-Serie feiert im Winter 2018 Premiere in Deutschland. Damit sich die Teilnehmer auf Hyrox vorbereiten können, bieten kooperierende Fitness-Studios speziell entwickelte Kurse. Außerdem wurde gemeinsam mit Eventpartner Puma eine eigene App entwickelt, in der Trainings vorgestellt werden und registrierte Teilnehmer sich schon vor dem Wettkampf mit anderen messen können.
Fitness kann aber auch die Fitness im Alltag bedeuten: Treppensteigen statt Aufzug, zu Fuß statt mit der Bahn. All diese Bewegungen sind dank Wearables messbar. Die direkte Competition mit anderen müssen Nutzer dann aber meist selbst initiieren.
Eine Möglichkeit, für Fitness-Studios ihre Teilnehmer zum Wettkampf aufzufordern, ist die "Let's Move For A Better World" Challenge von Technogym. Bei "Let's Move For A Better World" werden die gesammelten Aktivitäten aller teilnehmenden Studiomitglieder im Aktionszeitraum in der "My Wellness Cloud", der digitalen Plattform von Technogym gesammelt.
Dank der cloud-basierten Lösung können Sportler nicht nur die gesammelten Bewegungseinheiten auf Technogym Geräten in die Competition einbringen, sondern auch Aktivitäten, die mit anderen Devices gemessen wurden, welche mit der Cloud vernetzt sind. Partner für das Tracking sind zum Beispiel Strava, Apple Health, Samsung Health, My Fitness Pal, Garmin und Polar. 
Bei der letzten Let's Move For A Better World Challenge wurden vom 12. bis 31. März 2018 insgesamt 628.533.319 MOVEs gesammelt. In 29 Ländern auf der ganzen Welt nahmen insgesamt 183.921 Trainierende in rund 1000 Fitnessstudios teil. Eine neue Auflage des Wettkampfs findet im März 2019 statt.
HIIT – High Intensity Intervall Training ist in aller Munde: Ein kurzes, leistungsforderndes Training bestehend aus intensiven Intervallen, kombiniert mit langsamen Regenerationsphasen. Streicht man die Erholungsphasen und kombiniert das Workout mit Gewichtheben, ergibt das die Fitness-Königsdisziplin: CrossFit.
Der Trend, der Ende der 2000er Jahre aus den Vereinigten Staaten nach Europa schwappte, ist an wenigen Fitnessfans vorüber gegangen. CrossFit ist heute vor allem eine eigene Community. Das umfassende Kraft- und Konditionstraining basiert auf funktionellen Übungen, die gemeinsam im "WOD", dem "Workout of the Day", absolviert werden.
Das passiert in eigenen Clubs, sogenannten CrossFit Boxen. Der gegenseitige Wettkampf ist dabei  allgegenwertig. Es geht darum, das WOD möglichst schnell hinter sich zu bringen. Individuelle Bestzeiten werden in der CrossFit Box gefeiert und dokumentiert.
Highlight jedes Jahres ist die weltweit offen stattfindende Weltmeisterschaft, die Reebok CrossFit Games. Im Februar und März absolvieren hunderttausende Trainierende auf der ganzen Welt bei den sogenannten CrossFit Open die fünf gleichen WODs.
Ohne ein digitales Zuhause geht auch bei diesem Wettkampf gar nichts: Jeden Donnerstag werden auf der Online-Plattform von CrossFit die neuen Workouts veröffentlicht. Teilnehmer können in ihrer CrossFit Box teilnehmen und müssen ihre Ergebnisse online registrieren.
Die besten Athleten aus den 18 Regionen weltweit qualifizieren sich für die Regionals, die in diesem Jahr im Mai und Juni stattfinden. Beim große Finale, den Reebok CrossFit Games in Madison, USA wird dann vom 1. bis 5. August 2018 unter 40 Männern, 40 Frauen und 40 Teams, 80 Teenagern und 240 Mastern der jeweils "Fitteste der Welt" gesucht.