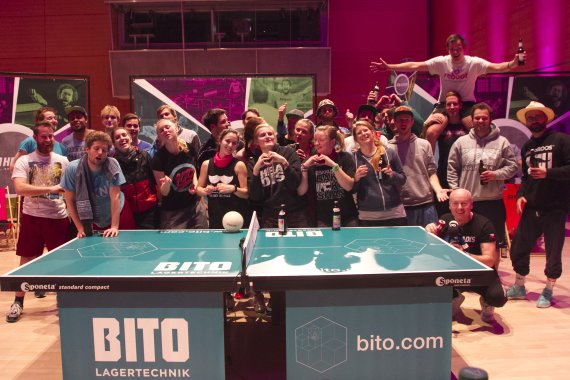 Dieses Jahr ging es für die besten Headis-Spieler des Vorjahres nach München auf die ISPO. Übernachtung inklusive. Freitagabend pünktlich um 21:05 Uhr gab es die Auslosung. Krasse Gruppen – Masters, klar! Aber eine Gruppe hat alles Bisherige in den Schatten gestellt. Gruppe 4 mit Gruppenkopf Pressure Pete (Platz 4 der Weltrangliste und ehemaliger Vize-Weltmeister), Nomit (Platz 6), Olaf der Wikinger (Platz 8), Headbrötchen (Platz 10 und Masters-Sieger 2013) und (als wäre das noch nicht genug!) das allerletzte Los - das Lauchgesicht (Platz 5, ehemalige Nr.1 der Welt und Masters-Champion von 2015). Mehr Todesgruppe geht gar nicht!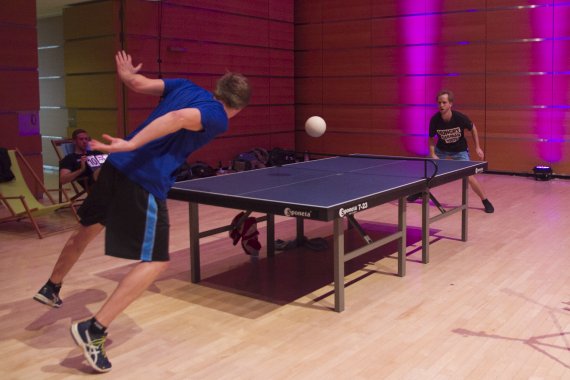 Bei den Mädels ging es fast genau so eng zu. Vier Top-10-Spielerinnen und die Vize-Weltmeisterin von 2016 bildeten hier die Todesgruppe: missing Pepper (2.), FuWaTe (3.), The Big Bad Head (4.), Red Hot Chili Header (7.), Mini Milk (14.) Das Headis Masters 2018 war angerichtet!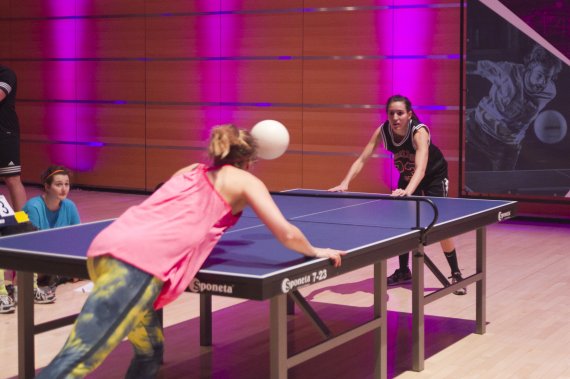 Morgens wurden (fast) alle Masters-Spieler mit dem eigens gecharterten Bus vom Hotel zum Turnier gefahren. Fette, fette Nummer! Von Anfang an wurde an den sechs Platten um jeden Ball gekämpft. Für niemanden gab es heute leichte Spiele. Sogar Topfavorit Headsinfarkt hat vor dem 11:0 – 11:0 gegen Nosebraker den ersten Satz abgegeben. Die Stimmung war wie wir sie beim Masters haben wollen: Ein familiäres Abhängen und Abfeiern auf sportlich allerhöchstem Niveau! Die Gruppenspiele nahmen ihren Lauf und nachmittags standen die Platzierungsspiele an.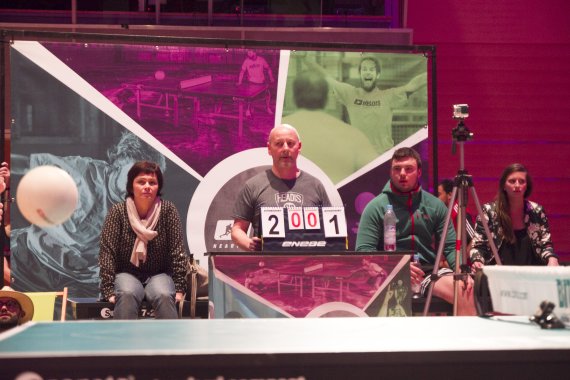 Das ein oder andere Bier später standen die letzten beiden Partien des Tages standen bevor. Die Spiele in denen sich alles entscheidet. An den Livestreams auf Facebook, ISPO.com und Sportdeutschland.TV schauten über 80.000 Menschen zu während Headis-Erfinder René wegen der ganzen Action am Mikro komplett aufgedreht 90 Minuten lang Vollgas gibt!
Bei den Mädels hieß das letzte Duell Klausi gegen missing Pepper. Klausi hatte sich zuvor in einem Dreisatzkrimi gegen The Big Bad Head durchgesetzt während missing Pepper gegen Schmoffkopf das Finale erreichen konnte. Das Finale ging – natürlich – über drei Sätze. Beim Stand von 7:7 hat missing Pepper ihre Nerven besser unter Kontrolle und holt sich mit 11:7 nach 2014 zum zweiten Mal den Masters-Titel. Noch nie konnte ein Spieler über so einen langen Zeitraum zwei Masters gewinnen!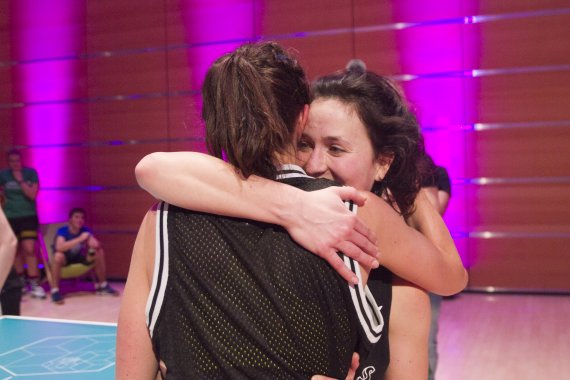 Im Finale der Jungs standen sich Weltmeister Sebastian Headdel und Pressure Pete, der vorher noch nie ein Turnier gewonnen hatte, gegenüber. Favorit Headdel holt sich den ersten Satz mit 11:7, den zweiten gab er aber mit 7:11 ab. Im Dritten sah es alles nach einem klaren Sieg für den Weltmeister aus, ehe die Pressure-Show begann. 1:5 lag Pete hinten, 4:8 lag er hinten, 5:9 lag er hinten. Und dann hat er einfach alle Punkte gemacht! 11:9 holt er sich den dritten Satz. Den ganzen Tag extrem druckvoll gespielt und ganz zum Schluss die letzten Körner für den Dreisatzsieg genutzt. Und das nachdem er am Morgen den Spielerbus verschlafen hatte und mit dem Taxi zum Turnier gekommen war!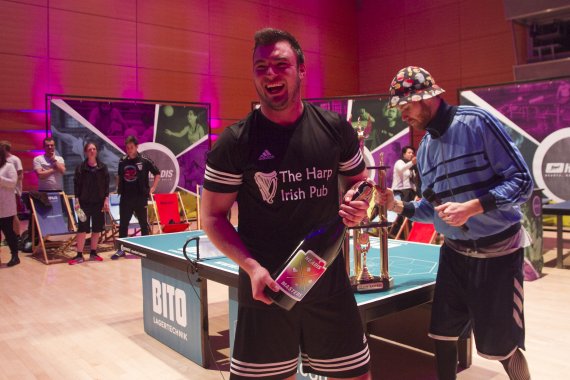 Wie es sich für das Headis Masters gehört ging es abends gemeinsam zum Players Dinner. Man munkelt die Party ist immer noch nicht zu Ende!