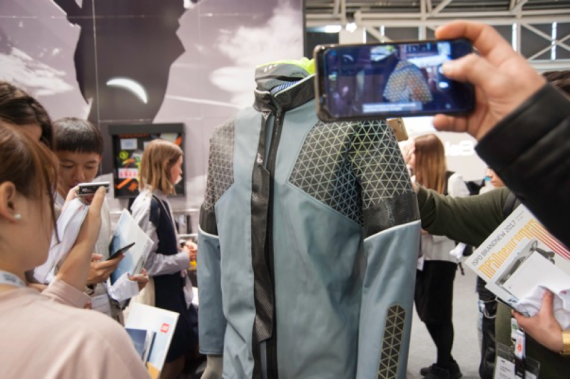 Ziel der Masterclass ist es, Designstudierende an das Arbeitsumfeld in der Sportindustrie heranzuführen. Die Nachwuchsdesigner sollen die Sportbranche als spannendes Beschäftigungsfeld kennenlernen. "Gleichzeitig verstehen wir uns als internationale Plattform, die die Fähigkeiten und Denkansätze aus den auch kulturell sehr unterschiedlichen Designschulen zusammenbringt", sagt Kühner.
Die Sportfashion-Designerin hat das Konzept zur Masterclass entwickelt. Neben Günther wird sie, bei der dritten Auflage des Workshops, auch von der Designerin Cornelia Sievers unterstützt. Die drei haben Studierende von neun weltweit bekannten Design-Universitäten eingeladen:
Beijing Institute of Fashion Technology (China)

IFA Paris (Frankreich)

Kunstuniversita

̈

t Linz (

Ö

sterreich)

London College of Fashion (UK)

Modefachschule Sigmaringen (Deutschland)

Shih Chien University (Taiwan)

The Swedish School of Textiles / University of Boras (Schweden)

University of Lapland (Finnland)

 University of Oregon (USA)
Das Programm für die Studierenden kreist um die von Kühner gestellte Frage "Was ist die Rolle des Designers in einer sich stark verändernden, digitalisierten Arbeitswelt?"
Der genaue Ablauf:
25.1.-26.1.: Gruppenarbeit, die Studierenden gestalten detaillierte Konzepte

27.1.: Tag zur freien Verfügung

28.1.: Am Eröffnungstag der ISPO Munich besuchen die Jung-Designer verschiedene Sport-Brands und Stoffhersteller an ihren Ständen

29.1.: Branchenexperten halten auf der ISPO Munich Vorträge für die Masterclass; die Studierenden präsentieren um 17 Uhr auf der ISPO Academy Bühne ihre Ideenkonzepte. Zum Abschluss ist ein Get Together geplant. Industrie, Handel und Studierende können sich hier weiter vernetzen.
Kühners Ziel ist es "die Studierenden mit der Masterclass auf die neue Rolle des Designers vorzubereiten". Neue Anwendungsmöglichkeiten und Technologien, wie der 3-D-Druck, schaffen neue Möglichkeiten.
Dadurch können Bekleidungs-Konzepte "völlig neu durchdacht und individualisiert werden", sagt Kühner. Diese Entwicklung fordere von Designern neue Fähigkeiten und Fertigkeiten. "Darauf wollen wir die Studierenden vorbereiten", sagt die Sportfashion-Expertin Nora Kühner mit Blick auf die dritte Auflage der ISPO Academy Masterclass.