Durch den Übungsschwerpunkt "Funktionelles Ganzkörpertraining" wird man dabei optimal auf den nächsten Skiurlaub vorbereitet. Die Workouts bieten ideale Voraussetzungen um Kraft und Kondition zu verbessern. Wer seine koordinativen Fähigkeiten ausbauen möchte, kann als ISPO Besucher, ebenfalls kostenfrei, die neuen Live-Kurse bei McFIT ausprobieren. Infos zu beiden Trainingsmöglichkeiten gibt es auf www.mcfit.com.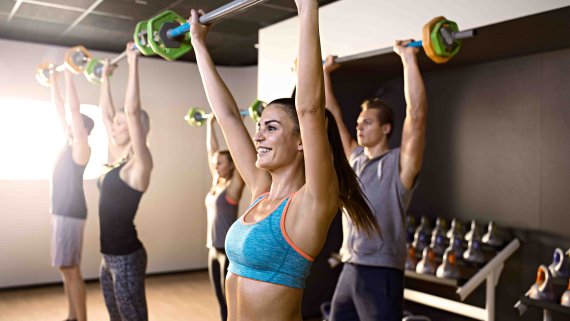 Denn erstmalig in der zwanzigjährigen Unternehmensgeschichte wird McFIT, Europas Nummer 1 der Branche, neben den bereits sehr erfolgreich etablierten virtuellen CYBEROBICS® Kursen, auch Live-Kurse anbieten. Ab Ende Dezember diesen Jahres können die Mitglieder europaweit unterschiedliche Kurse mit realen Instruktoren besuchen. Mit den neuen Live-Kursen erweitert McFIT sein Produktportfolio und erneut und untermauert so sein außergewöhnliches Preis-Leistungs-Verhältnis. "Unser Anspruch ist es, auf die Bedürfnisse unserer Kunden einzugehen, ihre Wünsche und Ziele zu kennen und sie bestmöglich dabei zu unterstützen, diese zu erreichen," so McFIT Unternehmenssprecher Pierre Geisensetter.
Jeder ISPO-Besucher, der an dem McFIT Angebot im Rahmen der der ISPO MUNICH Sports Week 2018 teilnimmt,  hat zudem die Chance, eine von drei McFIT Jahresmitgliedschaften zu gewinnen.*
McFIT ist mit über 1.500.000 Mitgliedern Europas führendes Fitnessunternehmen. Seit der Gründung 1997 wurden bis heute insgesamt mehr als 240 Studios in Deutschland, Österreich, Spanien, Italien und Polen eröffnet. Die meisten Anlagen im deutschsprachigen Raum sind täglich 24 Stunden geöffnet, Trainer betreuen die Mitglieder von 8 bis 22 Uhr. McFIT ist Heimat der größten Fitness-Community Europas – hier sind die neusten Fitnesstrends, attraktives Design, faire Konditionen und eine enorme Trainingsvielfalt zu Hause. Beim Innovationsführer der Branche wird das Workout für Mitglieder zum ganzheitlichen Erlebnis. PROUD to be McFIT ist der aktuelle Claim im 20. Jubiläumsjahr 2017.
*Die McFIT Global Group GmbH, Tannenberg 4, 96132 Schlüsselfeld veranstaltet im Rahmen der ISPO MUNICH Week of Sports vom 27.01.2018 bis 03.02.2018 für alle Messebesucher der ISPO 2018  in den McFIT Studios München Schwabing, Maria-Probst-Straße 17, 80939 München und München Laim, Landsberger Straße 163, 80687 München eine Aktion, die beinhaltet dass die Messebesucher unentgeltlich die McFIT Studios nutzen dürfen. Zusätzlich wird unter allen Messebesuchern, die auf dem Aktionsvoucher ihre Teilnahme am Gewinnspiel angekreuzt haben, 3x eine 1-Jahresmitgliedschaft bei McFIT verlost. Die Teilnahmebedingungen sind vor Ort im Studio und hier einsehbar.
**Für die Aushändigung der Keycard und den Zutritt in den Fitnessbereich des Studios muss auf dem Voucher angekreuzt werden, dass der Teilnehmer die AGB's von McFIT zur Kenntnis genommen hat und sich mit ihnen einverstanden zeigt. Die AGB's sind vor Ort im Studio einsehbar."
Samstag, 27.01.18 bis Samstag, 03.02.18

McFIT Studio München Schwabing (

Maria-Probst-Straße 17, 80939 München), McFIT Studio München Laim  (Landsberger Straße 163, 80687 München)

ISPO Workouts 18.00 Uhr bis 19:00 Uhr (Montag 29.01.18 bis Donnerstag 01.02.2018), an den anderen Tagen und zu allen anderen Uhrzeiten können die McFIT Livekurse und das Studio genutzt werden
Ansprechpartner für das Event