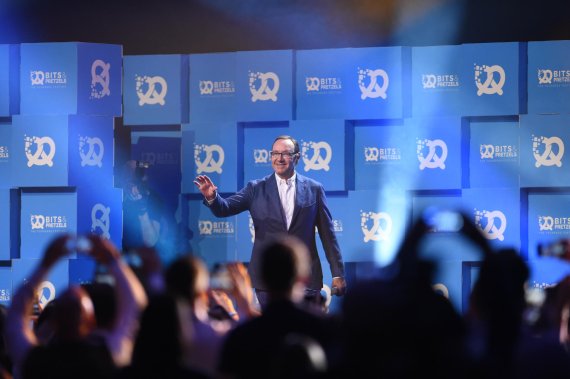 Sonntag, 24. September 2017 – für innovative Köpfe ist dies nicht nur der Tag der Bundestagswahl. Es ist auch der Auftakt zur fünften Ausgabe der "Bits and Pretzels". 2012 vor 1400 Gästen im Löwenbräukeller gestartet, zieht die weltgrößte Gründermesse immer mehr Besucher an – in 2016 kamen mehr als 5000 Teilnehmer ins Internationale Congress Center München.


Kevin Spacey: Ich bin stolz, Partner von Bits & Pretzels zu sein

In diesem Jahr hatte Entertainer Stefan Raab einen seiner selten Auftritte nach dem TV-Rücktritt und hielt die Eröffnungs-Keynote. Auch Hollywood-Schauspieler Kevin Spacey, der 2016 die Opening Keynote hielt ("Virtual Reality verändert alles"), hatte sich als Gast für die dreitätige Veranstaltung angesagt, die am Dienstag, 26. September mit einem Networking-Event mit prominenten Table-Captains auf dem Oktoberfest endet.
Kevin Spacey war zunächst als Moderator einer Interview-Runde angekündigt, nach deren Ende aber hatte er eine Überraschung zu bieten: Der Oscar-Gewinner steigt als Partner der Bits & Pretzels ein. Die Erfinder der Gründermesse, Bernd Storm und Andreas Bruckschlögl sowie Felix Haas, der dritte Host, begrüßten Spacey als Vierten im Bunde. "Ich freue mich immer sehr, wenn ich Talente fördern und motivieren kann – und ich stolz, jetzt Partner der Bits & Pretzels zu sein", sagte Kevin Spacey, mit dessen Einstieg die "Bits & Pretzels" weltweit noch mehr Resonanz erfahren wird.
Hier können Sie sich für die Bits & Pretzels anmelden!
Oliver Kahn spricht über Goalplay

ISPO.com ist, wie schon im Vorjahr, Medienpartner der Bits & Pretzels und berichtet im Vorfeld und aktuell – denn auch das Sportbusiness, das besonders für Innovationen steht, ist auf der Gründermesse vertreten: Fußball-Nationaltorwart Oliver Kahn etwa sprach über sein Unternehmen Goalplay, mit dem er zum führenden Anbieter von Torhüter-Produkten werden will. "From Goalkeeping Titan to Goalplay Enterpreneur" lautet der Titel seiner Keynote.
Was Kahn Start-ups rät: Unternehmer brauchen "operative Eier" >>> 

Am Montag, 25. September, tritt Kahns früherer Kollege beim FC Bayern, Weltmeister Philipp Lahm auf. Der ehemalige Kapitän der deutschen Fußball-Nationalmannschaft ist nach dem Ende seiner aktiven Fußballer-Karriere in sein zweites Business gestartet, er ist seit Sommer 2017 alleiniger Anteilseigner der Sixtus Werke Schliersee, aber auch als Gründer unterwegs. 
Philipp Lahm investiert in Fanmiles

Der Gründer der Philipp Lahm Holding ist Partner des Berliner Startups Fanmiles, bei dem Fußball-Anhänger über ein Bonussystem für ihre Treue belohnt werden. Gemeinsam mit den Fanmiles-Gründern Fabian Schmidt und Alan Sternberg sprach Fanmiles-Investor Lahm auf der großen Bühne der Bits & Pretzels zum Thema "professioneller Fußball vs. Startup-World – was man aus beiden Perspektiven lernt."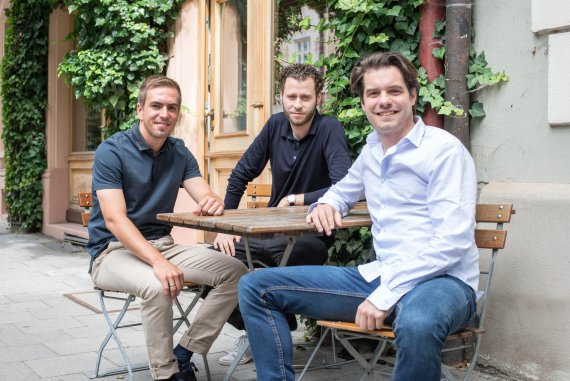 Innovation Journey mit dem Netzwerk "Frauen verbinden" der Messe München

Im Rahmen der fünften Bits & Pretzels gibt es auch eine Premiere: Die erste "Innovation Journey", die SZ Scala und die Messe München mit ihrem Netzwerk "Frauen verbinden" gemeinsam starten. 30 Führungskräfte aus DAX-Unternehmen und Mittelstand begeben sich auf eine dreitätige Reise durch den Innovationsstandort München, um die Frage zu klären: Wie geht Innovation? Es gibt Exkursionen in die Entwicklungs-Unit eines großen Automobil-Herstellers, es geht zu einem e-Mobility-Startup und eben zur Bits & Pretzels. Der Preis für die Teilnahme an der Innovation Journey inklusive Zugang zur Bits and Pretzels und zu allen Einzelveranstaltungen wie auch dem abschließenden Oktoberfest-Networking mit den Table Captains der Bits & Pretzels beträgt 2490 Euro. Anmeldungen oder Frage: per Mail an mail@innovationjourney.net