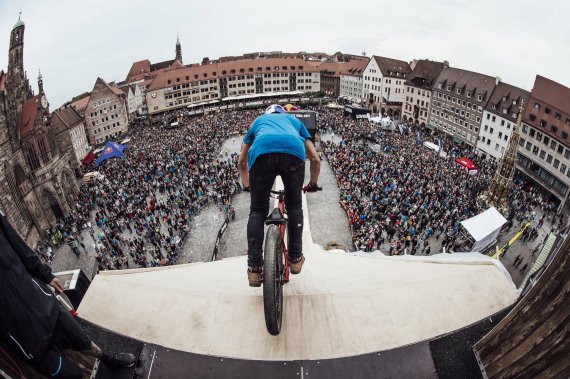 Was man dem Actionsport-Riesen und Getränkehersteller Red Bull ganz sicher nicht vorwerfen kann, ist mangelnder Einfallsreichtum. Der District Ride in Nürnberg ist so ein Beispiel: Da treffen sich die 16 weltbesten Mountainbike-Freerider vor rund 80.000 Zuschauern auf einem spektakulären Kurs quer durch die Nürnberger Altstadt. Warum? Weil's geht – und Spaß macht, wie dokumentiert ist.

Im September 2017 fand das Spektakel zum fünften Mal statt  und war zugleich das Finale der FMB Diamond Series.

Und was für eins! Der US-Amerikaner Nicholi Rogatkin sicherte sich mit einem noch nie da gewesenen 1440 – einem vierfachen 360 – den Sieg in einem hochkarätigen Event.
Der sportliche Leiter Rasouli spricht über die Entwicklung des Events sowie der gesamten Branche.
Sprung aus dem Büro des Nürnberger Bürgermeisters
Herr Rasouli, ein Mountainbike-Event mitten in der Stadt? Ernsthaft?
Tarek Rasouli: Das war genau die Idee: Wir bringen den Sport aus den Bergen in die Stadt, zu den Zuschauern! Alle drei Jahre schaffen wir das mit dem District Ride. Von der Kaiserburg geht's runter durch die Nürnberger Altstadt, über verschiedenste Hindernisse, am Dürer-Denkmal vorbei, rein ins Rathaus, mit dem Aufzug in den vierten Stock, durchs Büro des Bürgermeisters und von dessen Fenster aus 15 Metern Höhe über einen Kicker runter auf den Hauptmarkt. Da ist der Absprung schon bei 4,5 Metern und die Landung bei 7 Metern.

Wie kam's zu dieser Idee?
Ich hatte 2004 mal mit einem kanadischen Freund ein Event in Meersburg veranstaltet, den "Ride to the lake". Red Bull war damals schon ein wichtiger Partner, fand den Event super, obwohl es ziemlich chaotisch und vogelwild war. Da hatte ich auch noch keine Agentur im Rücken, sondern nur ein paar Praktikanten. Dennoch entstand ein Jahr später daraus der Red Bull District Ride.
Die Fahrer arbeiten ständig an ihren neuesten Tricks

Mit stetig steigenden Zuschauerzahlen. Ist das Publikum über die Jahre breiter geworden?
Mit Sicherheit. Wir versuchen natürlich, all das transparenter zu machen, auch vom Judging und von der Übertragung her. Aber vom fahrerischen Können her ist es sehr viel spezialisierter geworden. Wenn man sich den ersten District Ride anschaut: Da waren noch Downhiller am Start! Heute sind das alles hochspezialisierte Slopestyler, die nichts anderes machen als an ihren neuesten Tricks zu arbeiten. Manche haben sogar eigene Strecken. Das ist Progression! Es geht nicht um schneller, weiter, höher, sondern um Drehungen. Natürlich kann man über den Kursbau viel regulieren.
Sie haben am eigenen Leib erleiden müssen, welche Folgen ein kapitaler Crash haben kann. Hat sich in puncto Sicherheit in den letzten Jahren viel getan?
Auf jeden Fall. Wir bauen immer möglichst sichere, große Landungen, so dass es sehr schwer ist, zu weit zu springen. Schwere Unfälle passieren, wenn man zu weit springt und im Flachen landet.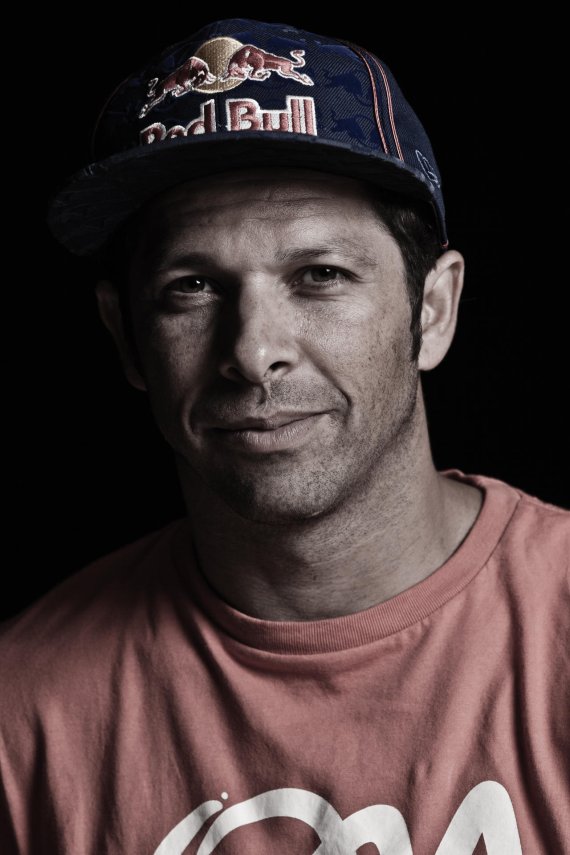 "Ich habe bei dem Unfall einen blöden Fehler begangen"
Nach Ihrer Querschnittslähmung wollten Sie unbedingt in der Szene bleiben. Warum?
Weil die Szene mich unterstützt hat und ich auch so wahnsinnig begeistert war von diesem Sport. Ich habe bei dem Unfall einfach einen blöden Fehler begangen, bin über meine Grenzen gegangen. Mit der Erfahrung, die ich hatte, hätte das nicht sein müssen. Ich habe mich damals selbst gemanagt, hatte wahnsinnig viel um die Ohren und viel zu wenig Zeit zum Trainieren. Heutzutage schauen die Fahrer, dass sie vor allem trainieren. Sonst wird man auch bei den Events Probleme haben.

Sind die Fahrer vernünftiger geworden?
Ja, weil es nicht mehr wie früher bei uns um höher, weiter, schneller geht, sondern eher um Tricks und Drehungen. Natürlich sind die Trainingsvoraussetzungen heute besser. Wir hatten früher keine foam pits, diese Schaumstoffdecken, und auch keine air bags, diese riesigen Luftkissen. Das war schon gefährlich damals.

Ich bin auch nie einen Backflip gesprungen. Weltweit gab's nur zwei, drei Leute, die mit dem Mountainbike Rückwärts-Salti gesprungen sind. Heutzutage bist du mit einem Backflip nicht automatisch für den District Ride qualifiziert. Den musst du vielleicht schon am Start-Drop machen. Das ist fast schon Standard.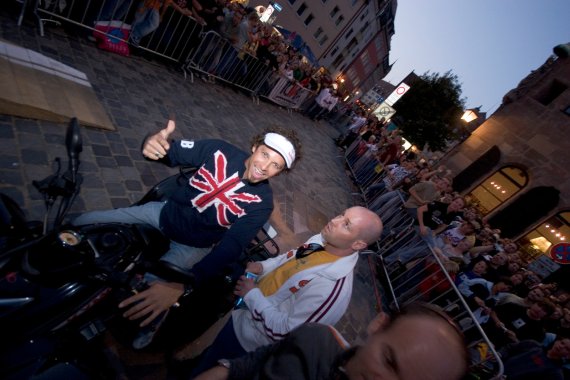 Seit 2005 sind Sie auch Veranstalter. Wie haben sich die Events seitdem verändert?
Es gibt die FMB World Tour und mit den Diamond Series seit ein paar Jahren eine Art Weltcup. Diese Kategorisierung gab es früher nicht. Früher schaute man sich Videos an und überlegte 'Wen laden wir denn ein?', heute schaut man ins Worldranking und hat zu 100 Prozent die weltbesten Fahrer am Start. Da hat sich schon einiges getan. 2010 haben wir dann den Verband FMB gegründet, wo ich Vizepräsident bin und mich um die Vermarktung kümmere. In meiner Agentur haben wir aber noch viele andere Themen, zum Beispiel Tourismus.

Wachstumspotential für Mountainbiking in Deutschland
In den Bergen scheint Mountainbike ja immer populärer zu werden.
Definitiv. Ich war gerade wieder in Whistler, Kanada. Da ist Mountainbike riesig! Aber nicht nur da. Mittlerweile ist es ein großes Geschäft für Destinationen wie Saalfelden/Leogang, Saalbach/Hinterglemm, Serfaus/Fiss/Ladis, Livigno oder Lenzerheide, wo jetzt die Weltmeisterschaft stattfindet. In Deutschland könnte das schon noch besser sein.

Wie stark springen Sponsoren und Aussteller auf Mountainbike-Events an?
Das kommt darauf an. Auf die großen Events wie den District Ride sehr gut. Wenn man innovativ ist und eine ordentliche Plattform bietet, ist man schon erfolgreich. Es könnten allerdings noch mehr Brands außerhalb der Fahrradszene dabei sein.
Generell wird das Thema Rad ja derzeit immer größer...
Es ist halt auch ein wahnsinnig wichtiges Fortbewegungsmittel. Wer steigt nicht lieber aufs Rad als ins Auto, zumindest für Kurzstrecken? Jeder will sich körperlich betätigen. Und in den Bergen hat man mittlerweile immer mehr Möglichkeiten: bessere Trails und Liftanlagen, die auf Mountainbiker eingestellt sind. Da hat sich definitiv viel entwickelt.

"Grandpa und Grandma auf der Alm – mit E-Bikes"

Wobei sich die Hardcore-Biker wohl nur bedingt über die vielen E-Biker freuen, oder?
Dem stehen natürlich viele kritisch gegenüber. Aber das wird nicht zu vermeiden sein, es sei denn es werden Verbote ausgesprochen. Ansonsten werden auch Grandpa und Grandma hoch auf die Alm kommen – aber das ist ja gerade das Tolle an den E-Bikes. Jetzt haben auch solche Leute wieder das Naturerlebnis in den Bergen, das sie sonst nur mit der Gondel haben können.

Viele sind ja froh, wenn sie es einmal pro Woche aufs Rad schaffen – so kommt man natürlich keinen gescheiten Berg mehr hoch. Aber bei den E-Bikes ist schon auch die Abtragung und Abnutzung der Trails ein Thema. Ich habe hier auf dem Kopfsteinpflaster in Nürnberg erstmals einen Rollstuhl mit Elektro-Motor – sonst hätte ich bei den Steigungen hier keine Chance. 
Spektakuläre Sportarten auf der ISPO MUNICH