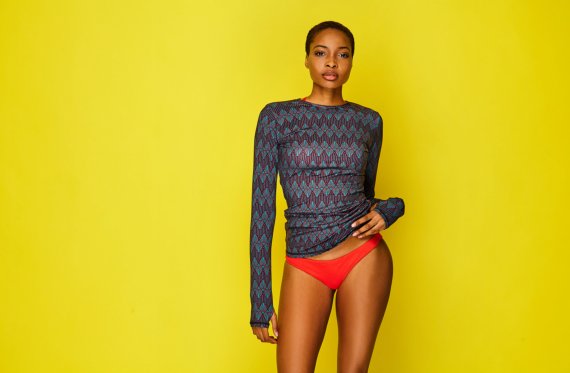 Das Marktpotential für Wassersportaktivitäten wurde bei der letzten ISPO MUNICH und ISPO SHANGHAI durch die Water Sports Villages hervorgehoben, in denen Wassersport als einer der angesagtesten Sporttrends für den Sommer 2018 vorhergesagt wurde. 
Den Moment genießen
Das Interesse an Wassersportaktivitäten wird sich weiter verstärken, was sich im Megatrend MOMENT, vorgestellt bei der ISPO TEXTRENDS, zeigt und die Verbraucherstimmung für den Sommer 2019 auf den Punkt bringt: Erlebnisse sind mehr wert als persönlicher Besitz. Die Verbraucher möchten verreisen, sei es mit dem Auto zum nächsten Strand oder zu exotischeren Orten, um dort an Wassersportaktivitäten teilzunehmen.
Aus diesem Grund wurden Funktionsstoffe für diese Branche vorangetrieben und Markenhersteller für Bademode zeigten ein gesteigertes Interesse an der Entwicklung von sportlich inspirierten Kollektionen. Diese spezielle Entwicklung erinnert daran, wie Marken, insbesondere Lingerie-Marken, durch die Entwicklung von Sport-BHs den Athleisure-Markt erschlossen. Dabei nahmen sie ihr bestehendes Know-how und nutzten es für eine neue Anwendung auf dem Markt.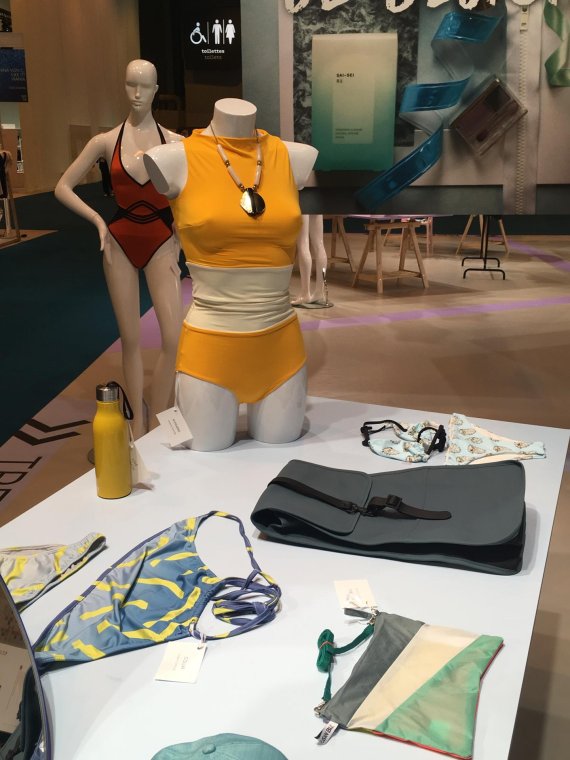 Bademode trifft auf Skimode
Cardo Paris, eine Marke für Bademode, die sich Richtung Fitness-Branche orientierte und außerordentlich trendige und stylische Bademode sowie Zubehör entwickelte, startete eine exklusive Zusammenarbeit mit der Skimodemarke Fusalp. Das Ergebnis ist eine Kapselkollektion bestehend aus vier Badeanzügen im sportlichen Chic mit spritzgegossenen Reißverschlüssen und figurformenden Kompressionssstoffen in Anlehnung an Softshell-Skihosen.

Getestet und für gut befunden von Claudia Riegler Dénériaz, der erfolgreichen Skirennläuferin und Clementine Lucine, Weltmeisterin im Wasserski. Die Kollektion kombiniert ansprechende Optik und technische Funktionalität.
Nachhaltigkeit: Von natürlichen Inhaltsstoffen zu recycelten Plastikflaschen
Nachhaltige Anwendungen für die Wassersportbranche sind auf dem Vormarsch, angeführt durch Patagonia, das mit umweltfreundlichen, neoprenfreien Wetsuits den Weg weist. Der R3 Yulex neoprenfreie Wetsuit, ISPO AWARD-Goldgewinner für 2016/2017, besteht aus einer FSC-zertifizierten Kautschukmischung, die langlebig und flexibel ist.

Der pflanzenbasierte Yulex-Kautschuk verringert die Abhängigkeit von Erdöl und reduziert CO2-Emmissionen bei der Herstellung um mindestens 70 Prozent. In den letzten acht Jahren hat das Unternehmen Pionierarbeit bei der Verwendung von Naturkautschuk in Wetsuits geleistet. Surfer und Hersteller können sich nun für Pflanzen statt Erdöl entscheiden. Goldgewinner des ISPO AWARD für 2016/2017.
Leistungstextilien werden auch immer nachhaltiger wie zum Beispiel mit dem Beginn der Zusammenarbeit zwischen Unifi, einem Zulieferer für aus Plastikflaschen recycelte synthetische Fasern namens REPREVE und Finch, einer Marke für Badebekleidung.
Die Bademode von Finch für Damen, Herren und Kinder wird exklusiv aus REPREVE-Garn hergestellt für Stoffe, die einen natürlichen UPF 50+ und UVB-Sonnenschutz bieten und die keine zusätzlichen Chemikalien enthalten.

Die Signature Prints von Finch werden jede Saison wiederholt, da Finch Designs der aktuelle Träger des Project JUST Seal of Approval ist und damit erstmalig ein in China ansässiges Unternehmen diese Auszeichnung erhalten hat, dessen Unternehmensengagement für Transparenz und eine nachhaltige Supply Chain steht. Finch Designs ist nur eine von drei Marken, die von über 115 Nominierten in der Kategorie Badebekleidung mit dem Seal of Approval ausgezeichnet wurde.
Das komplette Paket
Während der Markt für Hardware, von Boards bis Kajaks, für sich alleine wächst, sind die Möglichkeiten für erweiterte Stylings bei Badebekleidung, Beach-/Urbanwear sowie Accessoires auch ein potentieller Wachstumsmarkt. Marken, die sich bei der MODE CITY PARIS und INTERFILIÈRE, der intimen Bekleidungs- und Bademodemesse, vorstellten, betonten diese Ausrichtung mit sexy Stylings über Funktionsstoffe bis hin zu koordinierten Kollektionen von Accessoires, die den Look komplettieren.

Marken möchten das sportliche Styling mit sexy Elementen kombinieren. Netzeinsätze und Reißverschlüsse vereinen sich mit Funktionsfasern und schaffen zusammen einen starken Look, wie bei den Marken Triggerfish Sport Couture und Ekena Bay zu sehen ist.
Accessoires spielen ebenfalls eine Schlüsselrolle bei Susan Bijl, die eine neue Kollektion von Nylontaschen und -rucksäcken speziell für den Strand vorstellt – eine Erweiterung ihrer Signature Nylontaschen-Kollektion. Adidas hat auch das Potential dieses Marktes erkannt und verschmilzt Mode mit Funktionalität bei dem Sockenschuh Primeknit, der zum Joggen auf der Straße genauso gut geeignet ist wie für den Weg zum Strand.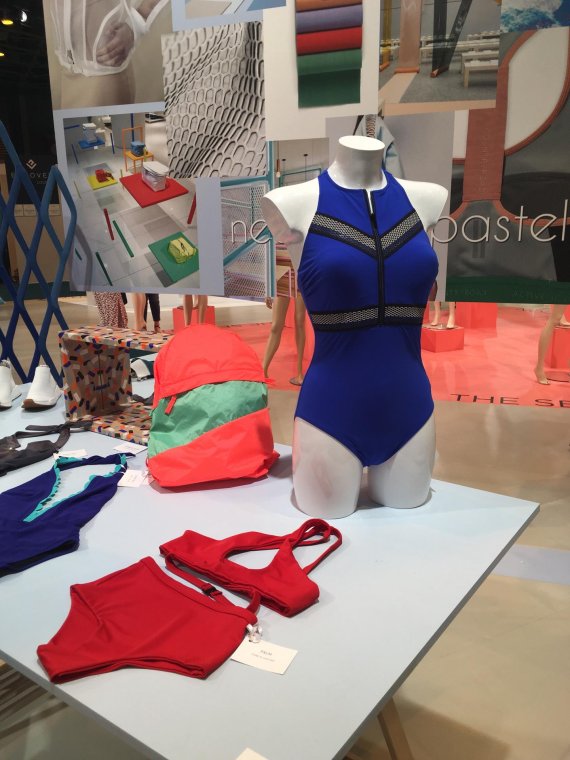 Es wird deutlich, dass sich Zulieferer von Stoffen für Bademoden von rein modischen Badebekleidungsstoffen zu einer Kombination aus bestehenden modischen Designs und zusätzlichen Leistungsmerkmalen als Mehrwert bewegen. Die Badebekleidungsmarken möchten von dem Wachstum in der Wassersportbranche profitieren und bieten eine Kombination aus sportlichen Lifestyle-Aspekten und Hochleistung an.

Der Verbraucher ist begierig darauf, entweder weil er Wassersport treiben möchte oder weil er einfach an der Strandbar so aussehen möchte – in der Bademode spiegelt sich den Effekt wider, den der Athleisure-Lifestyle auf Activewear hatte.
Verbesserte Flexibilität und Passform bei Badebekleidungsstoffen
Hochkompressionsstoffe für Kettengewirke und gewebte Stoffe bieten ein Hybrid-Styling, bei dem Stabilität und UV-Schutz von elementarer Bedeutung sind. Sonnenschutz ist nicht nur für den Erwachsenenmarkt attraktiv, auch für Kinder ist diese Funktionalität sehr wichtig.

UV-Beständigkeit kann durch kompakte Gewebestrukturen mit innovativen Garnen und Beschichtungen erzielt werden, die vor schädlichen UV-Strahlen schützen.  Schutz wird auch bei Badeanzügen großgeschrieben, da die langärmligen Rashguards begeistern und mit Druckmustern überzeugen.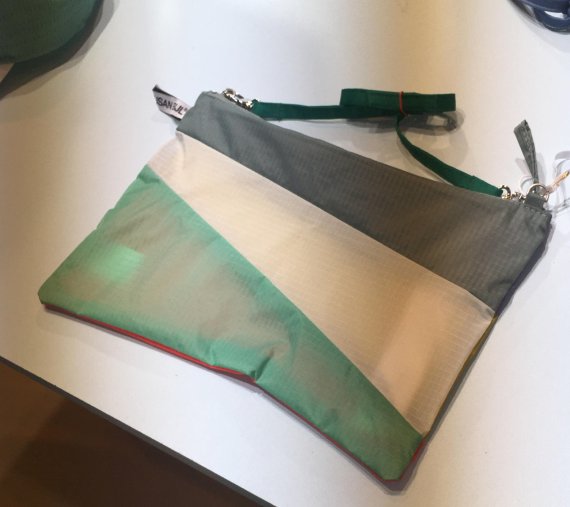 Klar ist, dass die Sportbadebekleidungsbranche neue Fahrt aufgenommen hat, indem sie die wichtigsten Innovationen auf dem Markt, von extrem chlorresistentem Elasthan über recycelte Synthetikfasern bis hin zu UV-Schutz sowie – am wichtigsten – einen ausgeprägten Style verfolgt.
Fitness-Badebekleidung und Sportmode
Nicht nur Hochleistungsbademode setzt auf Leistungstextilien, sondern auch bei herkömmlicher Badebekleidung und Mode aus den Bereichen Aqua Fitness und Surfer Beach werden sportliche Akzente gesetzt.

Ein Wachstum dieses Markts ist zu erwarten, da die Verbraucher mittlerweile genauso gerne Yoga auf einem Surfbrett wie auf einer Yogamatte machen und Radfahren sowie Laufen für Stehpaddeln während des Sommers eintauschen.