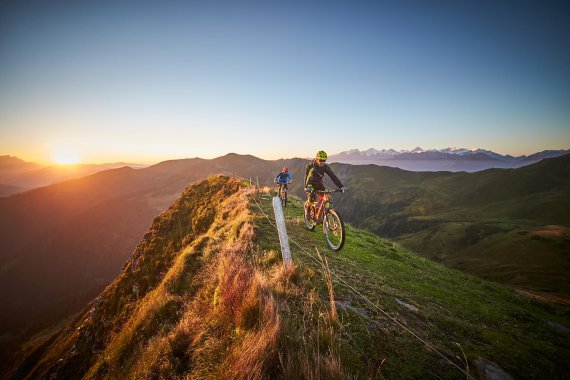 Die Urlaubsregion Saalbach Hinterglemm liegt im Pinzgau im Salzburger Land, nicht weit von der deutschen Grenze entfernt und etwa auf halbem Weg zwischen Kitzbühel und Zell am See. Dorthin besteht eine Zugverbindung – andernfalls erreicht man den Ferienort unkompliziert mit dem Auto über die A8 München-Salzburg.
Ein alpines Juwel im Pinzgau

Das reizvolle Tal, in das sich die Gemeinde Saalbach Hinterglemm schmiegt, wird von den Ausläufern der Pinzgauer Grasberge, den Kitzbüheler Alpen und den Hohen Tauern überragt. Sie verleihen dieser Region ein markantes, unverwechselbares Profil. Der Hausberg des Ortes ist der 2097 Meter hohe Schattberg, höchste Erhebung im Norden ist das Spielberghorn (2044 Meter), im Süden der Hochkogel (2.249 Meter).

Eine breite Öffentlichkeit kennt Saalbach Hinterglemm als größtes zusammenhängendes Skigebiet Österreichs und Austragungsort der Alpinen Ski-WM 1991. Genauso schätzen Biker das schöne Fleckchen in den Bergen als Freeride-Mekka, lassen sich Gipfelstürmer von den atemberaubenden Panoramaausblicken verzaubern und toben sich Action-Liebhaber in den angesagten Fun-Arealen am Talschluss aus.

Familien unternehmen hier gerne Touren auf unterhaltsamen Themenwanderwegen und lassen sich in einem der vielen traditionellen Restaurants von den Köstlichkeiten der Pinzgauer Küche verführen.
Das Urlaubsrefugium nach Maß
In Saalbach Hinterglemm findet nahezu jeder Anspruch das passende Dach über dem Kopf. Wer gern von Hütte zu Hütte zieht, kann es sich in einer der rund 40 Almhütten in attraktiven Höhenlagen bequem machen. Junge Gäste können aus mehreren preisgünstigen, modern ausgestatteten Hostels wählen. Urlauber mit Familie, Gruppenreisende und solche, die viel Freiraum schätzen, finden am Ort zahlreiche geräumige Ferienwohnungen mit familiärem Flair. Die Hotels der Region wiederum bieten zeitgemäßen Komfort und Service – oft mit üppigem Wellness-Angebot –, während Romantiker und Großstädter zum Urlaub auf dem Bauernhof nach Saalbach Hinterglemm kommen.
Sie möchten ein Hotel- oder Ferienappartement in Saalbach Hinterglemm buchen? Hier geht's zu den Angeboten aus der Region. >>>
Die Region ist ein wahres Eldorado für Bergwanderer. Über 400 gut beschilderte Wanderwege ziehen Naturfreunde aller Schattierungen in höhere Sphären. Genusswanderer, die es – dem Motto der Region gemäß – lässig angehen wollen, können sich mit einer der von vier Bergbahnen zum Gipfelglück bringen lassen und die fabelhafte Aussicht auf das gezackte Felsmeer der Alpen genießen.
Wanderfreuden: Viele verheißungsvolle Tore in die Salzburger Bergwelt
Montelino's Erlebnisweg mit 13 Spielstationen wiederum ist ein wunderbarer Einstieg in die Bergwelt für Kinder. Der Zwölferkogel (1530 m) ist immer eine Tour wert, ebenso der Heimat-Rundweg oder der im Sommer überwältigend idyllische Heilkräuter und Alpenblumenweg.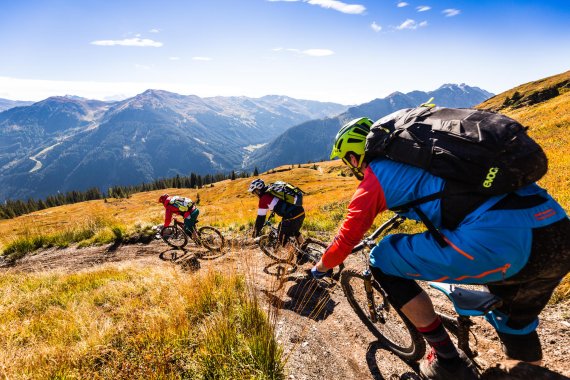 Neuankömmlinge sind auf der Tour nach Zell am See gut aufgehoben, bei der sich Wanderern die ganze Schönheit der Region beim "Pinzgauer Spaziergang" erschließt. Der beliebte "Baumzipelweg" im Talschluss ist übrigens der höchstgelegene Wipfelwanderweg Europas.
Seven Summits: Das Gipfel-Highlight für erfahrene Bergsteiger
Wer sich einiges zutraut, trittsicher ist und gut beieinander, wird auf der Tour "Seven Summits of Saalbach Hinterglemm" die Erfüllung finden. Es geht von der Bergstation des Schattberg X-Press 24 km stets auf über 2000 m Höhe tief in die Bergwelt der Region hinein. Dabei werden 1415 Höhenmeter bewältigt. Diese Höhentour der Superlativ bietet berauschende Panoramapassagen, bergsteigerische Leckerbissen und die im Namen der Tour genannten sieben Gipfel am Stück. 
Hier erfahren Sie mehr über die Bergtouren rund um Saalbach Hinterglemm. >>>
Erst recht erklimmen Mountainbiker in Saalbach Hinterglemm den Gipfel der Genüsse. Mit über 720 km markierter Trails für alle Ansprüche, aufsehenerregenden Bike-Parks, Kabinenbahnen mit Bike-Transfer sowie angesagten Bike-Events ist die Region zu recht der größte Mountainbike-Hotspot Europas.

Bikerglück: Willkommen in Europas größter Bike-Destination
Auf den Singletrails und Downhill-Strecken sind Neueinsteiger, Familienausflügler, sportlich gepolte Biker und echte Könner gleichermaßen unterwegs. Hier können Tourenbiker weite Raids abradeln und Freerider sich ganz in ihrem Element fühlen. Letztere dürften sich auf den variantenreichen Abfahrten in Saalbach Hinterglemm wahrhaft zu Hause fühlen – beispielsweise auf der 3,2 km langen und auch für Anfänger geeigneten Milka Line am Kohlmais.

Einen phantastischen Rundblick bietet die Z-Line am Zwölferkogel. Richtig auf Touren kommen Biker auf der Blue Line, der Pro Line für Fortgeschrittene Freeride und am Schattberg auf der X Line, die mit 6 km Länge einer der ausgedehntesten Freeride-Trails Europas ist und einen Höhenunterschied von über 1000 m aufweist.

Der Wallride schließlich gilt als das Bike-Highlight der Region, auf der die Snapshot-Station am Wege Erinnerungsfotos liefert, wie man sie sonst kaum aus dem Urlaub mitnimmt. Und klar, dass hier auch gut besuchte Bike-Events stattfinden wie das GlemmRide Bike Festival im Juli oder die World Games of Mountainbiking im September – zwei einschlägig bekannte Treffpunkte der internationalen Bike-Szene.
Holen Sie sich hier weitere Infos über das Bike-Paradies von Saalbach Hinterglemm. >>> 
Saalbach Hinterglemm hat aber noch weitere Attraktionen zu bieten, die alles andere als alltäglich sind und der Urlaubsregion das Gütesiegel "besonders actionreich" verleihen. Von dem besonders hoch gelegene "Baumzipfelweg" war schon die Rede.

Und Action! Im Talschluss gibt's Nervenkitzel und Badespaß

Er lässt sich gut mit der "Golden Gate Bridge der Alpen" kombinieren, einer 200 m langen Hängebrücke an der Lindlingalm, die weltweit ihresgleichen sucht. Auf der anderen Seite wartet ein Rundparcours in die Baumwipfel. Europas größter Hochseilpark mit der längsten Seilrutsche finden abenteuerlustige, klettergewandte Urlauber in Schnitz's Holzpark.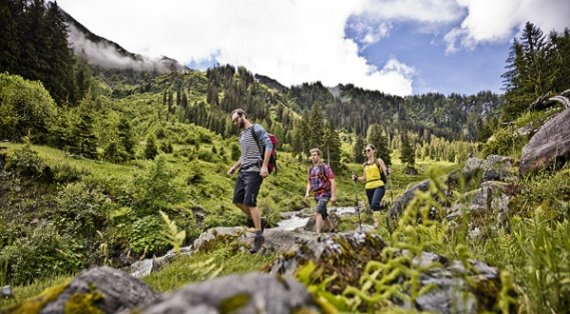 Eine rauschende Wildwasserfahrt dagegen bietet das Freibad "Käpt'n Hook" – eine ideale Erfrischung an heißen Sommertagen, wie auch das kühle Nass aus Gebirgsquellen, das im Teufelswasser sprudelt, einem großen Themenpark, der ebenfalls im Talschluss liegt.

Überhaupt ist hier kristallklares Wasser das beherrschende Element, weshalb auch Canyoning-Freunden hier das Herz höher schlägt, können sie doch im "Jump & Slide" Park springen, abseilen und rutschen, dass es eine helle Freude ist.
Die Joker Card für Saalbach Hinterglemm: Zahlreiche Vergünstigungen inklusive
Viele Transferleistungen, Ermäßigungen und kostenlose Zugänge zu gefragten Freizeit-Angeboten der Region bietet die Joker Card, die alle Urlaubsgäste gratis erhalten. Sie ist die Eintrittskarte in eine Region, die Aktivurlauber, Naturfreunde und sportive Feriengäste einen ganzen Sommer lang immer wieder aufs Neue überraschen wird!