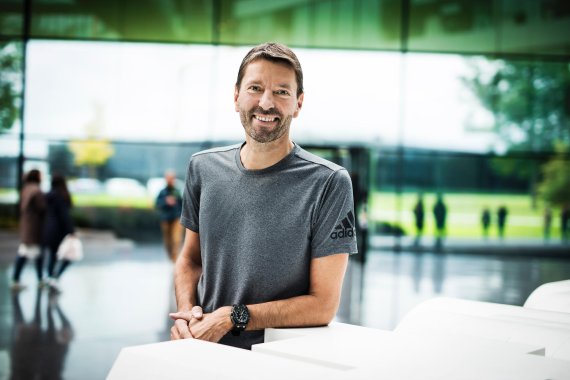 19,3 Milliarden Euro in der Adidas-Bilanz 2016 bedeuten einen neuen Umsatzrekord – eine Steigerung um 18 Prozent, in den USA sogar um 30 Prozent. "Um unsere Mission zu erfüllen, das weltweit beste Sportartikelunternehmen zu sein, müssen wir zukünftig sowohl hinsichtlich Umsatzwachstum als auch bei der Margensteigerung Spitzenleistungen erbringen", schrieb Adidas-Chef Kasper Rorsted an die Aktionäre.
Konzentration auf Adidas und Reebok
Das Unternehmen aus Herzogenaurach will sich in Zukunft vor allem auf seine Kernmarken Adidas und Reebok konzentrieren. Man habe beschlossen, "aktiv nach einem Käufer für CCM Hockey zu suchen", teilte Rorsted mit.
Zudem soll Reebok sowohl beim Umsatz als auch bei der Profitabilität vorankommen. "Nordamerika bleibt eine strategische Priorität für unser Unternehmen", schrieb der Däne. "Wir werden das Geschäft der Marke adidas weiter ausbauen und eine nachhaltige Position für Reebok im Fitnessmarkt etablieren."
Die Ergebnisse würden belegen, "dass sich unsere Strategie 'Creating
the New' auszahlt", sagte Adidas-CEO Kasper Rorsted. "Aufbauend auf unserer
Performance im Jahr 2016 setzen wir unsere Dynamik auch in diesem Jahr fort und werden 2017 erneut starke Umsatz- und Gewinnverbesserungen erzielen." Der Gewinn soll von 1,019 Milliarden Euro auf über 1,2 Milliarden Euro steigen.
Top-News und spannende Hintergrund-Artikel aus der Welt des Sport Business – abonnieren Sie den Newsletter von ISPO.com >>>
Rorsted setzt die Ziele hoch
Adidas soll laut Rorsted noch schneller wachsen, "als wir es ursprünglich in unserem strategischen Geschäftsplan ,Creating the New' dargelegt haben", sagte der CEO. Das Ergebnis je Aktie soll bis 2020 "um durchschnittlich 20 % bis 22 % pro Jahr" gesteigert werden.
Die Adidas-Aktionäre reagierten mit großem Wohlwollen auf die Ankündigungen von Kasper Rorsted, auch die Dividende dementsprechend anzupassen. Die Aktie des DAX-Unternehmens stieg auf über 171 Euro – auch das ein historischer Höchstwert.
Freie Stellen bei Adidas – klicken Sie sich durch das Sportjob-Angebot >>>