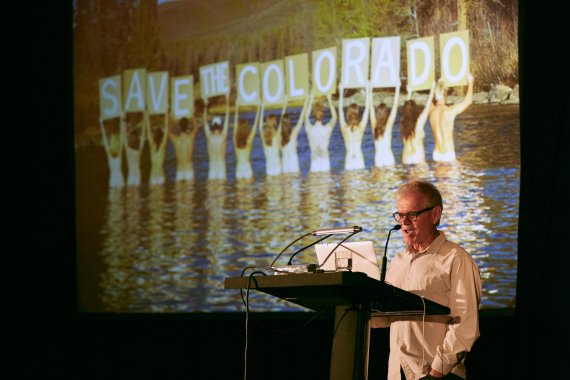 Organisiert wurde das Event von der European Outdoor Group (EOG) unter Führung von Generalsekretär Mark Held, Hauptsponsor war ISPO. Im Zentrum des Branchen-Kongresses in Barcelona standen Überlegungen, wie das Outdoor-Geschäft erfolgreich vorangetrieben werden könnte. Dafür standen auf der Bühne Top-Entscheider wie Frédéric Hufkens, Geschäftsführer von A.S. Adventure, dem führenden Spezialisten im europäischen Outdoor-Handel, aber auch Manager aus anderen Branchen.
EOG-Generalsekretär Mark Held: Outdoor ist ein Wachstumsfaktor
Nachhaltigkeit: eine Frage der Unternehmenskultur
Einer der beeindruckenden Redner auf dem Summit, an dem mehr als 250 Outdoor-Insider teilnahmen, war Rick Ridgeway, Vice President of Public Engagement des US-Anbieters Patagonia. Die Kalifornier sind bekannt für ihren Einsatz im Dienste der Umwelt. Deshalb der klare Ansatz: Umwelt-Engagement in der Produktion ist nicht nur Idealismus, sondern vor allem ein Geschäft.

Bestens bekannt ist die Initiative 1% for the Planet, die auf Patagonia-Gründer Yvon Chouinard zurückgeht. Bei diesem Projekt dreht es sich um die Abgabe von einem Prozent des Umsatzes an Organisationen, die sich für den Umweltschutz einsetzen.
Im selben Atemzug zu nennen ist die eher ungewöhnliche Partnerschaft zwischen dem Ausrüster und dem Supermarkt-Riesen Wal-Mart, der als Multiplikator für die Initiative auftritt. 
Ridgeway beschrieb in Barcelona allerdings auch ganz andere Motive, sich für die Umwelt stark zu machen: das eigene kommerzielle Interesse für eine Firma. Ridgeway fordert ein Umdenken nicht nur im Sinne der Natur, sondern auch der Wertschöpfungs-Kette in der Industrie. Ridgeway möchte eine Neuausrichtung der Industrie erreichen: "reduce, recycle, repair, resell".
Öko versus Profit – bei Patagonia kein Widerspruch
Der Patagonia-Manager versuchte klar zu machen, dass es keinen Widerspruch zwischen ökologischen Idealen und wirtschaftlichen Erfolg gibt. So lässt der Anbieter den Natur-Kautschuk aus eigens gepflanzten Bäumen in Guatemala produzieren, was den Treibhaus-Effekt reduziert.
Aber es steckt noch mehr dahinter: Der hohe Anspruch, den Patagonia an sich selbst stellt, um die Umwelt zu schützen, wirkt sich laut Ridgeway auch auf die Attraktivität der Firma als Arbeitsplatz aus. Viele qualifizierte Kräfte bewerben sich demnach bei Patagonia, weil sie diese Ziele teilen.
Kontroverser zu hinterfragen ist Ridgeways Überlegung zur Haltbarkeit von Outdoor-Bekleidung. Jeder Hersteller von Konsumgütern steckt immer in der Klemme zwischen Qualitätsansprüchen und dem Wunsch immer wieder neue Produkte zu kaufen. Ridgeway sagt, dass "wir das größte Reparatur-Zentrum in den USA oder vielleicht sogar in der ganzen Welt haben", was die entsprechenden Textilien anbelangt. Auch damit lassen sich Umsätze generieren.
EOG-Präsident Jansen: "Wenn der Kunde zufrieden ist, profitieren wir alle"
EOS 2017: Wiedersehen in Italien
Mark Held, Generalsekretär der European Outdoor Group, die den Kongress in Barcelona veranstaltet hat, ist es wichtig, dass der EOS alternierend in verschiedenen Ländern stattfindet. Nach Schweden, Deutschland, Großbritannien und Spanien wird im nächsten Jahr Italien an der Reihe sein. Luca Businaro, Präsident der europäischen bzw. italienischen Vereinigungen der Sportartikel-Hersteller, Fesi und Assosport, gab zum Schluss des EOS bekannt, dass der Schauplatz des nächstjährigen Gedankenaustauschs für die Outdoor-Branche Venedig sein wird.