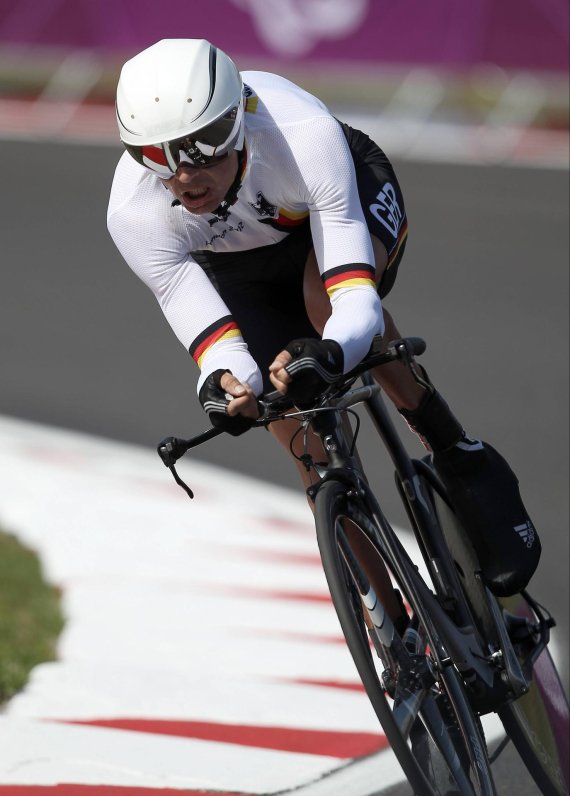 Der folgende Textauszug stammt aus Michael Teubers Autobiografie "Aus eigener Kraft", die am 29. August im Verlag Edel Books erschienen ist.
Hier schreibt Michael Teuber:
Der Leistungssport war für mich die Perspektive auf der Suche nach Anerkennung und einem erfüllten Leben nach der größten Krise meines Lebens. Der Radsport, die Paralympics sind zu meiner Bühne geworden. Dafür bin ich dankbar.
Aber seit ich auf dieser Bühne stehe, merke ich, dass bei uns – im Vergleich zu anderen sozialen Gruppen, vor allem aber zu anderen Sportlern – das Rampenlicht heruntergedimmt wird. ...
Paralympics – Belastung für ARD & ZDF?
Es war ein bezeichnender Reflex, dass das ZDF nach dem Verlust der TV-Übertragungsrechte für die Olympischen Spiele 2018 bis 2024 im Juli vergangenen Jahres in einer ersten Stellungnahme ankündigte, die Übertragungen von den Paralympics deutlich reduzieren zu wollen.
Sport Business bei Rio 2016 – lesen Sie unser Artikel auf ISPO.com
Genau die öffentlich-rechtlichen Sender, deren Auftrag es sein sollte, einen wichtigen gesellschaftlichen Beitrag zur Integration von Menschen mit Behinderung zu leisten, machen in dem Moment, wo es drauf ankommt, deutlich, dass sie den ganzen Aufwand dann doch für reichlich überzogen halten. ...
Paralympische Ehrung wie Familienfeier
Im Vorfeld einer Paracycling-Weltmeisterschaft rufe ich selbst meine Kontakte beim Bayerischen Rundfunk an und bettele – als aktueller Paralympics-Sieger – um ein bisschen Berichterstattung.
Die jährliche Wahl zum "Sportler des Jahres" in Baden-Baden wird vom ZDF als große TV-Show inszeniert, während die Ehrung der "Behindertensportler des Jahres" immer noch im Rahmen einer besseren paralympischen Familienfeier stattfindet, weitgehend unter Ausschluss der breiten Öffentlichkeit. ...
Und so bleiben die Gebührengelder dort, wo sie der Mainstream gern sehen will, sie meines Erachtens aber nicht hingehören, zumindest nicht überwiegend: beim Fußball und bei Helene Fischer. ...
Der Eindruck, der zwangsläufig entsteht: Wir Paras sind Deutschlands Spitzensportler zweiter Klasse. Und nimmt man den Fußball dazu, dann ..., naja, lassen wir das.
Video: Teuber bei London 2012 (ab 5:30 min.)
Besser als Kugelstoß-Weltmeisterin Christina Schwanitz nach ihrer Wahl zur "Sportlerin des Jahres" 2015 kann man es nicht auf den Punkt bringen. Sie erzählte von ihrer Begegnung mit einem 17-jährigen Ersatztorwart aus der 3. Liga, der sinngemäß zu ihr sagte: Für das, was du im Monat kriegst, dafür stehe ich nicht auf. Warum, ist klar: Die semiprofessionelle 3. Liga läuft in der Sportschau, die olympischen Sportarten nicht. Man kann das auch respektlos nennen.
So werde ich finanziell unterstützt
Ich habe der Sporthilfe einiges zu verdanken. Seit Beginn meiner paralympischen Karriere hat sie mich finanziell unterstützt, meine Erfolge sind auch dank der Sporthilfe-Förderung möglich geworden.
In dem zuletzt gültigen Förderkonzept des Behindertensportverbands wurde ich als amtierender Paralympics-Sieger im Paracycling und als Goldhoffnung für das Zeitfahren in Rio 2016 konkret mit 550 Euro im Monat berücksichtigt. Mein Förderbetrag setzt sich zusammen aus 150 Euro Sporthilfe als A-Kader-Athlet und 400 Euro aus der sogenannten Top-Team-Förderung.
Enjoy the pre-presentation of my autobiography on Piz Corvatsch, "top of Engadin". #MichaelTeuberAusEigenerKraft The book is available from Monday, 29th August 2016. Pre-orders at Amazon under: https://www.amazon.de/gp/aw/d/384190341X/ref=mp_s_a_1_1?__mk_de_DE=ÅMÅZÕÑ&qid=1471243449&sr=8-1&pi=SY200_QL40&keywords=michael+teuber&dpPl=1&dpID=51V7HmAZo-L&ref=plSrch

Gepostet von Michael Teuber Paralympic Champion am Sonntag, 14. August 2016
Mehr als 150 Euro Sporthilfe sind nicht drin
Diese beiden Töpfe müssen auseinandergehalten werden: Die 150 Euro sind derzeit die einzige Regelförderung der Sporthilfe für einen erwachsenen Behindertensportler, eine andere gibt es nicht.
Die Top-Team-Förderung bekommen dagegen nur Medaillenkandidaten, im Vorfeld der Paralympics 2016 sind das 54 Sportler und Sportlerinnen. Die Top-Team-Gelder werden von den DAX-Schwergewichten Deutsche Telekom und Allianz zur Verfügung gestellt, sind also keine selbst generierten Eigenmittel der Sporthilfe, sondern werden nur über diese verteilt.
9000 Euro pro Jahr
Zum Vergleich: Die beiden Elite-Förderprogramme der Sporthilfe für die besten nichtbehinderten Spitzensportler sind mit bis zu 1500 Euro im Monat zwar auch nicht üppig, aber deutlich besser ausgestattet.
In den letzten 17 Jahren, von 1999 bis Ende 2015, habe ich, inklusive Kompensation für Verdienstausfall und Medaillenprämien, insgesamt rund 155.000 Euro an Fördermitteln erhalten, das sind durchschnittlich etwas mehr als 9000 Euro im Jahr. So viel wie besagter Drittligakicker jeden Monat.
Das meiste Geld kommt von Telekom und Allianz
Von den 155.000 Euro fallen rund 110.000 Euro auf besagte Top-Team-Förderung von Allianz und Telekom, nur rund 25.000 Euro sind Regelförderung aus Sporthilfe-Eigenmitteln und etwa 20.000 Euro sind Medaillenprämien für insgesamt fünf paralympische Medaillen (4x Gold, 1x Silber) seit 2004.
Das heißt: Den weit überwiegenden Teil meiner Karriereförderung haben besagte Großunternehmen bewerkstelligt und als Corporate-Social-Responsibilty-Ausgaben von der Steuer abgeschrieben.
Kein Para-Sportler in der "Hall of Fame"
In die von der Sporthilfe gegründete "Hall of Fame" des deutschen Sports wurden bis heute keine paralympischen Vorbilder aufgenommen. Von Beckenbauer bis Witt, alle drin. Einen Gerd Schönfelder, mit 16 Goldmedaillen eine paralympische Legende in der ganzen Welt, oder eine Verena Bentele, 12-fache Siegerin bei den Paralympics und immerhin Behindertenbeauftragte der Bundesregierung, sucht man vergebens. Warum?
Tolle Idee - möchte ich vom #DBS für die Paralympics in Rio auch gerne sehen.👍😃 Für mich werden es nach Sydney 2000, Athen 2004, Peking 2008 und London 2012 die fünften Paralympischen Spiele sein. #wirfuerD

Gepostet von Michael Teuber am Mittwoch, 24. August 2016
Und selbst als frischgekürter Paralympics-Sieger bekommt man keine Einladung zum "Champion des Jahres", dem Treffen der erfolgreichsten Sporthilfe-Athleten eines Jahres. Während bei den nichtbehinderten Sportlern jeder Medaillengewinn bei Welt- und Europameisterschaften zählt, sind von unserer Seite nur die gekürten "Behindertensportler des Jahres" dabei.
Hakt man nach, ist von finanziellen und logistischen Gründen die Rede. Was einen wundern muss, bei namhaften Event-Sponsoren wie der Zürich-Versicherung, der DKB, Smart und der DFL. Und "logistisch" klingt irgendwie so, als würden wir Sportler mit Behinderung einfach zu viele Umstände machen.
Ist das mit Inklusion gemeint?
Über Michael Teuber:
Der am 3. Januar 1968 geborene Teuber ist mit vier paralympischen Goldmedaillen und 18 WM-Titeln im Paracycling einer der erfolgreichsten deutschen Spitzensportler mit Behinderung. Nach einem Autounfall inkomplett querschnittsgelähmt, ist Teuber seit 1999 professioneller Sportler, Bergsteiger und Abenteurer.
Weil er sich auch öffentlich zu sportpolitischen Themen äußert, gilt er als einer der wenigen Meinungsführer im deutschen Spitzensport. Bei den Paralympischen Spielen in Rio de Janeiro geht er als Medaillenaspirant im Straßen-Einzelzeitfahren an den Start.
Michael Teuber lebt mit seiner Familie in Dietenhausen bei München.
Mehr über Teuber gibt's auf seiner Homepage, bei Facebook und Twitter zu erfahren.