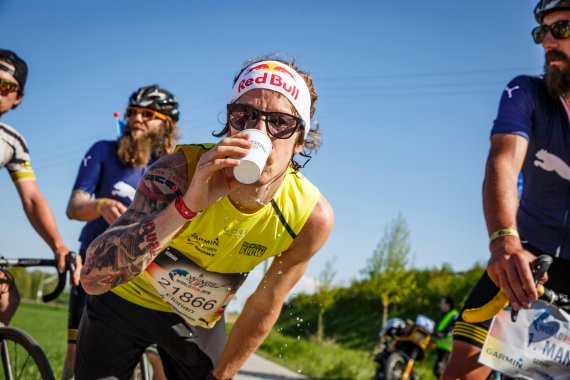 ISPO.com: Herr Neuschwander, was wollen Sie denn dieses Jahr schaffen, beim Wings for Life World Run 2017 am 7. Mai in Mailand?
Florian Neuschwander: Ich will die 80 Kilometer packen!
Kann man das planen?
Nur zum Teil. Man kann sich top vorbereiten, das bin ich schon. aber wenn das Wetter nicht mitspielt, wie in Darmstadt 2015…
… als Sie im Dauerregen liefen…
Da kühlt die Muskulatur aus. Gerade wenn man fünf Stunden im Regen rumläuft, hat man echt Probleme, dann macht der Muskel irgendwann dicht.  Das ist bei trockenem Wetter, wenn es wärmer ist, nicht der Fall.
Um 80 Kilometer zu schaffen, müssten Sie im Schnitt…
… ich muss 3:49 Minuten pro Kilometer rennen. 
Das ist verdammt schnell über eine verdammt lange Distanz.
Aber das Tempo tut mir nicht weh. Die ersten 50 Kilometer spul' ich das einfach ab, da schmerzt nichts. Ganz anders als beim Marathon, da tut's schon ab Kilometer 30 oder spätestens 35 richtig weh, weil das Tempo so viel höher ist. Da lauf' ich 3:18 Minuten im Schnitt, beim Wings for Life Word Run bin ich ja eine halbe Minute langsamer pro Kilometer. 
Ihre Strategie?
Konstant rennen von ersten bis letzten Kilometer. Im möglichst immer gleichen Tempo. Zu schnell loszurennen macht keinen Sinn, dann kackt man hinten ab. Und zu langsam ist auch ein Problem, wenn du müde wirst – und das Catcher Car wird ja am Ende schneller, da holst du hinten nix mehr raus. Ich bin in Darmstadt 4:50 Stunden gelaufen, hatte am Schluss so 16 km/h drauf – und das Auto hat am Ende 20 km/h. Da ist dann ist Schluss für mich.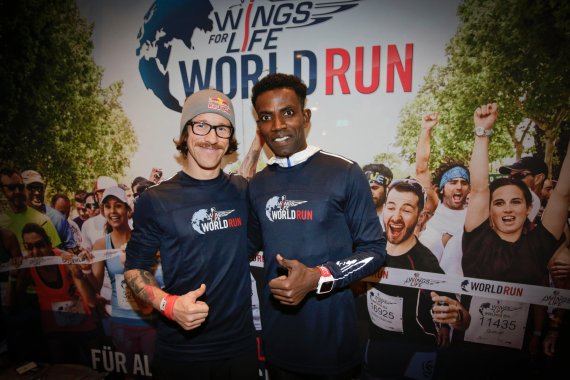 Für Florian Neuschwander laufen die Frauen mit Schnauzbart

Sie laufen vorneweg – Ihre Teammitglieder von "Run with the Flow" werden Sie nicht lange sehen…
Wir treffen uns vorher zum Aufwärmen und für Fotos. Und hinterher zur Feier. Ich hoffe, dass möglichst viele so aussehen wie ich – also sich einen Schnauzer haben wachsen lassen und mit Sonnenbrille kommen.
Und die Frauen?
Die kriegen nen Anklebe-Schnurres. Aber nur, wer will. Ich zwinge niemanden.
Warum wollen so viele an Ihrer Seite laufen?
Weil ich bekannt dafür bin, ein etwas anderer Läufer zu sein, ein bisschen verrückter. Und weil wir so ein echtes Teamfeeling haben, ganz nach meinem Motto "Run wir the Flow".  Weil sie einfach Spaß dran haben, dass totale Hobbyläufer und auch richtige Athleten in einem Team zusammenlaufen. Irgendwie hab' ich geschafft, so viele Leute zu motivieren – ein richtig cooles Ding.
Ihr Tempo mithalten kann da aber kaum jemand.
Ein paar machen sich am Anfang einen Spaß draus, mal vorneweg zu laufen. Etwa 20 Kilometer lang schaffen das noch etliche in dem Tempo. In Darmstadt, letztes Jahr, hatte ich einen Kumpel an der Seite, der hat erst bei Kilometer 37 Probleme bekommen. Ab 38 war ich dann alleine, das war schon seltsam. Nur ich und die gelben Rapsfelder, trübe Wolken, um mich rum die ganzen Polizeimotorräder. Skurril.