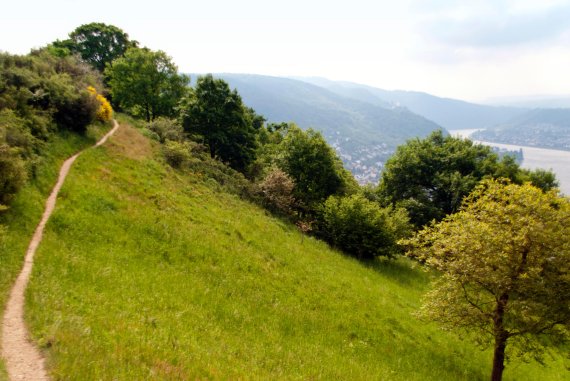 Als Weinland Nr. 1 in Deutschland bezeichnet sich Rheinland-Pfalz, aber auch als Waldland Nr. 1. Große Flüsse und Mittelgebirge prägen die Landschaft, die ausgedehnten Hänge werden oft für den Weinanbau genutzt. Fast die Hälfte der Landesfläche ist von Wäldern bedeckt. Der Pfälzerwald ist das größte zusammenhängende Waldgebiet Deutschlands und auch eines der größten in Europa.

Das UNESCO-Biosphärenreservat Pfälzerwald, das die französischen Nordvogesen im Elsass mit einschließt, umfasst mehr als 12.000 Kilometer Wanderwege. Wie unvorstellbar groß das Waldgebiet ist, lässt sich auf dem Fernwanderweg Pfälzer Waldpfad ermessen, der über 142 Kilometer in neun ausgewiesenen Tagesetappen ausschließlich durch den Pfälzerwald führt. Auch an schönen Einzeltouren herrscht kein Mangel. Nominiert als schönster Wanderweg Deutschlands 2016 ist der Dimbacher Buntsandstein Höhenweg in der Region Hauenstein, der am Wanderparkplatz kurz vor dem Ortseingang von Dimbach beginnt. Auf 9,8 Kilometern schlängelt sich der Premiumwanderweg, der mit 74 Erlebnispunkten zertifiziert wurde, auf schmalen naturbelassenen Pfaden durch den Pfälzerwald: Wandern zwischen massiven rostroten Felsformationen über drei Berggipfel (Dimberg 420 m, Rötzenberg 460 m und Immersberg 465 m) bis zum Ausgangspunkt. Die Dauer der mittelschweren Tour wird beim Wandern mit 3,5 Stunden angegeben.

Wandern für Fitness und Gesundheit: Vielfalt in Rheinland-Pfalz

Neben dem Pfälzer Wald wird die Landschaft von Rheinland-Pfalz vor allem von den Gebirgszügen des Westerwalds, der Eifel und des Hunsrück bestimmt sowie durch die großen Flüsse Rhein, Mosel, Nahe und Saar. Der Hunsrück liegt romantisch eingebettet inmitten der vier großen Flusstäler und bietet mit dem Saar-Hunsrück-Steig den schönsten Wanderweg der Bundesrepublik. Der Steig ist Sieger unter den 16 "Top Trails of Germany" und erntete die meisten Erlebnispunkte. Mit dem Rheinsteig, dem Eifelsteig und dem Westerwald-Steig hat Rheinland-Pfalz noch drei weitere Touren, die zu den schönsten Wanderwege Deutschlands gezählt werden und zum Wandern einladen.

Eine spektakuläre Verbindung zwischen dem romantischen Rhein und der Hocheifel stellt das Wandern auf der Eifelleiter dar, einem Fernwanderweg mit sportlichem Anspruch. Er führt in drei Etappen 53 Kilometer weit von der tiefsten Randlage der Eifel in Bad Breisig am Rhein durch das idyllische Brohltal in Serpentinen auf den höchsten Gipfel der Eifel, die Hohe Acht (747m). Beim Abstieg geht es durch herrliche Wälder hinab ins malerische Adenau, dem Endpunkt der Tour. Beim Wandern liegen Vulkan-Highlights auf dem Weg wie der besterhaltene Hufeisenkrater und das wahrscheinlich durch einen Meteoriteneinschlag entstandene Rodder Maar.

Wandern für Fitness und Gesundheit: im Westerwald

Im Westerwald lockt vor allem der als Top Trail of Germany geadelte Westerwald-Steig, der als Fernwanderweg in 16 Etappen über insgesamt 235 Kilometer von Herborn nach Bad Hönningen führt. Das Streckennetz zum Wandern im Westerwald wird durch kurze Rundwege, sogenannte Erlebnisschleifen entlang des Westerwald-Steigs verdichtet, ebenso durch die sogenannten Wällertouren. Unter diesem Namen wurden im Westerwald bislang neun verschiedene Routen zum Wandern ausgearbeitet, die zwischen neun und 36 Kilometer lang und meist als Tagestour ausgewiesen sind. Sieben der neun Wällertouren sind Rundwege. Eine Ausnahme bilden die Greifensteinschleife, die in den Westerwaldsteig mündet, und der Klosterweg, der vom Westerwald-Steig zum Rhein-Steig führt.

Beim Wandern auf dem knapp 18 Kilometer langen Klosterweg wird der Naturpark Rhein-Westerwald durchquert, bekannt als "Tor zum Westerwald" oder auch als "Westerwald-Balkon". Grandiosere Aussichten auf das Rheintal, die Eifel und die Höhen des Westerwaldes findet man nirgends, das alles auf herrlichen Pfaden zwischen sanften Hügeln, in schattigen Wäldern oder verträumten Tälern mit saftigen Wiesen und klaren Bächen. Der Klosterweg bringt die ganze Wander-Vielfalt von Rheinland-Pfalz auf den Punkt.