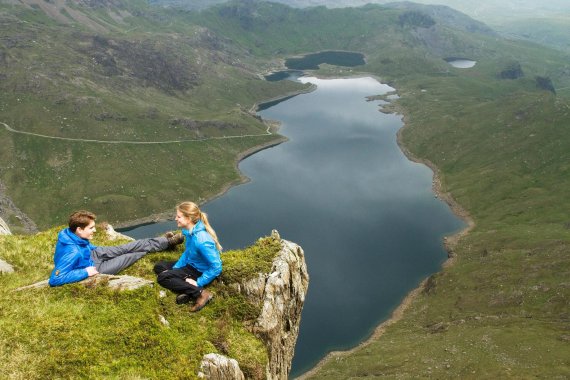 In Großbritannien ist die nachhaltige Marke Páramo schon ein Hit, in Deutschland kämpft die etwas andere Outdoor-Kleidung noch um Bekanntheit. "Vielen ist die neue Technologie nicht bekannt und daher erklärungsbedürftig. Kunden, die bisher ausschließlich Gore-Tex und Co. getragen haben erweisen sich häufig etwas skeptischer", sagt Kim Girschner, Betriebsleiter beim Shop des deutschen Wanderurlaubs-Spezialisten Hauser Exkursionen.

Er ist trotzdem überzeugt, dass sich die Páramo-Produkte durchsetzen werden: "Neben dem Verzicht auf für die Umwelt schädliche Chemikalien hat uns auch die Schaffung der sozial verträglichen Herstellungsbedingungen für diese Produkte beeindruckt. Die PFC-freie Bekleidung von Páramo ist die ideale Ergänzung für unser Sortiment."  
Paramo: Vom Eisbärfell inspiriert
Aber was ist überhaupt das Besondere an den Jacken von Páramo? Der Name stammt von einer speziellen Vegetationsform in den Höhenlagen der tropischen Gebiete der Anden. Dort, auf grasbewachsenen Gebieten in Kolumbien, Venezuela, Ecuador oder Peru über 3000 Meter über dem Meeresspiegel, herrscht eine außergewöhnlich hohe Luftfeuchtigkeit bei großen Temperaturunterschieden.

Genau hier testete Nick Brown einst ein neues Material für Outdoor-Bekleidung, die ohne Membran-Technologie und das umweltschädliche PFC auskommt. Das Material ist zum Beispiel von der Funktionalität des Eisbärfells inspiriert und besteht aus robusten Polyester-Mikrofasern außen und einem Innenfutter, das Feuchtigkeit aktiv vom Körper ableitet. 1992 gründete Brown mit der sogenannten Nikwax-Technologie als Grundlage ein Outdoor-Unternehmen und gab ihm den Namen Páramo.
Auszeichnungen in Großbritannien
Die mit seiner innovativen Stofftechnologie hergestellten Jacken haben ein Nachteil: Sie müssen regelmäßig imprägniert werden. Dafür bieten sie umweltbewussten Verbrauchern jede Menge Vorteile, denn Páramo will Vorreiter in Sachen Nachhaltigkeit sein "Für unsere Produkte verwenden wir bei Páramo ausschließlich Technologien mit höchster Performance bei geringster Umweltbelastung. Leider halten die meisten Outdoorunternehmen in Sachen Wetterschutz nach wie vor an PFC-basierenden Formeln fest – etwas, das unvereinbar ist für Marken, deren Zielgruppe der Naturliebhaber ist", sagt Gareth Mottram, CEO der Firma.
In Deutschland baut Páramo erst seinen Kundenstamm auf, im Firmen-Heimatland Großbritannien hat die Marke bereits zahlreiche Auszeichnungen erhalten. Die britische Zeitschrift The Great Outdoors zeichnete Páramo als "Clothing Brand of the Year 2015" aus, zudem gab es in diesem Jahr das "Best Buy" Siegel des renommierten britischen Verbraucher-Magazins Ethical Consumer.
Bekleidung selbst auf 5000 Metern hervorragend
Die Bergrettungsteams in England und Wales vertrauen genauso auf die Kleidung wie das britische Polarforschungsteam. Auch von namhaften Bergsteigern und auf einer Greenpeace-Expedition wurde die Bekleidung getragen und selbst auf 5000 Höhenmetern als hervorragend eingestuft. Und das gilt nicht nur für die Funktion, sondern eben auch für das Thema Umweltschutz. "Die Teilnahme am Detox-Programm ist für uns ein weiterer Schritt um unsere Bemühungen, die Auswirkungen unserer Produkte auf die Umwelt und Natur, die wir lieben und genießen, so gering wie nur möglich zu halten", so Mottram. Greenpeace hatte auf der ISPO MUNICH Ende Januar einige andere Outdoor-Unternehmen im neuesten Produkttest kritisiert.
Páramo lässt nachhaltig produzieren
Die gesamte Firmenphilosophie der Marke Páramo ist auf Nachhaltigkeit ausgelegt. Das gilt auch für den Großteil der Produktion der Bekleidung in Kolumbien. Páramo arbeitet mit der Miquelina-Stiftung zusammen, die einst von einer Nonne gegründet wurde, um Mädchen und Frauen eine Alternative zum Straßenstrich in Bogota anzubieten.
Inzwischen arbeiten dort 200 Frauen regelmäßig, weitere 400 werden jährlich als Näherinnen ausgebildet. Die Gewinne der Fabrik werden in soziale Projekte investiert, zum Beispiel eine Wohnungsbaugenossenschaft, über die Näherinnen ein eigenes Haus erwerben können. Zudem gibt es einen Kindergarten und eine Mittagesspeisung für 300 Schulkinder.
Jacken zum Recycling zurückgeben
Neben einem guten Gewissen haben Páramo-Käufer einen weiteren Vorteil: Sie können ihre abgetragenen Jacken zum Recycling zurückgeben und erhalten einen Gutschein für eine neue Jacke. "Das System von Páramo ist in Sachen Umweltschutz und Sozialverträglichkeit von Anfang bis Ende durchdacht", sagt Crissy Dorn, Sprecherin der Firma für den zentraleuropäischen Markt.
In Deutschland wird die Bekleidung bislang nur von einigen Spezialanbietern vertrieben.  "Aber das Bewusstsein der Kunden für die Umweltthemen steigt ständig. Der Druck muss auch vom Endverbraucher kommen, dass er nur noch PFC-freie Kleidung kaufen will. Dann müssten auch die großen Händler und Ketten reagieren und verstärkt solche Produkte anbieten", so Dorn.
Keine Frage, Páramo will eine ganze Branche zum Umdenken bringen. Mottram: "Wir möchten nun auch die gesamte Outdoorbranche dazu ermutigen, den PFC-Ausstieg zu wagen." Damit ist die Firma auf dem richtigen Weg. "Wir stellen eine erhöhte Sensibilität unserer Kundschaft für das Thema umweltverträgliche Funktionskleidung fest. Die gezielte Nachfrage der, teilweise, gut informierten Kundschaft nimmt stetig zu", sagt Kim Girschner vom Hauser-Shop.
Allerdings brauche die Entwicklung Zeit und es sei noch viel Aufklärungsarbeit nötig: "Erst wenigen unserer Kunden scheint bekannt, was PFC eigentlich sind. Stichworte wie Nachhaltigkeit und soziale Verantwortung bei der Herstellung sind wichtiger geworden als vor ein paar Jahren, aber in den wenigsten Fällen kaufentscheidend."