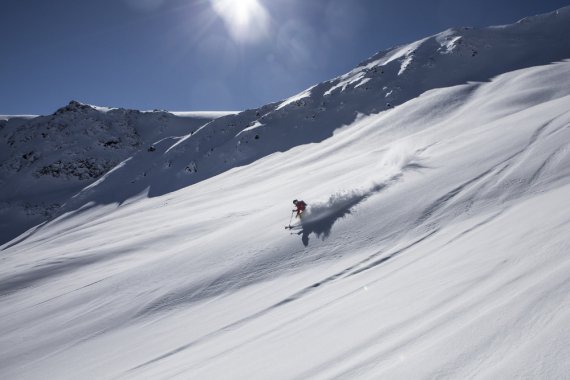 Im Rahmen des kostenlosen Materialtests präsentieren auch zahlreiche ISPO AWARD-Gewinner ihre neuen Produkte für die Saison 2016/17. Ausgezeichnete Produkte der Marken Arva, Atomic, Salomon, Dynafit, K2, Leki, Picture Organic Clothing und Tecnica können so auf Herz und Nieren getestet werden.
Als Partner des Freeride Testivals bietet die ISPO Munich zusammen mit RECCO Händlern und Journalisten die einmalige Chance, bei einem Lawinen-Notfallszenario mit Mehrfachverschüttung die richtige Anwendung der Notfallausrüstung zu testen. Für die beiden Termine (Samstag um 14 Uhr und Sonntag um 10 Uhr) ist eine vorherige Anmeldung per E-Mail an haendlertag@freeride-testival.com erforderlich.
(Lesen Sie hier ein Interview mit Gerlinde Kaltenbrunner über das Extrembergsteigen und Lawinengefahr.)
Side-Events mit Action und Information
Weitere Side-Events sind für alle Festivalbesucher zugänglich. Bei den SAAC-Lawinen-Quickies (Samstag und Sonntag jeweils 10 und 13 Uhr) zeigen staatlich geprüfte Berg- und Skiführer, worauf man beim Verlassen der markierten Pisten besonders achten muss. Vermittelt werden die wichtigsten und einfachsten Verhaltensregeln sowie der Umgang mit LVS-Gerät, Sonde und Schaufel.
Freerider mit guter Fitness und Belastbarkeit können beim "Rossignol Ride with the Pros" mit den Profis des Rossignol Freeride Teams ins Gelände aufbrechen (Samstag und Sonntag jeweils um 10.30 sowie 13.30 Uhr).
Ein SNOWHOW Workshop widmet sich ganz dem Thema "Digitale Lawinenkunde". Hierbei erklärt ein Berg- und Skiführer die Grundlagen zur Planung eines Freeride- oder Tourentages und erläutert, wie man im Backcountry vernünftige Entscheidungen trifft. Anhand der SNOWHOW-Freeride-App werden die Vor- und Nachteile von digitalen Werkzeugen vermittelt (Samstag und Sonntag jeweils um 10 sowie 13 Uhr).
Mehr Infos zum Freeride Testival im Kaunertal und zum kompletten Programm gibt es auf der Homepage der Veranstaltung.