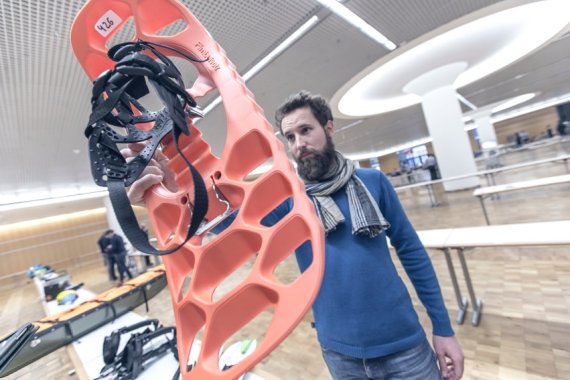 Auf den 3500 Quadratmetern verteilen sich die Jacken, Socken, Hosen und viele weitere Produkte bis hin zum Laufband. Zwischen den Tischreihen stehen drei Gruppen, die energisch diskutieren und Bewertungen auf ihren iPads eintippen.

Gut eineinhalb Wochen bevor die ISPO MUNICH startet, hat sich eine renommierte Fachjury aus der ganzen Welt getroffen, um die innovativsten, nachhaltigsten und praktischsten Produkte der Sport-Branche zu küren.

In den Kategorien Ski, Outdoor, Action, Health & Fitness, Performance sowie Asian Products erhält je ein Produkt die begehrte Auszeichnung des "Product of the Year". Die Unterteilung dieser Kategorien in Unterkategorien ermöglicht dem Fachhandel und Endverbrauchern eine bessere Marktübersicht. Neben den Winnern der jeweiligen Unterkategorien werden hier besonders herausragende Produkte als "Gold Winner" ausgezeichnet.

Ein renommiertes Gütesiegel

Der ISPO AWARD ist ein weltweit anerkanntes und renommiertes Gütesiegel des Sport-Business – was auch an der Jury liegt, die mit Fachmännern und -frauen aus unterschiedlichen Bereichen besetzt ist. "Der Job in der Jury liegt für mich nahe, da ich auch in meinem Beruf versuche, die Branche sichtbar besser zu machen", sagt Mark Held, Generalsekretär der European Outdoor Group, der die eingereichten Produkte mit der Eco-Jury auf ihre Nachhaltigkeit und Umweltverträglichkeit überprüft.

Bereits um acht Uhr morgens versammelten sich die ersten neun der insgesamt 45 Mitglieder der gesamten Jury. In diesem Jahr besonders wichtig: Die Nachhaltigkeit der Produkte – ein Aspekt, den die Aussteller der ISPO MUNICH besonders beherzigen sollen.

Das größte Pensum hatte die Eco-Jury zu bewältigen, die alle Produkte der Preisverleihung begutachten musste. Immerhin 25 Prozent macht dieses Segment in der Gesamtbewertung aus.

"Viele Produkte sind aber sehr schwer einzuschätzen, da wir nicht alle Materialien bis ins letzte Detail nachvollziehen und damit einstufen können", sagt Prof. Matthias Kimmerle, der an der Hochschule für angewandte Wissenschaften Albstadt-Sigmaringen im Studiengang Textil- und Bekleidungstechnologie lehrt. Denn nicht nur die Umwelt liegt der Eco-Jury am Herzen, sondern auch die Wertschöpfungskette, die vor allem faire Arbeitsbedingungen garantieren soll. 
Die Jury geht akribisch Schritt für Schritt vor

Wo die erste Gruppe sich Jacke für Jacke und Shirt für Shirt durchdiskutiert, hat die zweite Gruppe einen anderen Ansatz: Die Mitglieder der Apparel-Jury, dem Expertenkomitee für Bekleidung, gehen die Kleidungsstücke zunächst einzeln ab, fühlen, schauen sich die Produktbezeichnung an und versuchen einen schnellen Überblick zu bekommen.

Erst in der zweiten Runde gehen sie ins Detail. Und wie: Gleich zu Beginn wird über die Zusammensetzung einer Lauf-Hose diskutiert: Wie belastbar ist das Material? Kann es Schweiß aufsaugen, absorbieren oder saugt es die Feuchtigkeit sogar auf? Aus den unterschiedlichen Meinungen ergibt sich erst nach einigen Minuten eine Meinung, dann eine erste Wertung und nach erneuter Diskussion eine Gesamt-Note, die jeder individuell vergibt.

Dann geht es um Socken, die braun und blau sind und auf den ersten Blick aussehen wie normale Wollstrümpfe. Der Chef des Herstellers erklärt in einem Video, dass die Socken in "Carolina, United States" produziert werden – die Jury-Member lächeln.

Manche setzen sich auf die Tische, ziehen die Socken an. Mehr Sorgfalt geht nicht. Aber sind die braunen und blauen Socken der Durchbruch in der Socken-Produktion? Diesmal nur eine kurze Diskussion, eine Wertung, eine Gesamt-Note, ab zum nächsten Artikel, der wirklich kurios daherkommt.

Der Fokus liegt auf Innovationen

An einem Punkt kommen aber alle Jury-Gruppen zusammen: Es geht vor allem um Innovation. "Ich möchte Produkte sehen, die nicht nur kleine Verbesserungen zum Vorjahr haben, sondern echte Neuigkeiten bieten", sagt Joel Svedlund, der Sustainability Manager bei Peak Innovation, einem schwedischen Innovations- und Technologiecluster für die Sportbranche, ist. Auch Trend Consultant Louisa Smith sagt: "Ich schaue nach Innovationen, da liegt klar der Fokus drauf."

Dafür testen sich die Jury-Gruppen zwei ganze Tage durch alle Produkte. Manchmal mit Witz: "Die Jacke ist aus dem UK, die bewerte ich super". Manchmal sogar mit Enttäuschung: "Da ist wirklich nichts Gutes dran. Weder am Material, noch an der Herstellung." Die Ansprüche der Jury, sie sind zweifellos hoch – um dem ISPO AWARD gerecht zu werden.

Am Ende sind alle erschöpft, gelohnt hat es sich trotzdem, sagt Mark Held: "Das hier ist ein großer Think Tank, der uns hilft über den Tellerrand zu blicken und die ganze Industrie zu entwickeln."