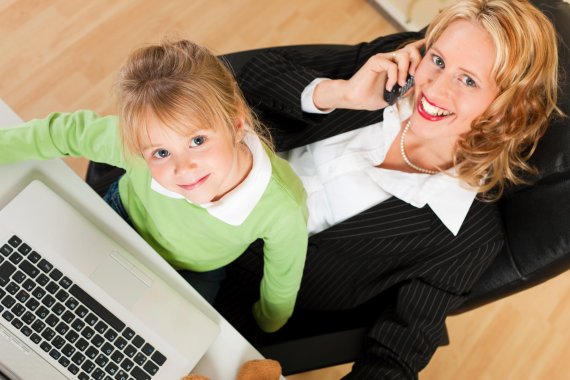 Schon aus Sorge vor dem drohenden Fachkräftemangel setzen die Unternehmen zunehmend auf die Vereinbarkeit von Beruf und Familie – und locken damit erfolgreich Bewerber an, wie diese Beispiele aus der Sportbranche zeigen.
Ein Uhr nachts. Laura hustet. Schon wieder. Dabei ist morgen so ein wichtiger Termin. Krank melden? Das wäre jetzt ganz schlecht… Alle berufstätigen Eltern kennen diese Schreckmomente. 
Sportartikelhersteller profitieren
Was, wenn das Kind am nächsten Morgen nicht wie geplant in die Kita oder Schule gehen kann. Selbst wenn es vielleicht nicht gleich zum Arzt muss, was wird aus den eigenen Terminen? Wohin morgen früh mit dem kranken Kind? 
Eltern-Kind-Büros sind da eine echte Alternative, um kurzfristige Engpässe in der Kinderbetreuung auszugleichen. Bei Puma in Herzogenaurach gibt es solche Räume zum Beispiel. Und für den Sportartikelhersteller rechnet es sich, kombinierte Arbeits- und Spielzimmer für seine Mitarbeiter einzurichten.

Bevor sie ganz zu Hause bleiben müssen, bringen sie ihr Kind bei nicht ansteckenden Krankheiten einfach mit und können es hinter der Glastür spielen lassen, sogar schlafen legen und nebenan wenigstens die dringendsten Dinge für die Firma erledigen. Wer nimmt schließlich alle Unterlagen mit nach Hause, um spontan einen Home Office-Tag einlegen zu können? 
Für diese und weitere Angebote, Beruf und Familie zu vereinbaren, hat Puma 2015 das Zertifikat von "berufundfamilie" erhalten. Unternehmen und Institutionen dürfen damit offiziell für sich als familienfreundlichen Arbeitgeber werben. 
Familienfreundlichkeit zahlt sich aus
Studien beweisen, dass Mitarbeiter in familienfreundlichen Unternehmen seltener krankheitsbedingt ausfallen, kürzer in Elternzeit gehen und nicht so schnell kündigen.

"Schon heute ist aufgrund der demografischen Entwicklung in einzelnen Berufen, Branchen und Regionen ein deutlicher Mangel an Fachkräften spürbar. Im Wettbewerb um die besten Köpfe haben familienfreundliche Arbeitgeber einen Vorsprung. Investitionen in familienfreundliche Arbeitsbedingungen sind damit gleichzeitig Investitionen in die Wettbewerbsfähigkeit des Unternehmens", sagte Iris Gleicke, Parlamentarische Staatssekretärin beim Wirtschaftsministerium anlässlich der 17. Verleihung des Zertifikats von "berufundfamilie" an Puma und 293 weitere Arbeitgeber.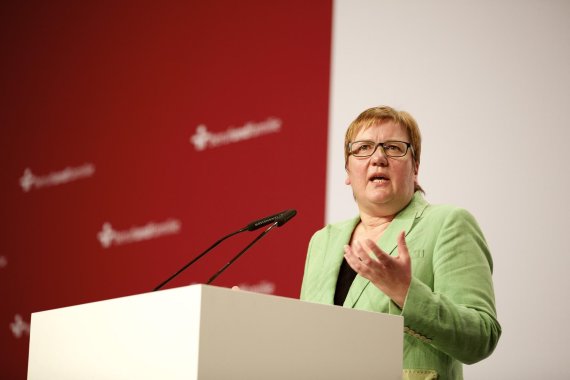 Wer sich wohl fühlt, arbeitet besser
Personalpolitik mit Blick auf die Lebensumstände der eigenen Mitarbeiter nennt sich bei Puma "Wellbeing".

Damit sind flexible Arbeitszeiten und Sportangebote für die gut 10.000 Mitarbeiter in Herzogenaurach gemeint oder eben "Parent-Child-Offices", wenn es mit der Betreuung des Nachwuchses mal nicht klappt.
Im Sommer 2015 wurde auch erstmals eine eigene Ferienbetreuung für die Kinder der Mitarbeiter angeboten. Die 5- bis 12-Jährigen wurden zwei Wochen lang auf dem firmeneigenen Kleinfeld vom Familienservice Nürnberg mit Sport und Spiel beschäftigt, ganztags von 8:30 bis 17 Uhr.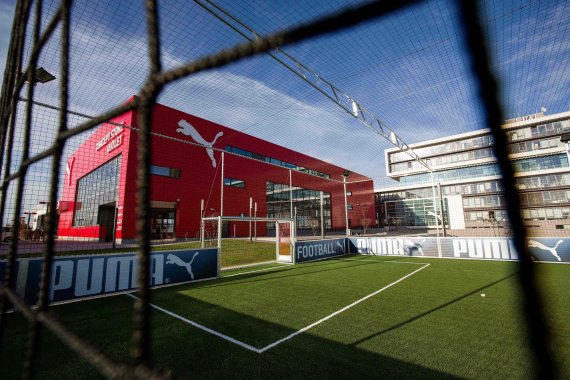 Das "Family Team" unterstützt junge Familien ansonsten auch bei der Suche nach Betreuungseinrichtungen, die sich in der Nähe des Firmensitzes befinden.
Wenn die "Kleinen" in die Schule wechseln, kommt das Programm "Flexible Working Hours and Locations" zum Tragen.
Die Mitarbeiter können sich die Arbeitszeiten und teils auch den Arbeitsort selbst einteilen. "Social Events" bilden den Rahmen für regelmäßige Treffen der gesamten Belegschaft bei Sportveranstaltungen oder Grillabenden.

Wem das nicht reicht, der trainiert während der Mittagspause oder nach Feierabend im firmeneigenen Fitnessstudio. Alles zum Wohle der Mitarbeiter und damit zum Wohle der Firma.
Sport Jobs – die Firma als große Familie
Arbeitgeber im ländlichen Raum müssen sich besonders engagieren, um Mitarbeiter zu finden und dauerhaft zu binden.

Trigema als privat geführtes Unternehmen beschäftigt mehr als 1000 Angestellte und produziert, wie der sprechende Affe in der Werbung betont, Mode und Sportbekleidung ausschließlich in Deutschland. Das Hauptwerk steht in Burladingen. 
Firmeninhaber Wolfgang Grupp, gern gesehener Gast in vielen TV-Talkshows, gibt seinen Mitarbeitern bei der Einstellung die wohl einzigartige Garantie, dass ihre Kinder nach dem Schulabschluss einen Ausbildungsplatz und einen Job bei Trigema erhalten.
Die Folge: Viele Familien arbeiten bereits seit Generationen für Trigema und fühlen sich dem Betrieb verbunden. "Niemand zieht für den Beruf zu uns nach Burladingen", so Grupp.
Die leitenden Positionen bei Trigema sind inzwischen alle mit ehemaligen Lehrlingen besetzt. Selbst seine Hochzeit soll der Unternehmer im Kreise seiner Mitarbeiter gefeiert haben. 
Bigplayer geben sich ebenfalls familiär
Eine so sympathische Generationenlösung wie bei Trigema hat man beim Sportartikelriesen Adidas zwar nicht gefunden, ist aber bei der Vereinbarkeit von Familie und Beruf durchaus in einer Vorreiterrolle.

In Herzogenaurach kümmert sich eine eigene Firmenabteilung "Work-Life-Integration" um das familiäre Umfeld der Mitarbeiter. Mit der "World of Kids" gibt es eine Kindertagesstätte ganz in der Nähe des Werksgeländes. Und da Adidas Mitarbeiter aus aller Herren Länder beschäftigt, wird dort Englisch ebenso wie Deutsch gesprochen.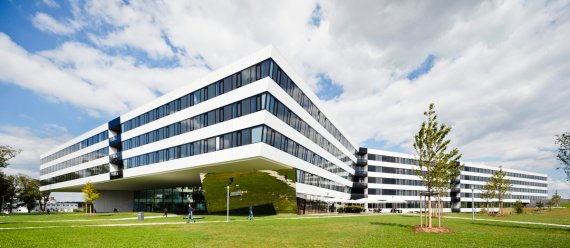 Im Zentrum der Personalpolitik stehen bei Adidas aber keineswegs nur Familien. Auch Angestellte 50+ sollen mit flexiblen Arbeitszeit-Modellen ihre Lebenssituation mit der Arbeitswelt stressfreier verbinden können.

Mitarbeiter, die für ein wichtiges Projekt Überstunden machen, kommen in den Genuss der sogenannten "Flexi Days". Damit ist gemeint, dass die angesammelten Überstunden in ruhigeren Zeiten in Urlaubstage umgewandelt werden können.

Firmen beachten neue Trends
Mehrarbeit wird generell auf "MyTime", einem persönlichen Lebensarbeitskonto, verbucht. Mit diesem Zeitguthaben haben die Mitarbeiter dann die Möglichkeit, ein Sabbatical zu nehmen, im Bedarfsfall erkrankte Familienmitglieder zu pflegen oder auch vorzeitig in Rente zu gehen.
Adidas setzt damit genau auf den Trend, der vom Bundesfamilienministerium aktuell als die NEUE Vereinbarkeit von Familie und Beruf von den Unternehmen eingefordert wird.

Dabei geht es nicht mehr nur um die Vereinbarkeit von Kindern und Karriere, sondern auch um die Vereinbarkeit von Beruf und Pflege. Angesichts der demographischen Entwicklung mit längerer Lebenserwartung der eigenen Eltern ein neues großes Thema für Arbeitnehmer und dadurch auch für Unternehmen.
Was meinen Sie?
Halten Sie die Arbeitsbedingungen in Ihrem Unternehmen für familienfreundlich?