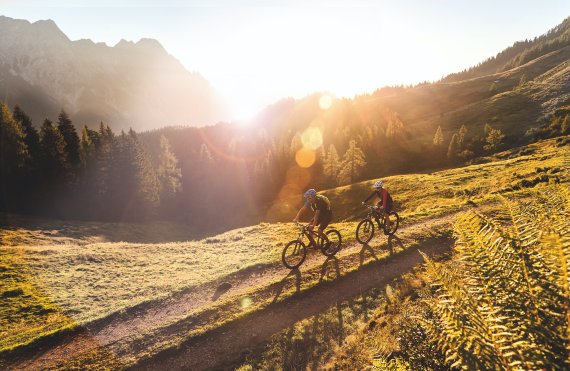 Riding a bike is stupid? No way! If you're still not fed up with crowded subways, you should listen up now at the latest: Because riding a bike makes you happy. Yes, not only does the vitamin D we soak up while cycling through the city in the morning give us lots of happy hormones, cycling itself has extremely many benefits.
Because as Cycling UK found out, there are exactly 20 good reasons why cyclists do good. For themselves. For the climate. For the community. Or did you know that Cycling increases your life expectancy? Let's go for a bike ride.
We don't quite know if this news is a good one. But let's be honest: Boxer Floyd Mayweather's comeback is something many of us have probably been longing for. However, it's not turning out the way we thought it would. Mayweather is celebrating his return to the Boxing ring not against an athletic opponent like Wladimir Klitschko, but against YouTube star Logan Paul (23 million YouTube subscribers). On June 6, the two heavyweights will go head-to-head. Does Paul have a chance at all? We doubt it, Paul himself is confident of victory. And Mayweather? He's doing some serious insta-promo. A comeback unlike anything we've ever seen before – and it's gonna get the most ratings. And that, again, is good news.
Actually, our hearts are already leaping when we see how well the sports industry has approached the topic of diversity. The industry is openly discussing topics such as racism, homosexuality and equality and is making the first changes. Today, our hearts are beating a little faster: That's because Laurel Hubbard is the first openly trans woman to compete in the Tokyo Olympics. The 43-year-old weightlifter is taking an important step towards equality and diversity. And all we can say is: Good luck in Tokyo Laurel! You are a role model!
Good news for all sports sloths! Those who like it a bit more leisurely when it comes to sports, perhaps even being the slowest player on the court more often than not, have a new beacon of hope: Basketball player Nikola Jokic. The athlete is considered awkward and slow on the court, likes to eat popcorn, cevapcici and ice cream – and yet may soon be the most valuable player in the NBA. Instead of frantically running around the court and stuffing balls into the basket like his teammates, the two-meter man works with his head: slowly, purposefully and – yes – with a touch of relaxation. The only drawback: he had to give up his love for Coke. That was really too unsporting for the team bosses.
Erika Rischko proves: Life really starts when you retire! The 81-year-old keeps fit and active without a gym. How does she do it? She shows it in regular workout videos on TikTok, the platform that primarily addresses Generation Z. Despite the age difference, Erika has long been a star on TikTok, with 160,000 teens following her and doing her workouts. And the 81-year-old herself? Is happy to be Fitness Influencer in retirement.