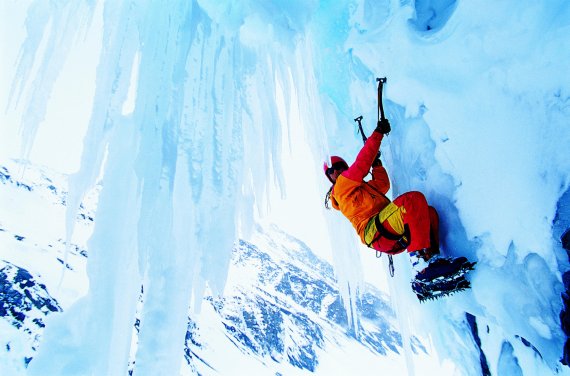 Not only mountaineers, but also more and more sport climbers are discovering ice climbing for themselves. Without permafrost, the trend sport can be practiced in our latitudes, especially at higher altitudes in the Alps.
When temperatures drop well below the zero-degree mark, freezing waterfalls provide further opportunities for ice climbers. Then there are also some worthwhile destinations in central and northern Germany.
Without experience in the climbing hall or with mountaineering, no one should attempt to climb natural ice. Mountaineering and sport climbing are the ideal prerequisites. But even the most experienced climber should familiarize himself with the unfamiliar material before the first ice tour. Ice reacts completely differently to stone and, above all, is constantly changing. This is what makes ice climbing so exciting on the one hand, but also extremely dangerous for the unprepared.
It takes a lot of experience to be able to correctly assess the texture and stability of natural ice. Until you have this experience, you should not set out for ice climbing without a trustworthy guide. Water does not freeze uniformly, but forms air pockets and "works" incessantly, due to varying day and night temperatures, precipitation and sunlight.
For a layman, deciding for himself at what point on a frozen waterfall or steep rock face the ice is stable enough to support a person trying to get his body up with the aid of ice tools, ice screws and crampons means nothing less than danger to his life.
Pre-climbers on the ice pillar or ice wall represent an additional danger rather than an additional safety. Every single change, whether natural or man-made, creates new conditions in the ice.
Every newcomer should therefore take at least an introductory course in ice climbing before embarking on this new hobby. Providers are, for example, the German Alpine Club or mountaineering schools. There you can also borrow the necessary equipment and try it out.
The boom that ice climbing has experienced since the beginning of the millennium is also due to the growing commitment of the sports industry, because only the right equipment enables athletes to climb safely on icy surfaces. What was initially reserved for extreme athletes is now possible for more and more active people thanks to modern aids. Waterproof, heat-insulating clothing is one aspect, comfortable anchoring options and belay systems such as ice screws the other.
Such special developments are only worthwhile once the market reaches a certain size, and that hasn't been the case for very long. It was only with the fitness wave that mountaineering became more fashionable, climbing gyms sprouted up like mushrooms and the invention of Gore-Tex and Co. now make outdoor activities possible in all weathers.
To ensure that climbing in the cold - especially with permanent contact with ice - does not lead to frostbite, functional clothing is the be-all and end-all. Warming and at the same time breathable, but also waterproof and at the same time elastic materials are combined.
The onion principle applies: underwear, warming mid-layer, jacket and trousers and gloves - all this basically corresponds to mountaineering clothing for cold days. Whether mountaineering boots made of leather, despite their water permeability, are better suited for ice climbing than waterproof but more immobile plastic mountaineering boots or ski touring boots is something that every ice climber must decide for themselves.
Each of the three options has its advantages and disadvantages: Warm and dry feet unfortunately still mean restricted freedom of movement and greater weight when ice climbing. It is important that the shoes provide a secure grip and can be perfectly combined with the crampons.
Icefall and avalanches, along with frostbite and injuries from sharp equipment, are the main dangers in ice climbing, especially when several rope teams enter a frozen waterfall or an alpine ice wall. A safety helmet with a warming but breathable hat or balaclava underneath is therefore mandatory equipment.
Many models also have a neck guard and visor. Glacier or ski goggles protect you from ice splinters, wind, sun, UV radiation and snow blindness. To prevent snow or ice from getting between your pants and boots, waterproof gaiters are helpful.
Overlaps also protect waterproof mountaineering boots from getting wet through too quickly. Spare gloves made of neoprene or wool have also proven their worth.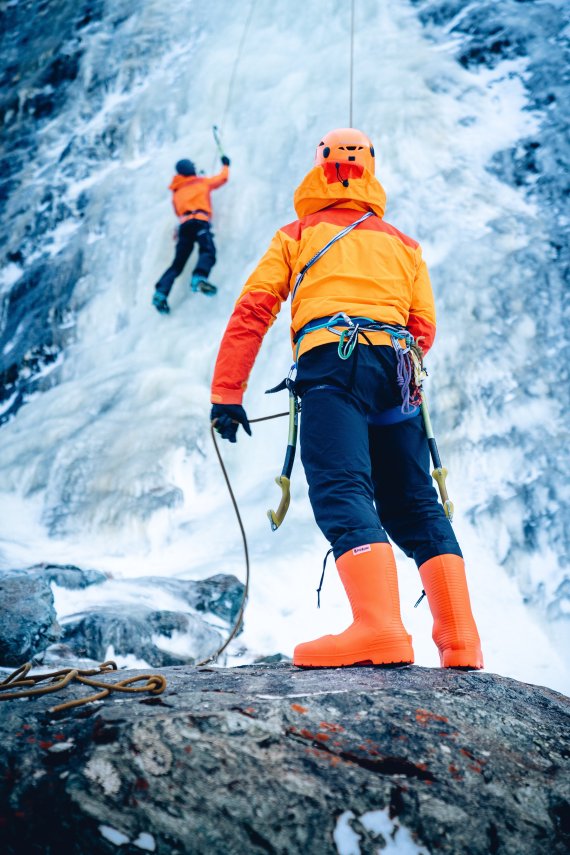 Analogous to alpine mountaineering, chest and waist harnesses are part of the basic equipment for ice climbing. Like the mountaineer, the ice climber also needs crampons for the shoes, ropes, hooks, carabiners, slings and a first aid kit. Instead of ice picks, there are now special ice tools.
Climbing is done with two tools, the so-called ice axes or ice axes with a shortened shaft are considered ideal. Hand straps for the ice tools relieve the forearms. Special ice screws made of stainless steel or titanium should be carried, depending on skill and tour 4 to 5 pieces.
Until ice climbing becomes a popular sport in our latitudes - like in Canada, where kilometres of rock faces are already artificially iced - we enjoy the natural possibilities in the Alpine region.
In Germany, the highest area around the Zugspitze is recommended. Near Garmisch there are several opportunities for guided waterfall ice climbing, from introductory courses to multi-day tours. In Austria, Tyrol is considered a hotspot for ice climbers. After all, the first World Cup in ice climbing took place in Pitztal in 1999, in which, by the way, amateurs and professionals are still allowed to participate today.
The Ötz and Kaunertal valleys are also popular. In Switzerland, the Bernese Alps around Kandersteg and Staubbach are ideal for ice climbing, with many tours of varying difficulty. Special ice climbing guides have now been published for a number of Alpine destinations.