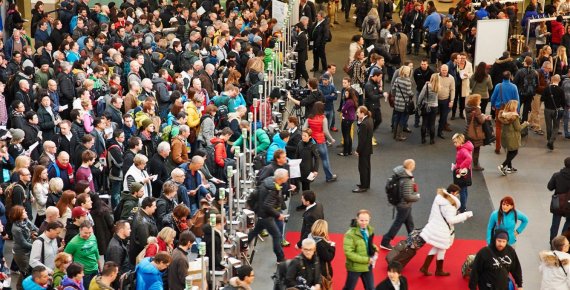 We recommend getting your hands on a ticket for ISPO Munich online so you can enjoy all these benefits:
If you buy your ticket online, you will save a significant amount on the entry price.
You can gain entry to the trade fair without having to wait in line.
You can review your orders any time and print out another copy of your online ticket if you need to.
You can print out a receipt or invoice.
You can update your personal details.
The ISPO Card offers benefits to all sports business professionals. Not only does it allow you to enter the trade fair straight away without having to wait in line, you are also able to enjoy free catering in the exclusive VIP Lounge and use public transport on the Munich Transport and Traffic Association (MVV) network at no cost.
You can also take advantage of the many special offers from our partners and gain entry to seven other trade fairs in addition to ISPO Munich. 
ISPO Munich is an industry gathering and a B2B platform open only to trade visitors from the sporting goods industry. This means that you will only be able to buy a ticket for ISPO if your job has a link to the sports business. Private individuals are not permitted to attend this exclusive trade event.
You will qualify as an approved trade visitor if you work within any of the following areas/fall within any of the following groups within the sports business: 
Product side
Retail trade
Wholesale trade
Brand manufacturers
Distributors/sales representatives
Sports publications (B2B/B2C)
Contract manufacturers, fabric producers, accessories manufacturers 
Service side:
Sports instructors
Designers
Events agencies
Agencies
Colleges/training centers
PR agencies
Travel operators
Tourism
Sports medicine
Fitness
Sports organizations
Sports rights/law:
Professional athletes
Rights dealers
Sports rights intermediaries
Not sure if you qualify as an approved trade visitor? Forgotten your ISPO Munich login and password? Simply get in touch with us by e-mail or phone and we'll be happy to help!
Hotline: +49 89 949-11388 
E-mail: visitorservice@ispo.com
We accept a number of forms of proof of your trade visitor status for ISPO Munich:
Commercial registry extracts with specific designation
Business registrations with specific designation
Order invoices (from 2015 or later, for larger order units amounting to at least EUR 1,000)
Proofs of delivery (from 2015 or later, for larger order units amounting to at least EUR 1,000)
With the exception of the countries listed below, you can only buy a ticket online if you pay by credit card or enter a valid voucher number. If you are based in any of the following countries, you have the option of ordering your ticket online and then paying for it directly at our representative office abroad:
Algeria, Argentina, Colombia, Egypt, Indonesia, Iran, Morocco, Pakistan, Peru, Thailand, Venezuela, Vietnam.
You can find the contact details for our representative offices abroad here. 
You can find the answers to relevant frequently asked questions here. 
Citizens of many countries require a visa to enter Germany. We will be happy to assist you with the visa application process. You can contact us to request a letter of invitation online.
We would like to remind you that the Messe München house rules state that no dogs are allowed at the trade fair center. We therefore kindly ask that you leave all pets at home when attending the trade fair.