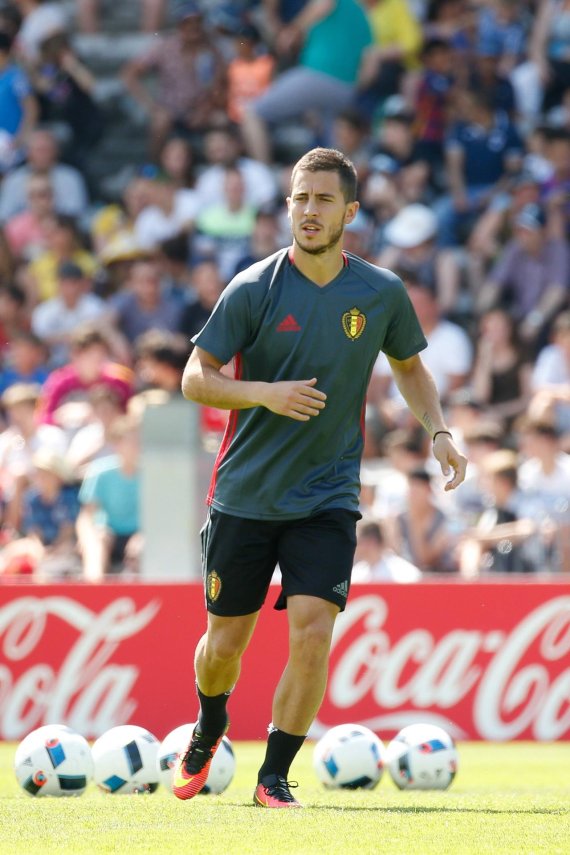 Are you familiar with Socar and Hisense? If not, that could soon change. That's because the energy corporation from Azerbaijan and the Chinese electricity giant are among the ten global sponsors of the 2016 European Football Championship in France (June 10 to July 10). They will prominently visible on the sideline signs at the EC.
These companies (also: Adidas, Carlsberg, Coca-Cola, Continental, Hyundai-Kia, McDonald's, Orange, and Turkish Airlines) are investing sums in the range of over 100 million euros each into the EC – in addition to the actual sponsorship, most will spend at least that much once again for advertising, invitations, and activating fans.

Nevertheless, the success of advertising measures are dubious, at least for some sponsors.
Adidas expecting renewed record returns
However, outgoing Adidas head Herbert Hainer is sure that the investment in the European Football Championship will pay off. "This year, we're once again on a record course," he said recently at the company's general meeting, and pointed to the good start in the EC and Olympic Games year of 2016.

Last year, the sporting goods giant's revenue rose by 16.9 billion euros and profits by about 634 million euros. This year it'll be distinctly more, and of course jersey sales will also contribute.
Three million German jerseys sold at the World Cup
In the 2014 World Cup, Adidas purchased jerseys, soccer shoes, balls, and memorabilia for the record amount of more than two billion euros. Three million German national team jerseys went over the counters alone. Right now, the current German EC jersey costs 85 euros; nevertheless, Adidas is only scarcely raking in a profit of 20 percent from this sale price (it stays over 40 percent for retailers). It will continue to sell slowly.
Profits from sales of the German jersey (and Adidas still has eight other top countries under contract: Spain, Belgium, Sweden, Russia, Wales, Ukraine, North Ireland, Hungary) might nevertheless still be enough to pay for an EC sponsorship package with the Union of European Football Associations (UEFA).

Companies have to pay an average double-digit multi-million sum in order to appear as a global sponsor of the "UEFA EURO 2016." Hisense will even let its commitment cost about 90 million euros, according to insider circles. In total, the overall revenue from the even is estimated to be over 1.5 billion euros.
Hyundai advertising on team busses, DFB team must switch
But in the end, what will yield for sponsors who, in addition to sideline signs, are also present in TV spots and have a tidy ticket package available? Marketing experts continue to speculate. Measurable all the same: how much beer Carlsberg exclusively sells in the area surrounding the stadiums.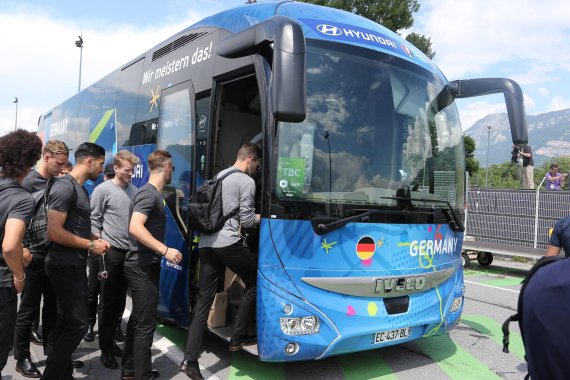 Even more difficult will be for Hyundai, whose logo is in fact largely represented on the 24 team busses, but doesn't manufacture busses themselves. Instead, the teams will travel in companions of Iveco and MAN – the German team had to do away with its bus from DFB sponsor Mercedes-Benz.
Coca Cola, Adidas, and McDonald's profit
In a May survey by the Düsseldorf market research institute Innofact AG among 1,030 consumers about which sponsors from the EC environment come to mind, 20 percent still promptly named Coca Cola.

In the two following places were Adidas (16 percent) and McDonald's (8 percent). Companies that are widely known for their long-term involvement in soccer, and whose quotation incidentally has developed very well in the past few months. The other EC sponsors were (still) widely unknown. 
Non-UEFA sponsors were also named 
Even more interesting are the results of the so-called sponsored poll where a list of companies is presented. Behind Coca Cola (61 percent), Adidas (58 percent), and McDonald's (42) are then Mercedes (37), Nike (32), MasterCard (30), Bitburger and Volkswagen (28 each): All companies that aren't EC sponsors at all!

However, Mercedes is a long-term partner of the German national soccer team. Nike, on the other hand, is an outfitting partner of England and France, and regularly runs large advertising campaigns during major tournaments – and evidently has scarcely less success than most of the eight EC sponsors.
Over 100 million TV viewers at the 2012 EC semi-final 
That said, the top sponsors are convinced of the success of their advertising efforts. Carlsberg, for example, is banking on the fact that soccer just increases the appeal of a few beers. About one million cups were sold at the EC and in the fan parks of Europe in 2012.

In addition, for most companies it's primarily a matter of increasing awareness through presence in the stadiums and on TV. The German EC semi-final loss against Italy four years ago lured 27.98 million people to their screens in Germany alone (market share: 76.8 percent) – and another estimated five million at public viewings and in bars. In Europe, over 100 million people watched the game.

For the first time, a Chinese sponsor will be represented at the EC: the electronics corporation Hisense (75,000 employees). No surprise. The 2016 European Championship is presented worldwide – including in the coveted market of China.
The core market of China also watching
"As an international sports sponsor, Hisense is a pioneer among Chinese companies, and we can proudly say that, in the past few years, sports marketing has achieved a major contribution to our global success," says Hisense Vice President Cheng Kaixun. "The partnership with the UEFA will further increase the market value of Hisense."

Will the strategy by the Chinese prove successful? Their countrymen from Yingli Solar are also investing lots of money into soccer: the manufacturer of solar panels sponsored the FIFA soccer World Cup in 2010 and 2014. An interesting decision. But the expensive plan evidently came off: Yingli Solar used the tournaments as door openers and made many contacts with stadium operators and club managers.
Can Hisense profit just as well from Euro 2016? The public corporation is probably focusing more on B2C. And maybe some soccer fans will throw their televisions out the window out of frustration when their teams are disqualified – and buy a new one from the sponsor from China...