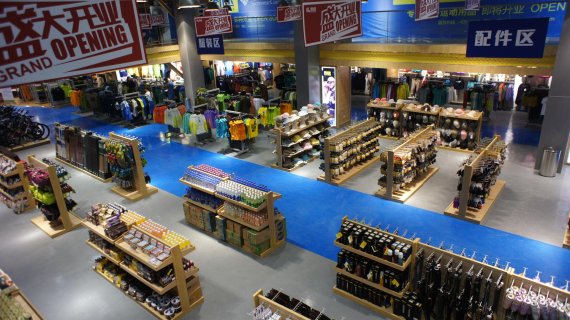 Probably the market-leading retailer in China's outdoor business, Tutwo has not been quite as open about publishing its figures since the listed supplier Toread became a minority shareholder at the beginning of 2015 . However, Lin explains that in the past year sales have risen by about 100 percent in comparison to 2014. This corresponds to a rise of 40 percent in terms of like-for-like sales.
In the past few years, the company has spread much further afield. At the end of 2015, the chain had over 50 stores that were larger than 2000 square meters. This number should however rise to approximately 100 over the course of 2016. In addition, Tutwo also has lots of smaller stores, which cover between 80 and 150 square meters. But Tutwo isn't doing this alone - currently the ratio between the retailer's own stores and franchise stores is approximately 70:30.
Customer loyalty as one of the outdoor retailer's strategies 
The original plan was that the retailer would have over 2000 shops by 2018. "It's something we need to review," admits Lin. Surface area and range of products alone no longer suffice. Instead, the retailer is investing in completely different things to keep the customers happy. At the moment, the retailer's endeavors are leaning in the direction of customer loyalty through the fun of sport itself.
Here is a long list of things that Tutwo deal with. Included in the strategy are a travel agency, a stronger focus on travel wear, two hotels and three campsites, which the company are involved in. Meanwhile, the chain organizes a range of far-reaching trips from the Czech Republic to South Tyrol.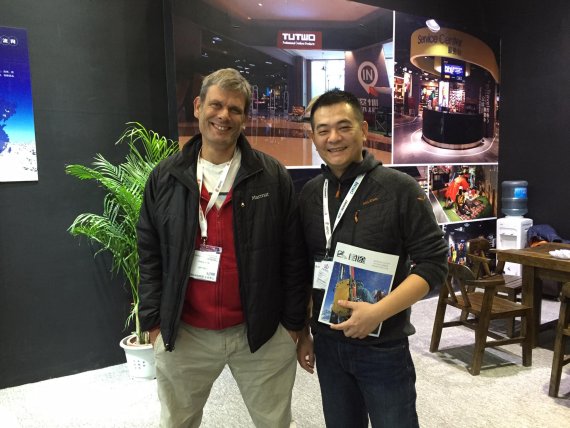 The outdoor trend in China: More class than mass
Lin, who is not only the retailer but also the wholesaler, describes the situation in the Chinese outdoor community as striking: "The economy is slowing down, but the outdoor market has not yet been affected." According to the company's own information, the number of retail customers is currently 1500, which Lin describes as a "small growth". However: In Lin's opinion, the quality has improved. The total number of customers includes not only retailers but also associations.

At the same time, a wider range of end customers is also important. Here, Lin is shown looking very happy whilst discussing with ISPO.com the new collaboration with Salewa as an exclusive partner: "It's a question of outdoor-inspired trends and comfort." That is interesting, because Salewa is profiled in Europe as more of a technical brand.
Otherwise, Lin sees no difficulties with the license partnership with Salewa, even though the Chinese market leader Toread is already involved in Tutwo: "There are no problems here. We are developing our company further. And our strategic partners have no concerns about this."