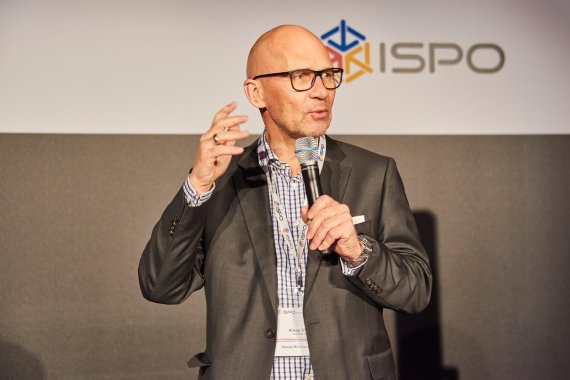 Time to take stock. Five questions for the Chairman of Messe München's Executive Board.
ISPO.com: Mr Dittrich, what is your assessment of the trade fair on day three of ISPO MUNICH? How has the industry developed, how does that reflect onto the leading trade fair in the sports business?
Klaus Dittrich, Chairman of Messe München GmbH's Executive Board: It definitely shows: the industry is back in high spirits. In addition to the record number of exhibitors, to this day we have seen an increasing volume of visitors at ISPO MUNICH, especially from abroad. And that from unexpected countries such as Russia and the USA, whose visitor figures have grown significantly.
"Digitization has slowly arrived"
Quality is just as important as these figures. What insights does this give you?
Walking around the trade fair, I have come to the following conclusion: the topic of digitization has slowly arrived – not only in the industry, but also with retailers. And the matter of women in the sports business – something that we have picked up – is seen as extremely important by our exhibitors.

I can tell: we have identified the right topics. And I also believe that the ISPO concept, to be more than just winter or skiing, more than just outdoor, but instead to rely on the cross-sector synergetic effect, will be well received. We feel strengthened in our concept and will continue to do so.
Adidas' comeback – "a clear statement"
ISPO MUNICH also played host to Adidas' comeback. Although the company did not return as an exhibitor, it acted as a source of inspiration for an important symposium on digitization. What signal did this comeback send out?
I felt Adidas was making a clear statement to the most significant platform for specialized sports retailers, from which the company had taken its leave 11 years ago. I think the message was clearly understood: Adidas wants and needs specialized retailers and wants to support them – but in return expects them to keep an open mind for the brand to resolutely take the road to digitization.
And yes, it sends out a signal to competitors: after all, ISPO has changed a great deal in the past few years. ISPO MUNICH is more than just an exhibition, it is a communication platform and offers many opportunities for everyone to take part and profit. Adidas realized this, that is why they came back. And of course we will try to attract more big names to this concept.
Read here: Adidas and ISPO – into the digital future
"As a medium, ISPO.com is a role model"
To what extent has digitization shaped ISPO MUNICH 2017 itself?
As a trade fair, our income is no longer solely dependent on renting out halls. We find ourselves in a similar situation as the sports industry and are a good partner precisely because of our experiences with such digital demands.

From ISPO OPEN INNOVATION to ISPO JOB MARKET, to name a few, our services have gone digital and are available 365 days a year. Another example is ISPO.com as a medium. We now have the best reach in the history of ISPO.com. And another thing: we can also see that ISPO is named in other media as a news provider. ISPO.com plays a key part in being visible all year round, and this is a role model for others.
Virtual reality technology: an opportunity for retail and trade fairs alike
In conclusion: not only are you the boss of this trade fair, you are also a visitor and consumer. What impressed you the most during your tours of ISPO MUNICH 2017?
I am most impressed by virtual reality technology. The Playstation age is over. Virtual reality offers avatars and interaction. My personal highlight at the trade fair was suddenly finding myself somewhere on the north face of Eiger, looking down and seeing the steep drop beneath my feet and then looking at the peak of the mountain far above me.

What both Mammut and Bogner demonstrated at the trade fair was truly impressive. I believe that this technology will soon be found everywhere – in retail especially it would change the whole in-store shopping experience. Because then, the product wouldn't simply be hanging on the rail, but could be shown to customers in action.

Virtual reality technology will also change the opportunities we have as a trade fair – imagine exhibitors being able to use virtual reality to inspect their stalls in all detail before the trade has even begun.