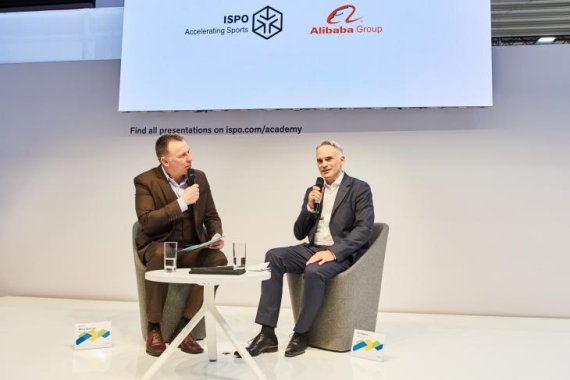 Karl Wehner stepped off the stage at ISPO Munich in an excellent mood. Wherever he turns up, queues tend to form, as if he was a bestseller author signing his books. However, it's not excited fans clutching books that line up to the see the smart manager, but company representatives and journalists.
His personality not withstanding, it is above all Karl Wehner's position that makes him such a sought-after conversation partner. He has been the managing director of the Alibaba Group since July 2017, and in this capacity, he is responsible for the development of partnerships in Germany, Austria, Switzerland, Turkey and Eastern Europe. Whenever they hear "Alibaba", people sit up and take notice. After all, the success story of the Chinese eCommerce giant has long since become common knowledge in Europe.
Alibaba and its Tmall platforms are some of the world's most important high-turnover companies and have caught up with US giants Google and Amazon. Their turnover is driven by a growing Chinese middle class that will soon number around 300 million people.
They demand high-quality branded products – and they don't mind paying for them, either. "Product quality is becoming increasingly important to the Chinese consumers," explains Karl Wehner. "The Chinese are willing to pay higher prices if that increases the quality of their lifestyle."
It would therefore be foolish for internationally active European companies to completely ignore a consumer groups of this size. However, many brands still find it difficult to develop the Chinese market. With its Tmall platforms, the Alibaba Group offers interested companies an easy way to reach almost 500 million new consumers.
Who could resist this opportunity? In actual fact, Karl Wehner, who is responsible for increasing the number of collaborations, can't complain about having too little to do. Both sides therefore profit from the recently agreed strategic partnership with ISPO, the world's leading sports network for business professionals and consumer experts. "With its 4,000 customers and long tradition, ISPO is a firmly established player in the sports industry," explains Wehner. "By collaborating with us, brands are gaining easier access to the Chinese market."
Fancy a taster? "ISPO Munich is being broadcast on Tmall Live Broadcasting", said Wehner in the course of his talk in the ISPO's Digitize area, "Currently, the number of Chinese customers who are following the stream live numbers around 100,000."
A hundred thousand Chinese are currently watching a live broadcast from ISPO Munich? Unbelievable. "There are some things you should know about Chinese consumers," says Wehner. "In China, shopping counts as entertainment. That is also why Tmall is not a simple online shop, like the ones we have here in Europe. It is much rather the provider of a technical infrastructure."
You have imagine Tmall as something like "a gigantic shopping mall with 10,000 flagship stores." Around 500 million Chinese customers regularly stroll through this digital mall and visit the shops that interest them. And when they do, the one thing they do not want is to be bored.
Wehner says that in China, shopping has to be a real experience. "That is why content is extremely important," he says.
The contents therefore have to be optimized for mobile end devices, explains Wehner: "The Chinese consumers have skipped a few development stages when it comes to online shopping, for instance laptops or tablets. Everything is done on mobile end devices."
In 2016, around 780 million smartphones were in use in China; ninety percent of all online purchases were completed whilst on the go, according to Wehner.
"As a sports business network, ISPO is of course extremely interested in generating valuable contacts for our customers," explains Tobias Gröber, the director of the ISPO Group. "It's pretty obvious that China is one of the most interesting markets for winter sports and outdoor brands."
The cooperation with the Alibaba Group offers ISPO customers the advantage of jumping ahead in the queue for a Tmall shop.
The topics of fitness and lifestyle – i.e. everything that has anything to do with sports – are currently booming in China,", says Karl Wehner. During his last visit to Guangzhou, a major city in southern China with a population of more than eleven million, the passionate cyclists made an exciting discovery: "I see an increasing number of people cycling through the city on racing bikes – and were talking seriously high-quality bikes."