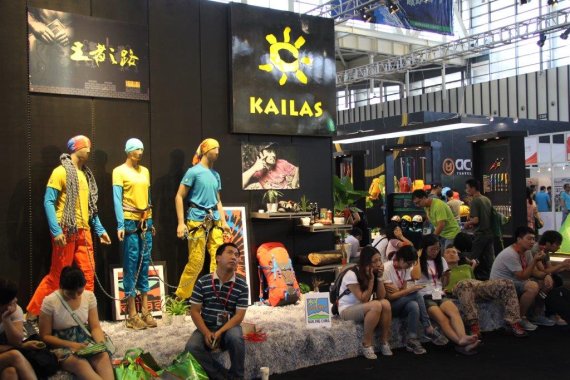 When discussing these opportunities with the ISPO.com team during the trade show in Beijing, Sam Zhong, International Sales and Marketing Director and Petrel Zhu, Product Director, outlined their blueprint quite clearly. They both emphasized that any international ambitions were impacted by perceived nervousness at home because of the slowdown in China's economy. Both men say that they intend to penetrate international markets calmly and with attention to detail. Zhu remarks that "It's all about quality, which will make it in the end."
Selective sales in hand-picked markets
"Yes, we are looking for retailers in Europe," reveals Zhong. The latter is not only a top executive in the company, but also the brother of Kailas' founder Baggio Zhong. The management team clearly realizes that market entry in Europe is not exactly the easiest thing to accomplish. "The outdoor market is something of a closed-door society. It's hard to make it into the inner circle," Zhu remarks and adds that "We're close to making it. That's our next target."
Zhong's message is that hurrying is pointless – he and the entire company are working on smart positioning in foreign markets. "We want to be recognized as the high-end premium brand from China," he remarks. Therefore, Kailas has been happy so far to work with a very small number only of retailers in Europe.


He feels confident that he has picked well established stores that cover their local markets and serve the core community of dedicated climbers in their respective areas. At this point, Kailas has only three retailers in Europe – one in Germany, Poland and the U.K. each. They currently all receive direct shipments from China.
Nonetheless, the effort that Kailas has to make for these baby steps is considerable. "In China, we know exactly what the customer wants. For Europe, we had to do a re-think when it came to cutting, fitting and colors," explains Zhu, head designer.
The awareness that the Kailas brand enjoys in Europe is the result of two factors, namely social media and the brand's endeavors to sponsor IFSC, the International Federation of Sport Climbers. In addition, Kailas supports a handful of European climbers to enhance brand awareness.
Focus on the core climbing business
"At the moment, we're concentrating on our high-end offer of climbing apparel and equipment," reveals Zhong. On the domestic Chinese market, the company has lots more to offer in order to respond to customers' requirements for general outdoor merchandise. However, when it comes to overseas, they see things differently. Kailas aims to position itself as a core brand fit to deliver to the climbing community. In China, they seem to have understood that there is more than enough to offer when it comes to the wider outdoor community and its needs.
As a result, Zhu is counting on opinion leaders within the smaller climbing scene and word of mouth to publicize Kailas. "People always follow their heroes. Personal recommendation is what really matters. Satisfied customers will tell their friends about our products. That has more clout than any traditional advertising channel."
In addition, Kailas is relying on the internet and does so not only in terms of publicity through social media, but also when it comes to selling. Zhu remarks that: "We trust in e-commerce because in China we have gained lots of experience with companies like Alibaba. Purchasing via smartphones, tablets or laptop computers is convenient and allows us to reach as many people as possible."
When it comes to the Western world, Kailas is taking a tougher route though. It is trying to build up trust gradually with local, but well established bricks-and-mortar retailers who are the basis of all serious business. The major Chinese brand is now concentrating on core markets with longstanding traditions in climbing and mountaineering, such as German-speaking countries and the U.K.