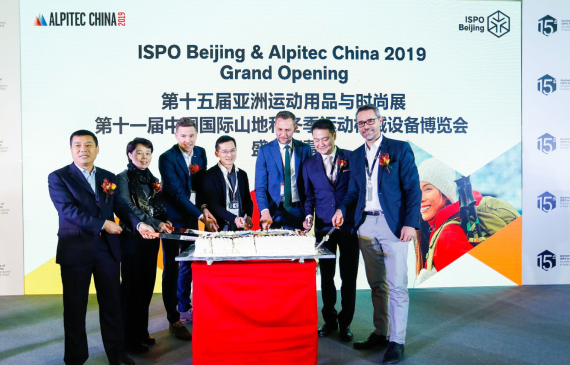 More than 400 exhibitors and 682 brands will be represented at ISPO Beijing from the 16th to 19th of January 2019, furthermore there will be a wide range of forums, panel discussions and lectures as in previous years. Especially the cooperation with the German Soccer Bundesliga will be significantly expanded compared to the ISPO Shanghai 2018 .
"With the Bundesliga International we were able to win a strong partner. We are proud to welcome seven German Premier League clubs to the premiere of our newly created Football Activation Area", says Tobias Gröber, Executive Director of the Consumer Goods Business Unit at Messe München GmbH.
Among others, Borussia Dortmund, Borussia Mönchengladbach, Eintracht Frankfurt and Schalke 04 will present their projects in the areas of youth promotion, brand positioning and eSports in China.
With the upcoming 2022 Winter Olympics, another focus will be set on winter sports, which the fair traditionally lives up to with the Asia Pacific Snow Conference and the two-day Ski Resort Tour to future Winter Games venues.
More than 400 exhibitors

682 brands

50,000 square metres of exhibition space

48 percent of brands from China, 52 percent international brands

4 segments: Snowsports, Outdoor, Health & Fitness, Manufacturing & Suppliers

Additionally: Alpitec China, Trade Fair for Mountain and Winter Sports Technology
Being the most important multi-segment sports fair in China for 15 years has been a great success, but ISPO Beijing is not resting on its laurels. "We have identified, pushed and established relevant topics. In short, together with our partners, exhibitors and visitors, we have developed into the leading platform for the Asian sports market and, true to our mission of "Accelerating Sports", we have constantly pushed the industry," says Gröber.
Accordingly, the key opinion leaders who are very important in China will also receive more attention as visitor target groups in 2019. Celebrities and athletes, well-known bloggers, but also influencers from sports clubs and venues will share their experiences and knowledge with exhibitors and retailers on a specially set up stage.
Asia Pacific Snow Conference

International Football Forum

ISPO Anniversary Party

ISPO Award Roadshow

ISPO Beijing Sport Industry Tour

ISPO Start-up Village

Market Introduction Program for China

Matchmaking platform

Ski Resort Tour

Sports Industry Forum