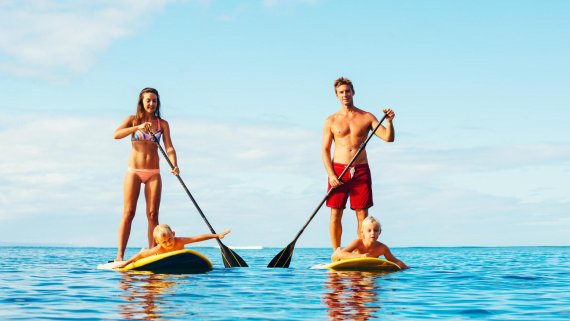 As well as a shared love of water, these sports are also becoming increasingly diverse and catching the eye of more and more people. Where will this development lead? Let us tell you:
Darren Bush, organizer of the paddle sports trade fair Canoecopia
Jørgen Jørgensen, CEO of Norrøna
Casey Higginbotham, lifeguard and world record holder in prone paddling
Stefan Klare, CEO of Tripstix
Florian Brunner, shareholder of APM Marketing
Tao Schirrmacher, river surfer and founder of Big Ding
Martin Fahnemann, Head of Sales & Marketing at Finis
Test the products of the future with ISPO OPEN INNOVATION and give the manufacturer direct feedback. Register here for free >>>
Darren Bush, organizer of Canoecopia, the largest paddle sports show worldwide and the biggest kayak symposium in North America:
I don't see anything extraordinary in the pipeline for 2018. Rather just continuing development and improvement. Kayaks for fishing have reached the point where they are fully equipped and motorized. Now it's about reducing their weight. Kayak customers are asking for lighter boats, regardless of their class. The battle here is being won by seating comfort. I think there will be improvements here; seats in kayaks will continue to develop further.


Surfing in Arctic water
Jørgen Jørgensen, CEO of Norrøna. The Norwegian firm is run by the owner himself and has been developing outdoor equipment since 1929. Since it was first founded, the focus has been on collections for harsh and hostile conditions.
For a long time the cold, dark water in the north was the ultimate challenge. Land is always by nature more comfortable, even standing on a windy summit in Lofoten. We are now addressing the challenge of the Arctic waters and have therefore developed a new collection with the toughest surfers. In order to take on the harsh, cold Arctic water, we have developed special wet suits, surf shoes, clothing and a bag. 
Casey Higginbotham, paddle boarder and world record holder in prone paddling:
I think that lifestyle will become a big topic! For me, the subject of lifestyle opens up a new area to be able to reach people through. People who are not necessarily typical water sports enthusiasts. Of course there will be new hardware.

But I think that lifestyle topics like SUP camping, for example, will work well, because it is a good topic that distributors can take up. That works because distributors can promote different things alongside the new board design. They offer different types of attachments and accessories that are needed in SUP camping.

Stefan Klare, CEO and source of ideas at start up Tripstix. The firm manufactures inflatable stand up paddle boards, which "should provide a substantial alternative to hardboards."
The customer longs for more individuality. Small independent brands with manufactory character will also profit from that. Furthermore, the trend in the hardware sector is towards alternative, innovative construction methods so that the end customer can set themselves apart from the masses.
Florian Brunner is an instructor of the Association of German windsurfing and watersport schools (VDWS) and a managing partner of APM Marketing GmbH, German importer of the brands Starboard (SUP & Windsurfing), Severne Sails and Airush Kiteboarding.
The topic of "foiling"/hydrofoiling is quite far forward in the presentation, because it delivers fascinating pictures. The Admirals Cup was just the beginning. But the topic of "environment" will also become very important. The phrase "carbon footprint" will be in everyone's mouth.
Tao Schirrmacher, several times European champion in "stationary wave riding" and founder of Big Ding. The firm sells surfboard repair products.
I think a big upcoming trend in water sports is the connection of people and sports equipment. But perhaps that won't come until 2020.
Martin Fahnemann is the Head of Sales & Marketing in the EMEA Region at Finis. The company was founded in California in 1983 and since then has supplied swimming products to the world.
We at Finis are pursuing an enormous growth in sales of our Mermaid collection with monofins for children. We expect the trend to continue thanks to movies, events and more and more new magazines.