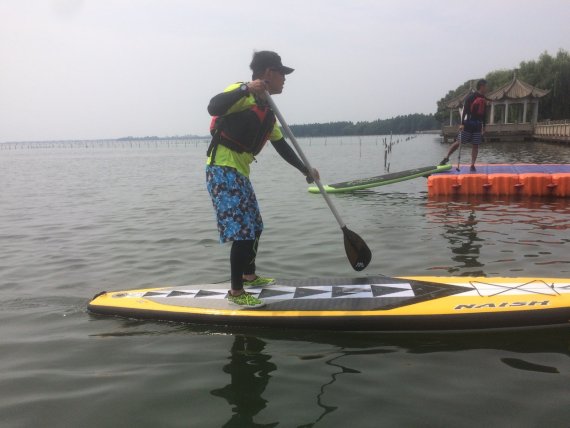 The first attempts at standing on the board still look a bit wobbly, but after one or two minutes and the first tentative strokes of the paddle, things go markedly better and the uptight posture on the stand-up paddle board relaxes.
Not an unusual sight at ISPO Open Demo Day on Dianshan Lake. "Up to now, the Chinese population a bit water-shy," says Sam Shen, CMO of Shanghai Easigo Outdoor Equipment, "Chinese don't jump right into the water, we're a bit more reserved here."
Surfing in China: In addition to SUP, surfing has already arrived on the scene
"SUP is the perfect beginner sport"
But the times are slowly changing, especially "the young generation is completely different. They do outdoor sports, try everything out. And now the Chinese are also discovering water sports. Habits are changing tremendously," say Shen, who distributes his own stand-up boards and the US brand Naish in China.
Shen estimates that, thus far, there are about five to ten thousand active stand-up paddlers in China. Nevertheless, the relaxed paddling on the water is "the perfect beginner sport, easy to learn but still very healthy."
Read more here: This SUP board won at ISPO Brandnew
With events like the ISPO OPEN DEMO DAY, to which a total of 50 retailers and 100 participants of the ISPO Academy were invited, and the WATERSPORTS VILLAGE at ISPO Shanghai, the SUP community should still grow relatively quickly. The WATER VILLAGE in the Shanghai New International Expo Center alone offers 31 exhibitors 827 square meters of space to present their products. Trade fair visitors can then test the products directly in the indoor pool. In addition, companies are entering into collaborations in order to promote the development of the sport.
Stand-up paddling: just the beginning in China
Shen and Easigo are working directly with water sport clubs in China, among others. "Of course it's just the beginning for stand-up paddling in China, but for a year now we've been drafting a program where we can work together with 30 water sport clubs throughout China," according to Shen.
When it comes to choosing between a hard or inflatable board, Shen is certain that the inflatable version will come out on top for two reasons. "In cities especially they're better to store, and transport is obviously easier. The Chinese market is no different from Europe or the USA there," says Shen.
Read more here: everything on the topic of surfing
In any event, the resonance at ISPO OPEN DEMO DAY was extremely positive. The young generation of China really seems to no longer be water-shy. During the event, all 50 invited retailers had the courage to get on SUP boards, and even the not-infrequent falls into the lake were met with a laugh and thumbs up.
Water sports fan? Here are all stories and news on wakeboarding, SUP, and more