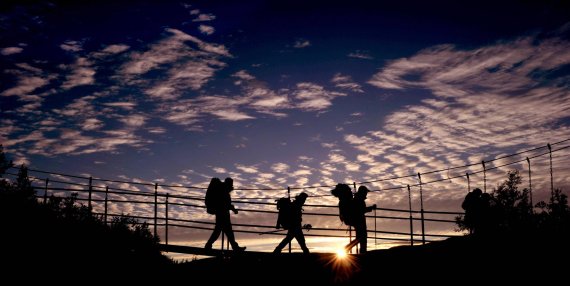 David Cheng, China CEO of Huwans, is an expert in the field of sports tourism and is responsible for the Chinese business of the French company, which has been active in this segment for 30 years. Cheng spoke with ISPO.COM on training an outdoor awareness in China and what sports tourism really constitutes.

ISPO.COM: Mr. Cheng, where is Huwans' focus in China: Do you want to bring foreign tourists to China, or make travel abroad possible for the Chinese?
David Cheng: We view both versions as our mission. Currently, we sell roughly 80 percent of our trips to Chinese who travel abroad, and only 20 percent to foreigners coming to China.
And how are things with travel for Chinese in their own country?
At the moment that's still only a very low percentage, as the infrastructure in China still isn't that developed. In the last 30 years, Huwans has acquired a very large expertise with foreign contacts. In China, the network first has to be expanded accordingly. Aside from that, abroad is the more attractive travel destination, even though it may be somewhat more expensive. With the economic boom of the last few years, Chinese are now able to afford foreign travel without problems.
What does this kind of foreign travel look like? What kind of needs do Chinese sports tourists have?
Our customers don't want the classic kind of tourism, no groups with 40 people. No ordinary sightseeing where you get chauffeured by bus from Point A to Point B. We offer a maximum of 15 spots per trip, where we always dispatch a second guide starting at ten people. In addition, a simultaneous interpreter always comes along, as many Chinese still can't speak much English.
Sports tourism out of China: food playing a bigger role
How do sports tourists in China differ from their Western colleagues?
Europeans who come to China know what they want from an outdoor trip. They are, so to speak, mature tourists. Our Chinese customers first have to learn outdoor. It often isn't clear to them, for example, what two hours of trekking mean. We then have to explain that actually means two hours of trekking – and that's not planned to include taking pictures and breaks. Added to that is the fact that factors like accommodations and food play an even bigger role than they do for Western tourists.

Huwans wants to "nurture Chinese into outdoor tourists" 
Is it difficult to introduce this learning process to Chinese tourists?
It is pretty demanding, as in contrast to Europe, where outdoor experiences are passed on from parents to children, this transfer of knowledge is completely missing in China. My parents' generation grew up during the Cultural Revolution; their concern was not starving to death. So the generation of 30- to 40-year-olds is the first who can become an outdoor generation. So that this succeeds, there's Huwans. We wants to nurture the Chinese into outdoor tourists.

What travel destinations are the very top of the wish list for the Chinese?
First, I wouldn't divide it by places, but rather by products. We've classified our travel into seven segments: Discovery, Trekking, Skiing, Cycling, Family, Diving, and Mountaineering. The highest in demand is currently the Discovery segment, which admittedly includes outdoor elements, but isn't as physically strenuous by far as the Trekking package. It's the beginner program, so to speak.
Visa regulations shape travel destinations
And which countries are especially popular among Chinese adventure travelers?
Similar to the choice of packages, our customers are slowly feeling their way. Many first choose an Asian destination, like Nepal for example. If we're talking about Europe, France at the very front, with Switzerland and Italy right behind it. Africa continues to evolve more and more into a growth market, here especially Tanzania and Morocco. Factors not to be underestimated are the availability of flights and the visa regulations of the travel countries.
Which places would you recommend to foreign tourists in China?
Tibet is naturally ideal for outdoor fans, but as a basic principle I would say that Northern and Southwestern China are very much worth seeing.
These are the ISPO AWARD winners in the Outdoor category
Chinese government doesn't make it easy for foreign companies
How difficult was it to get a foothold in China as a foreign company?
Tapping the Chinese market is certainly not an easy endeavor. It results solely from the fact that, as a tourism company with direct sales, you need a license. But they don't have those for foreign companies. That's why we concentrate on the B2B sector and collaborate with major outdoor resorts, guides, and travel agencies. They have the products, we have the customers – so we combine our strengths.
Are you supported by the government in your business?
In travel by Chinese within the country, yes, because we're helping to develop tourism in China. In all other activities, no, since the Chinese government naturally would prefer to strengthen domestic companies.

Unusual accommodations
Was it a complicated process to give Chinese travelers an understanding of the connection between travel and sports?
To be honest, I would find it much more difficult to sell the customer the standard type of tourism. That's because we set ourselves apart from the masses with sports. The true challenge of our product is the sensible combination of the elements of travel, adventure, and sports. For Huwans, in the outdoor segment for example, that means that we travel without vehicles – to the extent possible. That way, arriving at the planned destination has already become an adventure. The accommodations should also be unique, so we try to organize special lodgings onsite with families, in a castle, or a monastery. Those are the travel experiences that bring back sustainable memories.

Where do you see the sports tourism market in five years?
Since the market is still quite young, the competitors who've already made names for themselves now will have a definite edge. For Huwans it's a matter of developing the brand into a reliable partner for all sports tourists. Only that way can we establish ourselves for the long-term in the Chinese market.