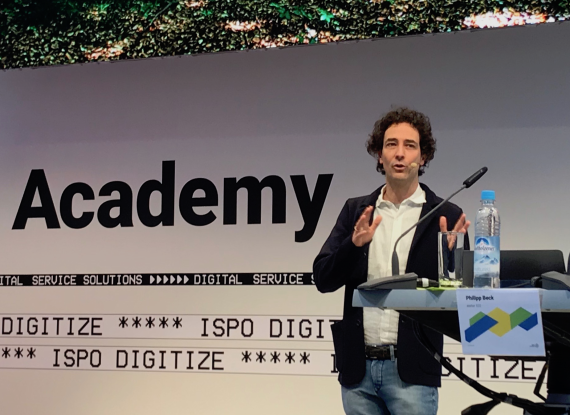 "What advice should I give to a sports retailer who fights for his existence and entrusts us with the redesign of his shop? That he's putting his last money into an expensive conversion with high-quality materials?"
It is these questions that concern Philipp Beck and also awaken his guilty conscience. As managing director of Studio 522, a 45-strong collection of "slobs, pragmatics, dreamers, realists, architects, interior designers, product designers, communication designers and photographers" (own description), he has proven that he can create extraordinary places. Still, he certainly cannot provide his clients with a guarantee of success.
Beck's job is to find a solution to the biggest challenge facing many (sports) retailers: that Germany buys online - more and more. While the share of online sports article buyers in 2007 was 25 percent, it is now 51 percent according to an ISPO study.
Schiesser has managed the turnaround from an insolvent traditional company to an extraordinary brand - also thanks to the help of Philipp Beck and his team. "We have transformed the brand values into a new store concept", Beck reported during his presentation at ISPO Munich 2019 about the new Schiesser flagship store on the Ku'damm in Berlin.
"Those who offer their customers not only goods but also imaginary added value can win this game," said Beck. "Our approach is that a trader is always a curator."
Imaginary added value? Curator? Beck explains his vision, which is based on top-class design: "We create places and experiences for which you otherwise would have to pay admission. As a sports retailer, you have to remember that your competitors are not the other sports shops in your city. You'll compete against ballet, theater or opera."
For those of you who are now completely confused: on a sales area you can either display a lot of goods - but then you fight a hopeless battle against the unlimited offer of online trade. Or the sports retailer offers customers something they can't find online: sensual experiences.
"In the best case, you create places that awaken childhood memories," said Philipp Beck. "If they come up again, you'll connect with your customer right away. This is the imaginary added value. You have to play with it. You have to integrate those moments."
Special moments, not only for the eyes, but also 
for the ears: by creating a special reverberation in a room, for example

for the nose: for example, by letting the scent of freshly ground coffee beans and baked pastries blow over from the integrated mini café

for the skin: perhaps by using special materials that you want to touch instinctively.
When redesigning the Engelhorn Sports flagship store in Mannheim, "we wanted it to smell like sport when you come into the sports house", Beck explained. "That's why the team sports are on the ground floor". And something else was changed in the shop architecture: "We had whole walls removed in order to get more friendly, natural light."
The retail of the future: Also one of the main topics at the ISPO Digitize Summit.
That doesn't apply to the men's department, though. "It must be more masculine and darker there than the women's place," Beck explained. Black metal, hard edges, dull reverberation - it may seem a little martial.
Gender split, the separation of woman and man, is very important for sports shops, Beck is convinced. Because the sports retail trade has discovered women as a target group. It is logical that the many products for women also have to be presented accordingly: softer lines, brighter rooms, friendlier colors.
No question: Optics are important. Because only what is seen can be transferred to the online world. The employees of Atelier 522 then like to talk about creating "instagramable moments". This is "a production that someone likes to photograph and share on his social media channels."
In showrooms redesigned by Beck's team, for example, customers encounter sculptures made of tennis balls. Or it may be Titian's Venus lolling naked in a wire basket with soccer balls.
Installations attract attention. This is important at a time when 10,000 advertising messages pelt into people every day. Whereas in the past the area performance, i.e. turnover per square meter of sales area, was the decisive value, today it is rather experience per square meter - at least that's what Nicole Srock-Stanley from the Berlin agency Dan Pearlman calls it, who is specialized in experience architecture.
But it's not about attention at all costs. "Brand management must be consistent - offline and online," said Beck, "and many companies are now aware of this."
Atelier 522 therefore receives more and more requests for holistic concepts. Ideally, the visual language, design and ultimately also the shopping experience build on each other offline and online. "If they have an authentic story and a strong product, they can develop it," Beck is convinced.
One of his favorite projects is the beer brand Hopfengut. For the brewery in Tettnang on Lake Constance, "from the logo to the choice of bottles, labeling and many other corporate design details, a harmonious package was put together for the hop crop."
Brewery, museum, shop, restaurant and online presence - everything follows a modern, consistent brand management, for which Atelier 522 was awarded the "German Design Award Winner 2017". "And the product can be bought everywhere, from Rome to Paris", Beck is pleased.
Of course, the architect from Atelier 522 is aware that it is much easier for a start-up or a young company to present a consistent brand image. "The big traditional companies are facing enormous challenges - not only in the sports sector," said Beck.
Nevertheless, it is important to open up to new movements and try out new things. "The people [that is customers and employees alike, editor's note] must have the pleasure of moving in the business," said Beck, "this is very simple wisdom and the basis of every successful sports business."