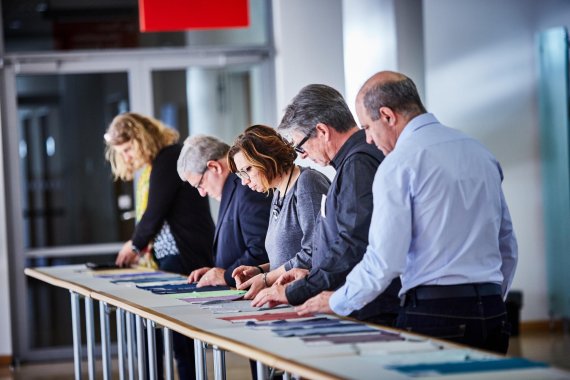 Meeting at Messe Munich, the fifth jury meeting for the Fall/Winter offering, with the jurors consisting of textile professionals from all sectors of the industry, dedicated to analyzing and selecting the best products full of innovation, creativity and sustainability. Feedback was incredibly positive from the jury, with a notable improvement in two particular areas: Membranes & Coatings and Soft Equipment.
With ten categories to judge including first layer, second layer and insulation, it was evident on arrival that the textile suppliers are upping their ante, offering lightweight products yet still packed with performance.
You want to know everything new about the textiles industry? Find out all details about ISPO TEXTRENDS here >>>
Heightened Visibility & Design

First-time jury member Jeremy White, Global Director of Innovation and Permanent Branding at Avery Dennison was extremely interested in seeing what is trending, what people are working on going forward and particularly in this area of shell outer fabrics.

"I have seen a lot of creativity in some of the coloring, because in some ways it is difficult to take something as basic as a fabric and actually do anything creative with it. There has been some very exciting things here today, some use of reflectivity which we haven't seen before using texture in reflectivity, that's novel and very interesting," he said.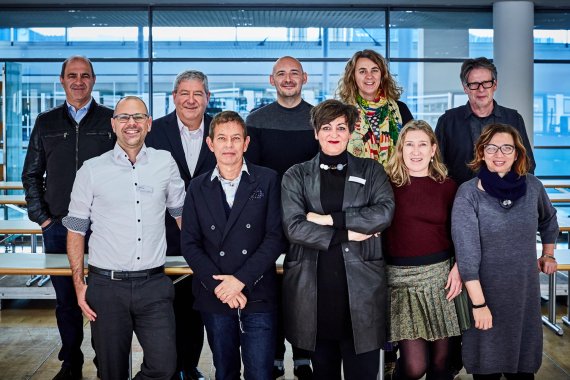 Reflectivity featured in many of the sectors from reflective prints in base layers through to outer shells. Soft equipment featured rainbow reflective prints that can clearly be see when hit by light. Trims followed suit, with the use of reflective tapes on zippers to add detail to products. A new reflective yarn also featured, unique compared to traditional cut reflective yarns, in that micro beads of glass is adhered to the yarn, offering brand developers and designers increased scope in the final product design.
Softer with Enhanced Style

"The handle is much improved and I think it is due to the increased presence of natural fibers, a little bit of cotton, a little bit of silk, a lot of wool, which helps enormously and that bridges the gap between the pure performance and the more urban oriented styles. So there is a lot of progress there that we didn't see beforehand, particularly in the base layers, it is very interesting, a real hike in terms of comfort and the appeal of the fabric, so we aren't only talking performance, we are talking how it feels, so that is very positive," said Sophie Bramel, Technical Editor of WSA.

Bramel noted that fabrics were much more creative this jury meeting and that it gave them a point of differentiation, also that the new message that performance fabrics are not only synthetics but that you can have a bit of both worlds to have the durability, easy care plus the cotton or wool feel. "I think it is much more sophisticated, it is reassuring to see natural fibers being used more," she added.

Hybridization of Natural and Synthetic Fibers

With reference to the natural and synthetic fibers taking on a more symbiotic approach, David Shah, Publisher of View magazine, was pleased to see synthetics taking on a wider appeal. "Synthetic fibers have been bashed for the last 40 years, what is happening now is a great chance, with this love of technicity and hybridization, for synthetic fibers to give themselves a new image to the public, I think it is a very important moment to do that," he said.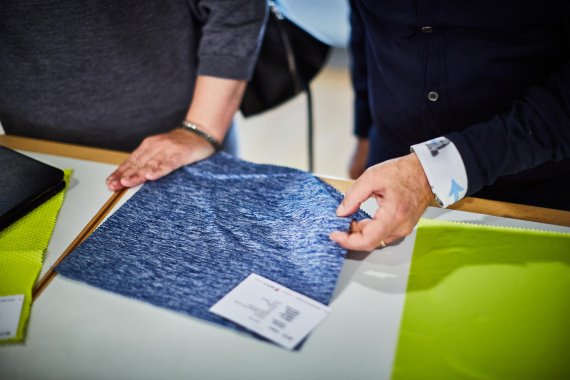 Asked as to what his overall thoughts of his third-time participation on the ISPO TEXTRENDS jury is, his feedback was positive. "The number one thing is the massive improvement in the handle of the cloths, I think that has been the most striking thing. The handle is so important, comfort is as important as the performance side, and softness for me has been one of the dramatic things I have seen across all areas of the categories we have been looking at."

An improvement in membranes and second layers had also caught his eye, especially in terms of fashionability, patterning and use of color. "It was really, really excellent. Overall the improvement every year is very, very visible," he said.
Back to Basics

With innovation and creativity at a peak, one area that is key is the basics. As Vincent Lecrosnier, Design Director at Adidas highlighted, "When we are talking about innovation, the problem of innovation is always a long time approach but we know at the same time to deliver modern solutions for basics and it is something we should focus on."

While everyone looks to innovation, it can be a timely process filtering through to the mainstream market. "They alway obsess with innovation," he said, referring to the industry, "it's good but the fundamental for a brand is the good basics."

Breaking Boundaries

With hybridization featuring throughout the textile chain from trim and fabric developments through to final products, there has been a much needed influx of new know-how from other sectors, and a sharing of information. "What we are seeing is the end of boundaries and rules. In the past we focused what is suitable for ready-to-wear, what is suitable for couture, now we are seeing the whole breaking down of rules on fabrication, whether it is male or female. With all this breakdown of boundaries there is much more scope - I think people should understand that and get out of their trench," concluded David Shah.
ISPO TEXTRENDS New Look

To view the jury's selection for Fall/Winter 18/19 make sure to visit the newly revamped ISPO TEXTRENDS forum in Hall C3 at ISPO MUNICH in February.