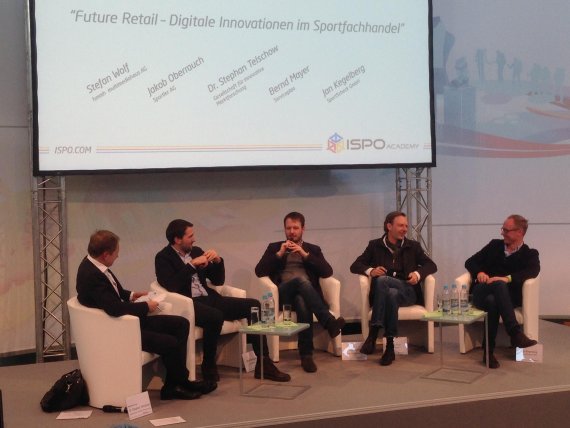 The participants of the panel were Jakob Oberrauch (CEO Sportler AG), Stefan Wolf (Head of Insights & Strategy, Medienagentur hmmh), Bernd Mayer (Serviceplan Consulting) and Jan Kegelberg (Chief Digital Officer at SportScheck). The discussion was moderated by Dr. Stephan Telschow (Corporate Director & Management Board GIM Gesellschaft für Innovative Marktforschung).
Some sales tools are barely successful in stores.
Bernd Meyer advocated for an increased use of digital technology in stores in order to give consumers more information. Oberrauch and Kegelberg disagreed based on their practical experience.

Oberrauch, CEO of the chain Sportler, which is particularly widespread in Italy, has tested several tools, including a magic mirror, with which customers could change the color of the clothing they were wearing by pressing a button while looking into the mirror. "That's interesting for the media and good for PR, but the customer doesn't use it," was Oberrauch's sobering conclusion.
Free Wi-Fi delights customers
Kegelberg agrees. The columns and iPads that offered further information on products at SportScheck shops were dismantled due to marginal customer interest. "The customer wants a physical shopping experience," Kegelberg explains. According to him, very few customers are inspired by digital technology in stores.
In sports stores the only thing that works is something that has real advantages for the customers, Oberrauch says. That's why free Wi-Fi is a hit. And Sportler makes registering for its newsletter mandatory for the use of Wi-Fi; that way they can address customers directly later on.
Addressing customers using smartphone recognition

Oberrauch's long term goal is to use the tools to equip sales clerks instead of customers. Since advising customers is the big competitive edge of physical stores, they must have technology that will enable their sales clerks to give quicker and better advice.
Oberrauch's goal is for sales clerks to recognize when customers enter the store thanks to their smartphones, so that they are able to address them by name and – depending on data on their previous purchases – gauge what they might like.
Physical stores will survive despite digitalization

All panel participants agreed that, in general, the retail industry must focus on mobile devices. Another point of agreement: Physical stores will not die out. They will certainly shrink, the experts say, as space will not be affordable in the long-term; but, even in the future, customers will want the opportunity to browse in a store and be advised there.

The fact that online giants like Amazon and Zalando are also building their first physical stores can be viewed as a positive signal. "You need more than patience to survive digitalization," according to Wolf.

Kegelberg's summary was to primarily use digitalization to improve customer loyalty. His company's strategy is to establish common values, win over customers and thus build up trust. This trust could then ensure that buyers stay loyal to the chain in the long-term.