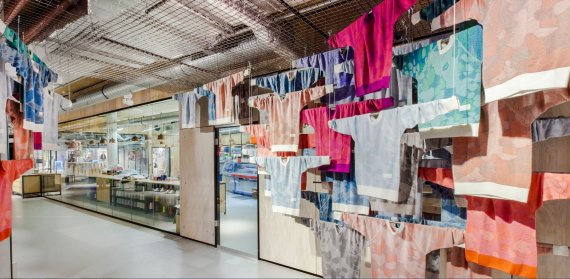 These are currently some of the top questions surrounding the future of retail. One thing seems certain: that traditional retail is far from finished. Too great is its sensory potential, too great its power to release spontaneity in consumers, to encourage a sense of community, and to entertain us.

All these are qualities that online retail can in all likelihood only dream of. And that is precisely where companies should be focusing their attention.
Make each square meter an adventure
Until now, sales productivity – meaning turnover per square meter – was the key measure when rating a store. However, according to Nicole Srock-Stanley, who works at the Berlin agency Dan Pearlman, this is the wrong way to go about it.

For many years now, this company has specialized in shopfitting and experience architecture, and Srock-Stanley has observed many parallel developments. Her credo: "The future belongs to those who make each square meter an adventure."

Instead of squeezing as much stock onto the shop floor and offering customers as wide a range as possible, the stores of the future will begin to shrink and be geared toward providing their consumers with more entertainment and adventure.

"For customers, shopping means spending their free time in a store, it means investing time and money. That's something we need to understand," says Srock-Stanley. Retail as a pastime! This trend has already been reflected in areas such as retail parks, where stores shake hands with climbing centers, swimming pools, and MTB parks.
Personalization: Sweaters to go
Adidas already came up with a unique shopping experience in Berlin's Bikini Mall. The company opened up a pop-up store until mid-March that produced custom-made sweaters.

Under the motto "Knit for you", it gave customers the opportunity to design their very own merino sweater and have it knitted for them then and there on machines installed in store.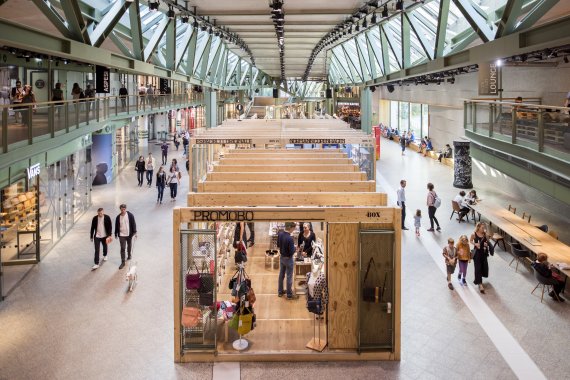 Sweaters were ready to wear in only a few hours. The Bikini Berlin Mall is based on a concept developed by Dan Pearlman and has been tailored to offer its customers just such experience architecture.

The surface area of the mall is split between permanent stores, and several pop-ups that are housed in wooden boxes and change continually throughout the year.

This means that the mall is in a constant state of flux and is able to accommodate a range of themes. A similar concept sprung up in London in 2011 under the name Boxpark and was the world's very first pop-up shopping mall.
Stores where you can't buy anything?
This trend goes hand in hand with the fact that the process of purchasing in store will start to become less relevant. After all, transactions are not limited to stationary stores – they can also be made in the online store or via social networks. The motto "just as long as customers buy" is gradually being replaced with "just as long as customers can be enthused and entertained."

For example: Samsung's new flagship store in New York is all about providing a platform for the brand and its products... ...though customers won't actually be able to buy anything there.

Steven Weiss, who works for the American business consulting company "Shop! USA", puts it in a nutshell: "Retail is changing its focus from POS to POE," which stands for Point of Engagement.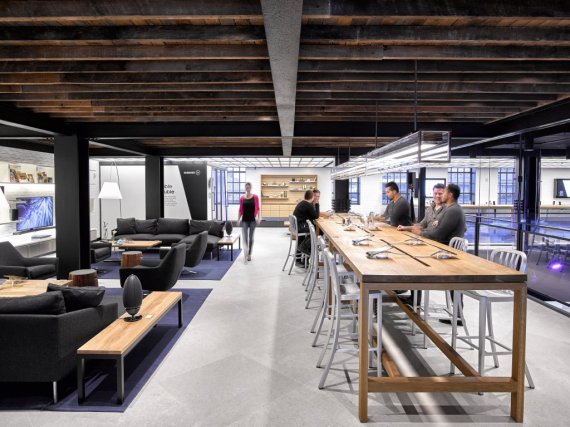 Creativity welcome here
The list of ways in which stores can become relevant for customers is long and, above all, the sky's the limit when it comes to how creatively they can go about it.

"In principle, anything is possible as long as there is a market for it," Weiss explains and tells us about a restaurant that, as well as serving food, offers its customers free cell phone repairs. "It has nothing to do with the actual restaurant business, but is a fantastic additional service," says the expert.

Of course there are also more conventional methods. Given the passion and emotion involved, the sports industry is an ideal platform for the development and integration of multiple services – a process that has actually already begun.

For example, manufacturers and retailers not only offer their customers sports equipment, but also training sessions. Stores are becoming meeting points for running groups or are transforming into training centers – just take a look at Lululemon or the new Sport Schuster store in Munich.

Video: Is this the future of sports retail?
Customers want to try things out before they buy them – something retailers could use to turn consumers' shopping trip into a true retail experience. Repair services also create an opportunity to offer customers additional value. Such services don't necessarily need to be free.

"Those who offer quality events or special services are also entitled to charge for them," says Weiss.
Visitors to ISPO MUNICH 2017 experienced first-hand how to involve end consumers more in the retail process. The ISPO ACADEMY Retail Lab 4.0, powered by b2b sportmas, presented the latest technological innovations and explained how both brands and retailers could benefit from them.
New requirements for staff and design
In future, a traditional vendor must transform from someone who simply sells to someone who also offers customers advice and inspiration. Changing rooms will also increasingly be the center of attention. Experts advise retailers to pay more attention to the design of changing rooms in future, given that this is where customers make their final decision: to buy or not to buy!

Stores of the future could theoretically be transformed into one large changing room. The idea would be for customers to create their wishlists online and then try on the selected items in a pleasant in-store environment. Specially trained consultants could then add suitable items or alternative sizes to the wishlist – with or without the help of artificial intelligence – for customers to try on in store.

This would make for smaller stores and completely reshape the layout – for example altering how much of the shop floor is dedicated to stock and how much to changing rooms.
In-store body scanners
The idea of creating an avatar that tries on clothes for customers in the online store isn't new. The fact that this idea has yet to become reality is down to two key reasons: firstly, it is due to the lack of body scanners in stores; and secondly, because clothes measurements have previously only been available in clothes sizes, not in the form of 3D data.

However, Mihail Tanev, who works for the Düsseldorf-based Doob Group, has other ideas: "I am certain that we will see body scanners appearing in every city in the next few years."

The Doob Group specializes in mobile body scanners and has already carried out successful tests in various stores, for example in Uniqlo. Scanners could become as commonplace in shopping malls as photo booths.

Fixed scan booths could also be of interest to large multi-channel providers, in particular should such booths help improve fits and reduce the number of returns in online stores.
Fresh input for your sports company: ISPO ACADEMY will get you in shape for the latest innovations in the industry. Find all the information here >>>
Video: The sports industry goes digital