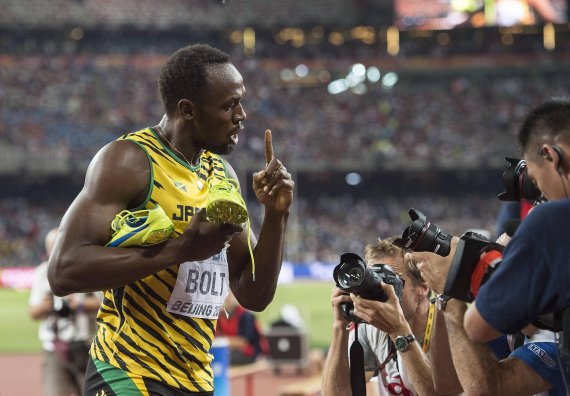 According to new quarterly figures, revenue is at 827 million euros; adjusted for currency, that's even an increase of about 13 percent. The new focus on women's fashion especially is a growth factor, and all segments up to motor sports have grown, said Puma boss Björn Gulden.

Read more here about how Puma wants to expand business for women.
Despite the growth, the competition continues to draw further and further away: Under Armour already took third place in the ranking of the largest sporting goods manufacturers in the world away from Puma in 2015. The Americans achieve a growth of more than 30 percent in the first quarter of 2016 (read the full article here).
To be sure, marketing measures at Puma haven't been working as well as the competition's for quite some time: Walking advertisement Usain Bolt has been under contract with Puma since he was 15, has since broken world records and is one of the greatest track athletes of all time – but the Herzogenaurach-based company has yet to really be able to profit from this deal.
Criticism of Puma's marketing with Usain Bolt
That's why Puma is seeing itself subjected to massive criticism: Matt Powell, analyst at the American market research institute NPD Group, told the Wall Street Journal, "Bolt is an incredible athlete" who gave Puma a lot of credibility. Nevertheless, Puma did "too little" to be successful with this partnership. Bolt was booked for internal purposes that had no effect on public image at all.
Puma CEO Björn Gulden told the WSJ that Bolt had recently cut back on his advertising activity. Aside from that, his sprinter running shoes aren't made for the mass market: "Who buys shoes with spikes? Nobody."
Bolt: "I'm like Michael Jordan"
All the same: After the end of his career, which Bolt can already picture being after the 2016 Olympics in Rio, there are firm plans for him to design his own shoe collection for Puma. Then Bolt will also have more time for marketing, says Gulden. 
You can find all the news and stories on sporting goods manufacturer Puma here.
"Without a doubt" he will continue to promote Puma, since he's "one of the few people next to Michael Jordan who stand for something that the people are familiar with. Creating a shoe would be great." At least that way Puma could try to equal the competition: Nike has long since produced the "Air Jordan" collection, named after basketball superstar Michael Jordan, and Adidas is successful with its Stan Smith and Franz Beckenbauer shoes. 
Just now available: Bolt emojis for cell phones – will something come of it?