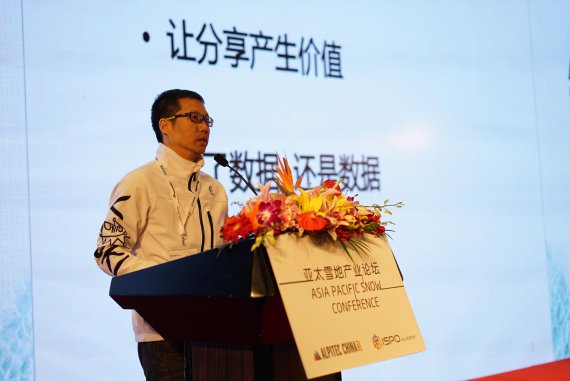 Even back at ISPO BEIJING 2016, Wu Bin made quite a stir with his first edition of the "China Ski Industry White Book." For the first time, the Chinese skiing industry was recorded in its entirety, and presented in a transparent and descriptive way.
The crowds at the Asia Pacific Snow Conference were so big in 2016 that the trade fair reserved a markedly larger room for Wu Bin's presentation this year. More than 300 audience members wanted to learn about the latest findings on the skiing industry in China live.

After the lecture, ISPO.com spoke with the Chief Strategy Officer of the Vanke Group about the results of the second White Book, and where the journey of winter sports in China is headed.
Winter sports in China harbors great potential: Order the 2015 China Ski Industry White Book for free here >>>
Especially notable are the growth rates in the number of ski resorts, visitors to skiing regions, and the number of borrowed skis. Another 78 ski resorts were added compared to 2015, increasing the total number of skiing regions in China to 646. That's an increase of close to 14 percent, mind you.
"The boom is continuing unchecked. From the point of view of ski resort operators and suppliers, the market has almost no limits," said Wu Bin in a conversation with ISPO.com.
If a ski region opens, skis get borrowed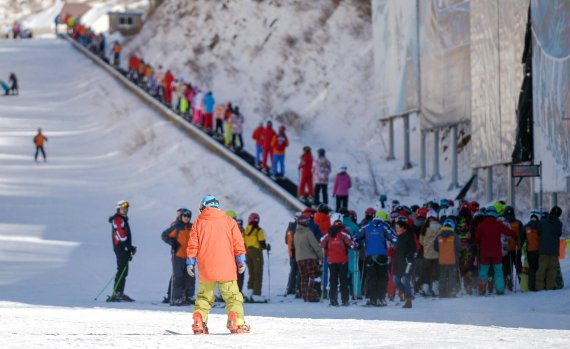 The number of visitors climbed even more significantly by 21 percent, to 15.1 million people, also strengthening the trend of rental skis compared to the year before. 485,000 pairs of skis were rented in 2016, 38.5 percent more than the previous year. 
"The statistics for rental skis are heavily linked with the new openings of ski resorts," Wu Bin explains the rapidly climbing numbers. "That's because almost the entire rental business is conducted directly onsite at the resorts. As soon as a new ski area is developed, a rental store opens almost automatically." 
Read also: How France's Minister of Sport is Advertising in China >>>
The number of rented skis especially make it all that more clear that China still has a lot to catch up on in terms of winter sports. "Buying skis still isn't the norm in China. I assume that it will take three to five years before ski sales grow significantly," said Wu Bin.
Lots of sightseeing ski tourists
Another indication: Only a few ski regions are designed for multi-day guests. Only three percent of travel destinations have ski vacationers as a target group, among them Lake Songhua, Changbaishan, Beidahu, Yabuli, Genting, and Wanlong.
The overwhelming majority, namely 75 percent of skiing locations, are oriented towards sightseeing ski tourists and skiing novices. Accordingly, the locations are near larger cities or points of interest.
"The region around Beijing continues to be the center of winter sports. This is where the first ski resorts were opened 16 years ago," explains Wu Bin. "Easy accessibility plays a big role, as well as the sheer size of the potential market in Beijing."
Apps coordinating ski vacationers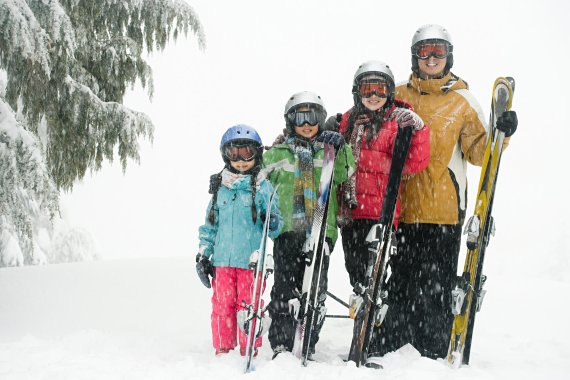 What many ski resorts have in common, regardless of which target group they're associated with, is the cooperation with mobile data suppliers like GOSKI, which provides things like weather and snow information for winter athletes.
"This extra option doesn't just provide winter athletes with excellent added value, it also helps the ski resorts tremendously. Due to China's size, advertising and marketing isn't always that easy. But with apps, the ski resorts can reach their exact target group and can provide customers with direct skiing courses, trip offers, and much more," is how Wu Bin describes the synergy effects.