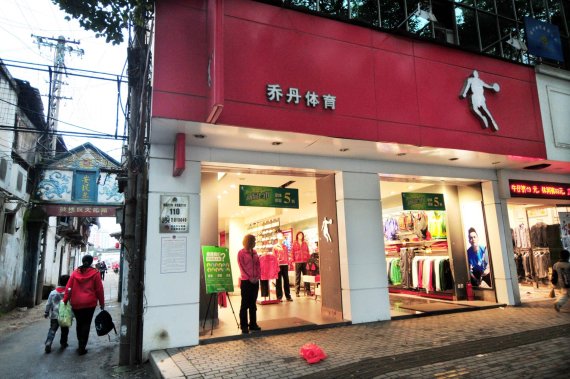 After all, even if companies continue to persist with this "OR" status quo, consumers have already evolved – a long time ago. Basic information on potential products is gathered online, and consumers examine items more closely and seek advice in their local shops. The actual purchase process is now commonly done online.
E-commerce is part of everyday life in China
China is a pioneer in this regard; shopping via smartphone is the most normal thing in the world here. According to a study by consulting firm McKinsey, 72 percent of Chinese consumers use social media platforms to gather information about products and services multiple times a month.

Just under two thirds even use these channels to get in touch with companies directly. That combined with subsequent advice sought in brick and mortar shops plus e-commerce transactions means that all of these sales avenues are intertwined.
What makes sports retails tick in 2017? The ISPO SPORTS EVOLUTION REPORT study has the answers to the most important questions. Click here to visit the ISPO SHOP.
"Multi-channel retail is not just combining brick and mortar retail plus e-commerce with mobile devices. E-commerce merely represents a new outlet for traditional retail," explains Li Di in a discussion with ISPO.com.

The CEO of Lehuohuwai advocates for retail that focuses on the future: "In order to end this conflict between online retail and more traditional sales methods, brick and mortar retail not only needs to embrace change, but it also needs to make an effort to merge online sales with brick and mortar sales in its annual marketing plans instead of keeping them separate."
Online and offline go hand in hand
For example, one realization has to be that companies can have a unified presence online and offline. Branding, pricing, sales and marketing plans must all match up, with flexibility permitted only in the implementation. 
Do you want to be ready for the future of retail? ISPO ACADEMY delivers concentrated expertise to sports professionals in order to meet the challenges of the global sports business >>> 
One good example of a successful multi-channel strategy is sports retailer Decathlon. By 2003, the French company had already made its move toward China and set itself an ambitious goal there with 100 retail branches.

When the brand failed to meet its goal by 2010, the French changed their strategy and opted for multi-channel retail. In cooperation with online platform Tmall.com, Decathlon achieved growth figures of 300 percent in e-commerce in just five years while improving sales in its brick and mortar shops by 50 percent over the same period.
A driving force behind Singles Day
The latest Singles Day figures show just how much China loves e-commerce. Goods totaling a value of some 12 billion US dollars were purchased on November 11, 2016 alone from online retailer Tmall.com, part of mega-corporation the Alibaba Group. Overall, the company, which was founded by Jack Ma, generated sales of 17.8 billion dollars in just 24 hours.
Despite its immense online success, Alibaba is well aware that none of it would be possible without brick and mortar retail. "Brands focused on online retail think offline retail is old-fashioned. Yet the reality is that consumers don't distinguish between online and offline," explains Terry von Bibra, General Manager of the Alibaba Group Europe at Marketing Week.

In his opinions, retailers are "completely wrong to draw some artificial line between online and offline. Brands also need to stop looking at everything like it's some sort of secret science. Omni-channel is definitely the key to success in Europe – and much more so in China."